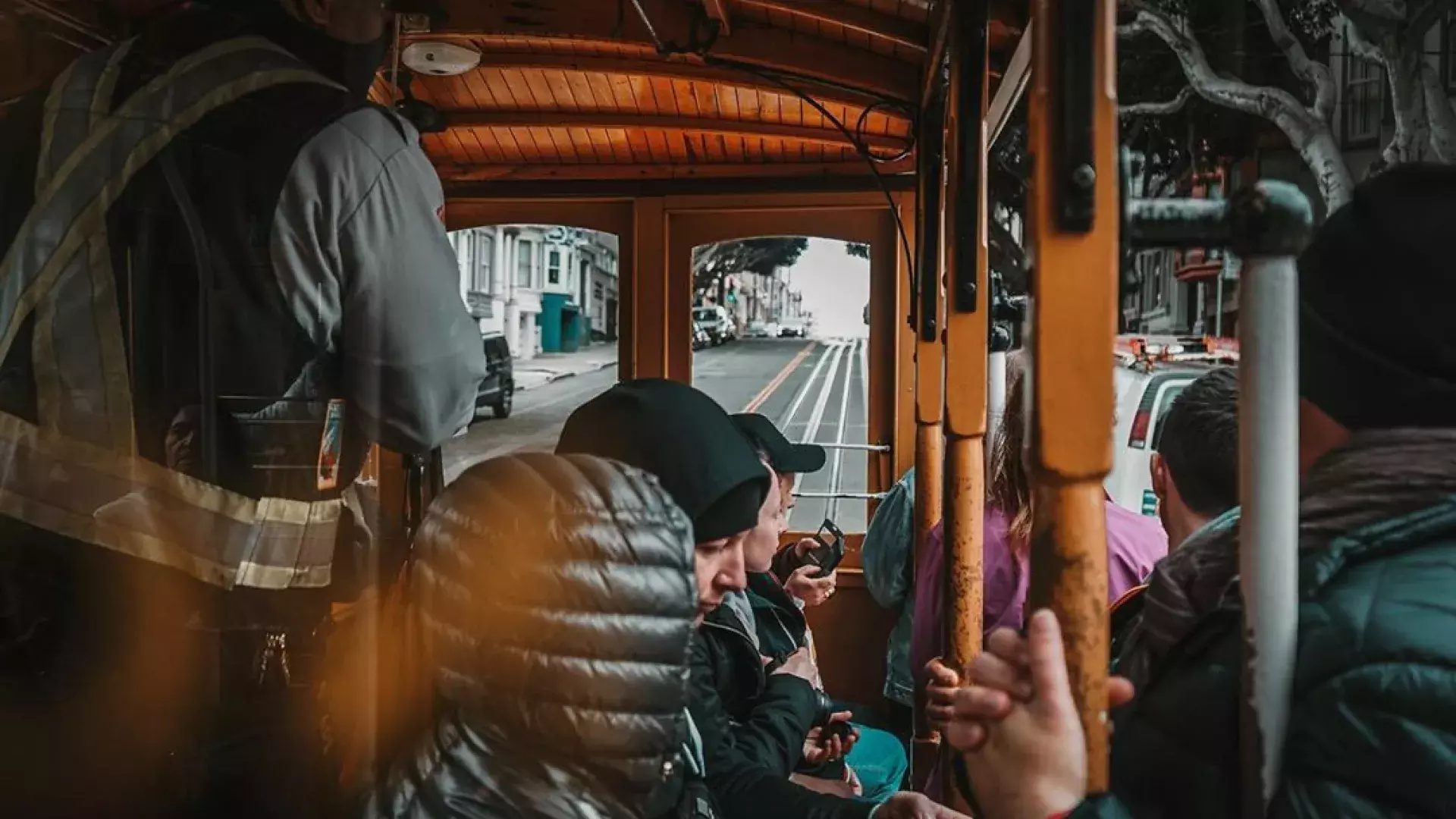 Your Guide to the Powell-Mason Cable Car Line
Here's everything you'll need to know to have a great ride on the Powell-Mason Cable Car Line.
San Francisco's iconic cable cars are recognized the world over for the clanging of the bells, panoramic views, and thrilling descents down steep hills. Taking a ride on a cable car is always at the top of visitors' must-do San Francisco experiences. Here is everything you need to know to have a memorable ride on one of the three lines serving San Francisco, the Powell-Mason Line.
Follow our guide from the Market Street cable car turnaround through North Beach to the Columbus and Taylor stop. 
Best All-In-One Shopping
Westfield San Francisco Centre 865 Market St.
Perfectly situated near the cable car turnaround, Westfield stands as a first-class shopping destination. Combining architectural beauty with nine floors of retail, dining, and entertainment, you will find major retailers, such as Bloomingdale's and Nordstrom, as well as 170 shops and restaurants, all beneath the fabled glass dome atrium.
Nearest stop: Powell and Market.
Best Classic Dining
John's Grill
63 Ellis St.
One of San Francisco's notable restaurants, John's Grill is a San Francisco legacy business known for steaks, seafood, and strong cocktails. Across three floors of dining, you will find pictures of famous San Franciscans, political notables, celebrities, and memorabilia from "The Maltese Falcon", the 1930 detective novel Dashiell Hammett wrote at John's Grill.
Nearest stop: Powell and Ellis.
Best Craft Brewery
Bartlett Hall
242 O'Farrell St.
For exceptional craft beers brewed on site plus craft cocktails, Bartlett Hall is the perfect stop during a day of sightseeing. They won a gold medal at the 2022 Great American Beer Festival for their Powell Street Porter and pour one of the best IPAs in the United States. Plan on coming for Beer Week every February or stop by for happy hour during the week from 3 p.m to 5 p.m. There is a cozy indoor fireplace for two near the entrance.
Nearest stop: Powell and O'Farrell.
Best Department Store
Macy's 251 Geary St.
Macy's is a premier retail brand that started in 1858 and today stands as an iconic department store conveniently located on San Francisco's Union Square, a vibrant shopping district. Across numerous floors, you can find a full line of the most popular brands for all your shopping needs. When you're ready for a break, make your way to The Cheesecake Factory on the 8th floor for dining and splendid views of Union Square.
Nearest stop: Powell and Geary.
Family-Friendly Attraction
Cable Car Museum
1201 Mason St.
Ever wonder where San Francisco's historic cable cars sleep at night? Look no further than the Cable Car Barn, located above the Cable Car Museum. Here you'll find a working museum that highlights all facets of cable car operations. View artifacts and learn the history of San Francisco's famous cable cars, the U.S.'s only moving National Historic Landmark, invented by Scottish immigrant Andrew Smith Hallidie. Admission is free; the museum is closed on Mondays.
Intersection: Mason and Washington.
Best Coffee
Caffe Trieste
601 Vallejo St.
Stop into this iconic, cozy shop with an old-fashioned juke box playing Italian opera. Meet up with friends, read a book, or listen to opera by Pavarotti — just like in Italy! On the first Saturday of the month (generally), they offer music featuring Italian classics from 1 p.m. to 5 p.m. Caffe Trieste offers indoor and outdoor seating and is cash only.
Nearest stop: Mason and Vallejo.
Best Dive Bar
Northstar Cafe
1560 Powell St.
Northstar Cafe is the oldest bar in North Beach and they are proud "drinking consultants since 1882." They offer an endless supply of popcorn for their happy patrons.
Nearest stop: Mason and Green.
Best Neighborhood to Explore
North Beach
Columbus Avenue between Chestnut and Kearny streets
Look for the Italian colors of North Beach, a vibrant district full of cafes, restaurants, music, shopping, nightlife, and home to the Beat poets. For baseball fans, stroll over to Joe DiMaggio Playground, where the slugger played softball in his youth. Every October, you can catch the Italian Heritage Parade in North Beach, the oldest Italian American parade in the U.S.
Nearest stop: Mason and Union.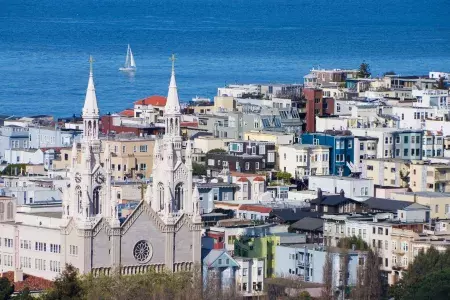 Best Pizza
Tony's Pizza Napoletana
1570 Stockton St.
Tony Gemignani may have claimed the award for Best Pizza Margherita in Naples, Italy, but he bakes his pizzas right here in San Francisco. Stop into Tony's Pizza Napoletana for your favorite choice of pizza, from Neapolitan to Detroit-style. They even have seven different kinds of pizza ovens! Tony's Pizza Napoletana does not take reservations.
Nearest stop: Mason and Union.
Best Park
Washington Square
Columbus and Union streets.
Washington Square is one of San Francisco's first parks and it is a perfect place to relax, enjoy the sunny weather, or let your kids blow off some steam. Surrounded by Italian stores and restaurants, Washington Square is the central gathering place after neighborhood events.
Nearest stop: Mason and Union.
Most Famous Church
Saints Peter and Paul Church
666 Filbert St.
Located directly across from Washington Square, Saints Peter and Paul Church's tall spires are hard to miss. With impressive stained glass windows and a decorative ceiling, this church is a quiet refuge within a lively neighborhood. This is where hometown hero Joe DiMaggio and wife Marilyn Monroe posed for photos after exchanging their vows. 
Nearest stop: Mason and Filbert.
Best Focaccia
Liguria Bakery
1700 Stockton St.
The same family has been making focaccia at Liguria Bakery in North Beach since 1911. Their top sellers, among the 10 flavors offered, are the pizza flavor or rosemary and garlic focaccia. On Saturdays, they make a pesto with cheese focaccia. Expect a line out the door to order—and they will sell out, so best to arrive early.
Nearest stop: Mason and Filbert.
Best Lunch Spot
The Italian Homemade Company
716 Columbus Ave.
Fresh, hot, and oh so tasty! Pick your favorite pasta and add a sauce of your choice at The Italian Homemade Company in North Beach. While you're at it, order in Italian, as most everyone here speaks the language! Open daily for lunch and dinner with both indoor and outdoor seating.
Nearest stop: Mason and Filbert.
Most Impressive Landmark
Coit Tower
1 Telegraph Hill Blvd.
Built in 1933, Coit Tower rises majestically atop Telegraph Hill and can be seen from many vantage points across San Francisco. A gift to San Francisco from Lillie Hitchcock Coit "for the purpose of adding beauty to the city," the 210-foot monument stands out for stunning views and its impressive murals depicting life in California during the Great Depression. To visit Coit Tower, walk east up Filbert Street from Columbus Avenue, then climb the Filbert Steps at Filbert and Kearny Streets to reach the tower. Admission is free to walk around the ground floor and see the murals. Tickets may be purchased to ride the elevator to the top, which requires a short walk up a staircase to the observation level on the 13th floor. You will be rewarded with bridge-to-bridge views! Free tours of the second floor murals are offered at 10 a.m. on Wednesdays and Saturdays.
Nearest stop: Mason and Filbert.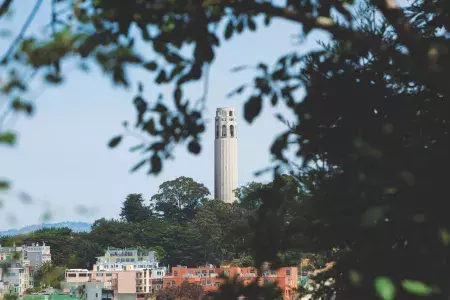 Best Views and Photo Ops
Mason and Greenwich Streets
Get your camera ready when the cable car heads north past Vallejo Street, as impressive bay views come up quickly. As you head down the descent, this is the time to take a panoramic photo of mighty Alcatraz Island, the San Francisco Bay, and Angel Island. 
For Coit Tower views, look to the east at Mason and Columbus streets. Or, look to the west at Lombard Street to see the famous crooked street from the bottom of the hill.
Nearest stop: Mason and Greenwich.
Best Comedy Club
Cobb's Comedy Club 915 Columbus Ave.
San Francisco is a seriously funny town with a multitude of first-rate comedy clubs. Cobb's Comedy Club, founded in 1982, is the city's second oldest comedy venue and continues to host both hot up-and-coming talent and marquee names. You won't want to miss a hilarious show. There is a two-drink minimum per person. Age 18 and over. The box office opens at 4 p.m. on show days.
Nearest stop: Taylor and Francisco.
Best Nightclub
Bimbo's 365 Club
1025 Columbus Ave.
Bimbo's is an intimate club in North Beach for ages 21+ with a full calendar of glittering artists, making it a great place to catch a show after dinner. Since 1931, they have booked superstars ranging from Adele and Robin Williams to indie artists Samia and Jawny. Arrive early to snag a table or dance on the main floor.
Nearest stop: Taylor and Francisco.
Best Place to Stroll
Fisherman's Wharf
2801 Leavenworth St.
Fisherman's Wharf is a short walk from the cable car endpoint. Here, you can taste sweet local crab or savor a clam chowder bread bowl from one of the sidewalk food stalls. Don't forget to visit Boudin Sourdough Bakery & Cafe and watch them make their sourdough creations. Just follow the delicious aroma of sourdough bread.
Nearest stop: Taylor and Bay.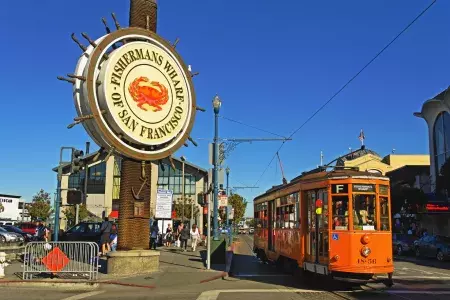 Best Waterfront Attractions
PIER 39 Beach Street and The Embarcadero.
PIER 39 is a short walk from Fisherman's Wharf, where you can dine, shop, and watch the sea lions barking, playing, or even napping on floating docks. They always attract a crowd! If you want to learn more about aquatic creatures, head over to the Aquarium of the Bay, where you can walk through water tunnels to experience marine life up close or touch bat rays and other living residents in the bay tide pool.
Nearest stop: Taylor and Bay.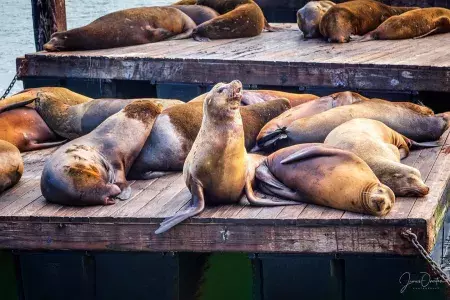 Cable Car FAQ
How do I purchase tickets?
Visitors can purchase a single ride ticket onboard the cable car for $8 cash (exact change is required), or online through the MuniMobile app or Clipper Card. The single ride ticket is valid for one-way rides only and is not transferable to other cable car lines.
For all-day rides, purchase a 1-Day, 3-Day, or 7-Day Passport on the MuniMobile app, which is valid for 90 days. The fare is $13, $31, or $41, respectively. Clipper Card offers the 1-Day Passport for $24.
Do children need a ticket?
Children age 4 and under ride free.
When do the cable cars run?
The California Line runs from 7 a.m. to 9 p.m. daily. The route stretches from California and Market streets to California Street and Van Ness Avenue.
Where do I board?
At every block! Just look for the yellow stripe painted on the pavement at each intersection. On steep hills, cable cars stop in the middle of the intersection so watch for the yellow stripe. Most corners have a brown cable car signpost.
How long is the ride?
Approximately 16 minutes one way, end to end.
Can I get off and jump on again?
Absolutely! If you plan on taking multiple cable car rides, purchase a full-day or multi-day Passport on the MuniMobile app. Remember, a single ride ticket is valid for one-way rides only.
How do I ride the cable cars without waiting in long lines?
If you are short on time, head for the California line, as this one is generally less busy than either the Powell-Hyde or Powell-Mason lines. The California line does not go directly to Fisherman's Wharf or Ghirardelli Square. All three cable car lines start running at 7 a.m. and run into the evening, so you can always take your journey when it's less busy. You can also board at any intersection along the line, but there is no guarantee that there will be room on the cable car. As always, pack your patience.
Where can I learn more about cable cars?
Head to the free Cable Car Museum at the corner of Mason and Washington streets. You will be standing in the original wheelhouse building from 1887 that survived San Francisco's devastating 1906 earthquake.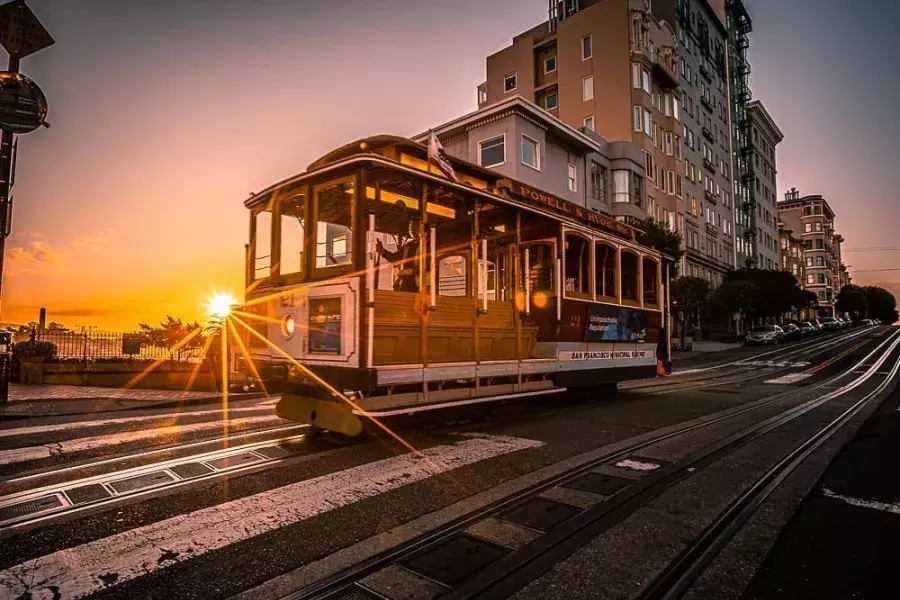 Did You Know?
Back in the day, horses pulled people and goods up San Francisco's steep hills. The introduction of the underground cable system by Andrew Smith Hallidie in 1873 allowed the horses to retire.
---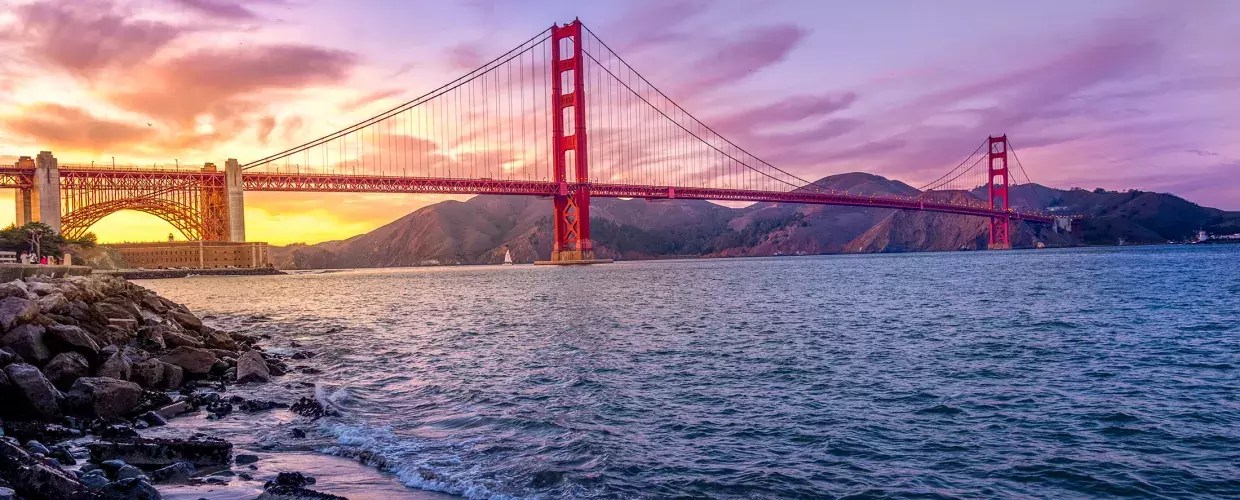 Stay Connected with SF
Sign Up for Our Newsletter
Be the first to know about upcoming events and festivals, new restaurants, special deals, and everything else happening in the City by the Bay.