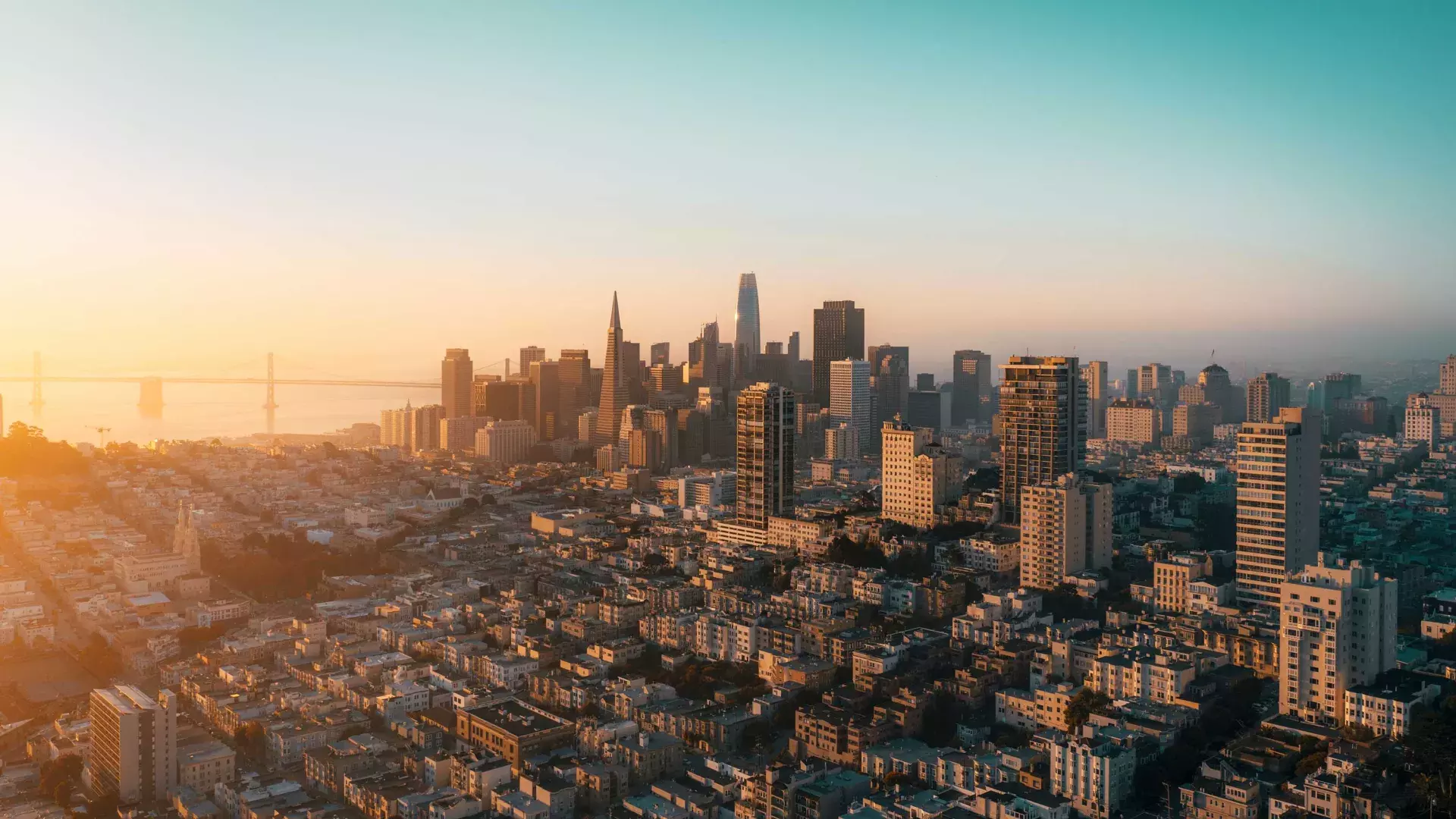 Walking Through Women's History In San Francisco
A self-guided tour of women's history in San Francisco will take you through our most famous neighborhoods and past our most beloved icons.
San Francisco is a city full of stories, a place where bold ideas are born, and a great place to explore. Many of these stories and ideas were told and generated by women who have come to define what San Francisco is today: a welcoming, vibrant city. This self-guided tour, which includes travel on foot and via public transit, will take you to places where women's history was made and where the women who shaped San Francisco are remembered.
1 Telegraph Hill Blvd.
Coit Tower
Your tour begins at one of San Francisco's most iconic landmarks. A defining element of the San Francisco skyline, Coit Tower was built in 1933, thanks to a generous bequest from longtime resident Lillie Hitchcock Coit. Her goal was to leave a lasting gift that would further enhance the beauty of her beloved city. The interior of this 210-foot high architectural jewel is adorned with federally funded murals from the New Deal era, including Maxine Albro's 42-foot masterpiece "California".
From Coit Tower, walk south on Montgomery St. until you reach California St.
465 California St.
Julia Morgan Ballroom
The first licensed female architect in California, Julia Morgan was one of the most influential and prolific designers of all time. Nowhere is her talent on finer display than at the Julia Morgan Ballroom, one of San Francisco's most coveted venues. Morgan was key to rebuilding the city after the earthquake of 1906 and also designed important parts of the UC Berkeley campus. Here's the best part: you don't have to wait for an invitation to visit The Julia Morgan Ballroom. If there are no events scheduled, you can admire the timeless Beaux-Arts interior up-close.
Walk west on California St. to St. Mary's Square.
651 California St.
Monument to the "Comfort Women"
San Francisco erected this statue of three young Asian women holding hands in St. Mary's Square, the heart of Chinatown, to commemorate those forced to work in Japanese brothels during WWII. A fourth statue represents Kim Hak-sun, who was the first of these "comfort women" to publicly testify about her experiences in 1991.
Continue west on California St. to Mason St. (This is a great opportunity to hop on a cable car!) 
950 Mason St.
The Fairmont San Francisco
Fulfilling their late father's wish, Tessie Fair and her sister Virginia constructed a luxury hotel atop Nob Hill. The sisters used the family name (Fair) and the hotel's location on top of a hill (Mont) to create the stately moniker. Unfortunately, the 7.9 1906 earthquake that devastated San Francisco interrupted their elaborate and highly anticipated grand opening.  A year later, Julia Morgan (another lady on this list), the hotel's architect, finished repairs, making it the first business to reopen in San Francisco after the disaster. You'll hear people say it's "a hotel so grand they built a city around it."
Walk east one block to Powell St. and walk south to Union Square. (This is another great chance to ride the cable car.)
Union Square
The Goddess of Victory Statue
Though it is meant to represent the ancient Greek goddesses Nike, local legend has it that Union Square's central statue was modeled from the likeness of San Francisco heiress Alma de Bretteville Spreckles. Installed in 1903 to celebrate the U.S. victory in the Spanish-American War, this trident-and-wreath-wielding feminine deity is perched on top of an 85-foot tall column, looking out over the bustling action with a cool, confident demeanor.
From Union Square, walk south on Powell St. toward Market St. (If you're walking downhill, you're going the right way.) Turn right and head west on Market St. toward UN Plaza. If you're facing west at UN Plaza, City Hall will be standing out in front of you.
1 Dr. Carlton B. Goodlett Pl.
San Francisco City Hall
Looking mighty impressive with its massive dome (taller than the U.S. Capitol!), San Francisco City Hall is a beautiful building. San Francisco city government has long been shaped by women leaders. Mary Margaret Morgan was the first woman elected to our city's Board of Supervisors (that's City Council to us) in 1921, just one year after American women gained the right to vote. San Francisco has had two women mayors: Dianne Feinstein, who went on to become a U.S. Senator, and London Breed, our current mayor and the first African-American woman ever elected to the office.
From the Van Ness Ave. side of City Hall, board a southbound 49 Muni bus at the corner of Oak St. Exit at Mission and 18th streets and walk west on 18th St.
3543 18th St.
The Women's Building
Massive murals celebrating powerful female leaders and artists, from Rigoberta Menchu to Georgia O'Keefe, cover The Women's Building, located in the heart of the Mission District. A women-owned cultural center founded in 1979 that advocates for gender equality and social justice, the four-story building hosts a variety of programs and events and serves as a hub for other non-profits.
Walk west on 18th St. to Church St. Turn right and walk north to Duboce Ave. (or board a J line Muni train headed in the same direction). At Duboce Ave. and Church St., board an outbound N line Muni train and exit at Irving St. and 7th Ave.
647 Irving St.
San Francisco Women Artists Gallery
Founded as a "sketch club" for female artists in 1887, San Francisco Women Artists (SFWA) is a non-profit organization dedicated to supporting and expanding women in the arts. Past members include luminaries like Imogen Cunningham and Ruth Asawa. The onsite gallery hosts monthly exhibitions, as well as permanent work by current and past members.
Walk west on Irving St. and turn right at 9th Ave. Walk north to enter Golden Gate Park.
Golden Gate Park
Nancy Pelosi Drive
In honor of Congresswoman Nancy Pelosi's 25 years of service in Congress, including her time as the first female Speaker of the House, the City of San Francisco named one of the streets in Golden Gate Park after her. A trip down Nancy Pelosi Drive, which is bookended by Martin Luther King Jr. Drive and John F. Kennedy Drive, takes you past the California Academy of Sciences to the AIDS Memorial Grove.
---