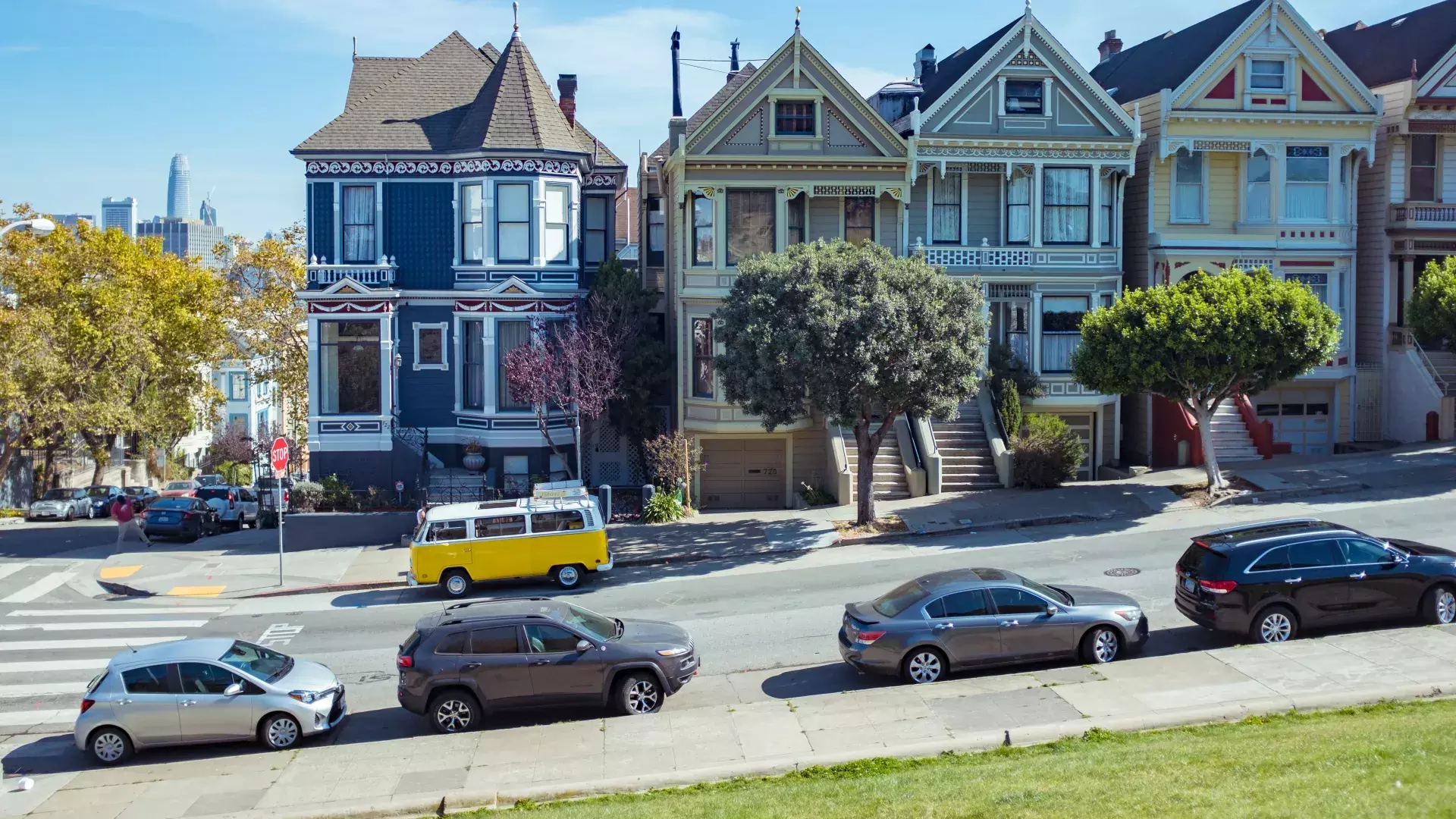 Everything You Need to Know About Parking Your Car In San Francisco
We've got you covered with tips to take away the guesswork and make parking stress-free during your stay in San Francisco.
Having a car can be helpful for exploring the city and sights outside city limits. Remember, gorgeous wine country, charming Monterey, and breathtaking Yosemite National Park are all a day-trip away. Here is everything you need to know to park smart in San Francisco, the gateway to iconic destinations. 
Rules for Parking
In order to park your car legally on the streets of San Francisco, you need to pay attention to three key details:
1. The color of the curb
Red curbs are no parking zones. Typically, you will find them near bus stops and fire stations.
White curbs are five-minute parking zones, which are to be used for picking up and dropping off passengers. You will find these near schools, hospitals, and restaurants.
Green curbs are 10-minute parking zones, typically found near ATMs.
Yellow curbs are parking areas reserved for commercial vehicles only.
Blue curbs are areas reserved for people with disabilities. They do not have any time restriction with a valid disabled person placard on display.
To park your car for longer amounts of time, you need to find an unpainted curb. Once you have located one, pay attention to the time limits.
2. Time limits
Look for signs that dictate the time limit for parking in the area. In a residential neighborhood, the time limit is usually two hours. If there is no signage, you can park your car for a maximum of 72 hours. After your time limit has expired, you must move your car to another block. Do not make the mistake of driving around and parking on the same block. You can be fined!
3. Street cleaning schedule
Street cleaning times are indicated in every parking zone. You cannot park your car before the street sweeping has occurred. If you are sure the streets have already been swept, you can park the car in the area, even if sweeping hours have not yet expired. You can find a street sweeping schedule for San Francisco neighborhoods here.
Other rules for parking in San Francisco
Your parked car should always be in the same direction as the flow of the traffic.
When parallel parking, your vehicle's wheels should be no more than 18 inches from the curb.
When parking on a slope (of which there are many in San Francisco), your vehicle's front wheels should be angled such that if the brakes should fail, the vehicle would roll into the curb and not onto the street. For parking uphill, that means angling the tires away from the curb, and for parking downhill, towards the curb.
Beware of tow-away zones. Certain parking zones are tow-away zones during rush hour. Tow-away restrictions are written in red on sign posts and on parking meters.
Paying for Parking
You can pay parking meters in San Francisco with coins, credit cards, prepaid cards, and even by phone. To utilize the pay-by-phone option, download the PayByPhone parking app. Enter the location of the meter and pay the requisite amount. You can use the app to replenish your parking time before it expires. There is no charge for using the PayByPhone app. Not so app savvy? You can also call 866-490-7275.
If you park at a multi-space parking pay station in San Francisco, you can get on your journey more quickly, not having to look for monies or return to your vehicle to display a ticket. Furthermore, you can remotely extend your time limit from any pay station or via the Pay-by-Phone mobile app, eliminating the need to return to the original parking meter. The multi-space parking pay stations replaced single-space parking meters to include new configurations that moved from pay-by-space to pay-by-plate technology. This technology ties together pay station data with license plate (LPR) technology, mobile enforcement solutions, and "Cloud-based" payment methods, such as pay-by-cell.
If you're looking to simplify the process of paying for parking, you can do so ahead of time by reserving a space through SpotHero.
Special Event Parking
Going to a Giants game? Attending an event at the newly renovated Moscone Center? Seeing your favorite band at Bill Graham Civic Auditorium? These major venues around the city have ample parking as part of or adjacent to their facilities. Rates and availability will vary, so contacting these venues for specifics is your best bet.
The Best Kept Secret for Parking
There are many parking lots operated by the Port of San Francisco along the Embarcadero, in the vicinity of popular tourist attractions such as PIER 39 and Oracle Park. These lots also tend to be cheaper than other parking zones in the city.
How to Find A Parking Space
You can use SFPark's official mobile app to find parking spaces in the city. The app is updated in real-time and follows dynamic pricing based on the availability of parking spaces.
The SFMTA uses the approach to setting parking rates in San Francisco based on demand that encourages people to park in underutilized blocks and garages, helping to open up spaces in busy areas and at busy times. Through "smarter pricing for parking," the SFMTA help to achieve the right level of parking availability by periodically adjusting meter and garage to match demand. Known as "demand-responsive pricing."
As mentioned earlier, SpotHero is a convenient option to find and reserve a parking space throughout the City.
Parking at SFO
If you leave the city for a while, you can use SFO's parking facilities. Long-term parking rates are $25 per 24 hours. SFO parking is also useful if you pick someone up from the airport. In order to ease the flow of traffic at the terminal drop-off points, SFO's hourly garages are free for up to 30 minutes. Wait there and have your fellow traveler call you when they're ready.
Long-term Parking
We recommend parking in residential neighborhoods. Just look at the street signs for any hourly/daily restrictions. Depending on the neighborhood you're staying near, there are inexpensive long-term parking garages in San Francisco to leave your car.
Mason O'Farrell Garage
325 Mason St.
The Mason O'Farrell Garage is located near the Powell Street BART station and just blocks away from Union Square. Max. daily rate: $35. For all rates and policies, visit their website.
Fifth & Mission Garage
816 Mission St.
The largest parking garage in San Francisco offers eight floors of parking. Max. daily rate: $44. For all rates and policies, visit their website.
Union Square Garage
333 Post St.
The Union Square Garage is the ideal location for those staying in the heart of San Francisco. It is located just below the square itself, surrounded by Macy's, Neiman Marcus, Tiffany's and Saks Fifth Avenue. Max. daily rate: $44. For all rates and policies, visit their website.
Sutter Stockton Garage
444 Stockton St.
The Sutter Stockton Garage is located near the entrance to of Chinatown and just a few blocks away from the Montgomery Street BART station. Max. daily rate: $44. For all rates and policies, visit their website.
Portsmouth Square Plaza Garage
733 Kearny St.
This parking garage is located in Chinatown and is a short walk to Union Square. Max. daily rate: $32.  For all rates and policies, visit their website.
PIER 39 Garage
100 Beach St.
The PIER 39 Garage is a great location for long-term parking if you're staying in the Fisherman's Wharf neighborhood. Max. daily rate: $50 (Mon.-Fri.); $60 (Sat.-Sun.); parking discounts are available with advanced reservation (limited) $15 (weekday); $20 (weekend). Reserve your parking space here. When dining at PIER 39's participating restaurants, ask your server about one hour of free validated parking in the garage.
Long-term BART Parking
Various Locations
Airport/Long-Term (APLT) permits can be purchased by BART riders for up to 30 days. These permits offer a space to park in select stations' permit/reserved areas. Long-term parking will need to be reserved ahead of time based on availability at each station. Daily rate: $7. For more information on long-term parking at BART, visit their website.
Park Smart
Like any big city, San Francisco deals with issues like vandalism and theft. Wherever you park your car, no matter the time of day or night, take all valuables with you. If you love it, don't leave it.
There's Always Public Transit
Driving and parking in the city can be a hassle, especially during commuter hours. Fortunately, the city has dependable public transportation that makes every San Francisco neighborhood accessible. The network of Muni buses and trains, cable cars, and streetcars makes getting around San Francisco a breeze. And it is environment-friendly, too!
---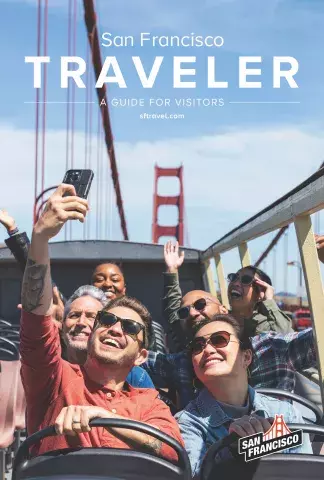 Discover San Francisco's Secrets
Explore Our Visitor's Guide
Check out our free San Francisco Traveler visitor's guide and learn how to explore San Francisco like a local.