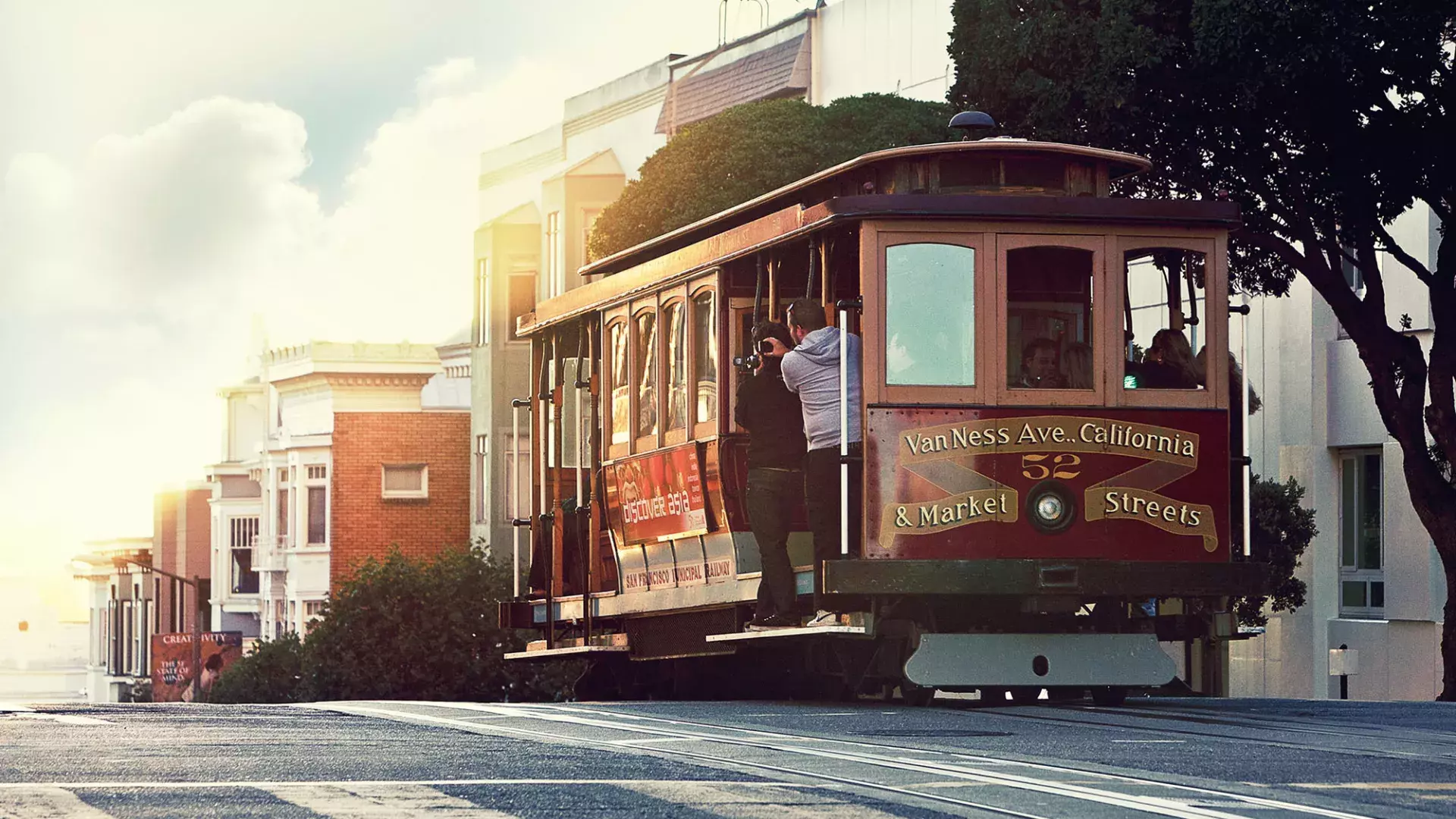 Transportation Basics: How to Get Around San Francisco
San Francisco is made up of 49 square miles of long boulevards, curvy streets, hidden alleyways and lots of hills. But have no fear! Follow these tips and you'll be the transportation hero of your San Francisco adventure.
All About the Clipper Card
First thing's first: whether you're getting to, from, or around San Francisco during your stay, having a Clipper Card will make your travels much easier. The Clipper Card is an easy way to use the various modes of public transportation throughout the Bay Area. Purchasing a Clipper Card allows you access to BART, Muni buses, Metro, and cable cars. When you board, hold the card over a scanner and listen for the beep to make sure that you have an adequate balance on your card for your fare. Cards can be bought at multiple locations and refilled at Muni/BART stations. You can also keep Clipper on your phone! The service is compatible with both Apple Pay and Google Pay.
Getting to San Francisco
Flying into San Francisco International Airport (SFO)
SFO is the preferred airport for visiting San Francisco. It's phenomenally well-connected to dozens of domestic and international cities, and serves as the west coast gateway for much of the Asia-Pacific region. It's also one of the cleanest, safest, and most unique airports in the world. How many airports have you been through that have their own accredited museum or a dedicated Wag Brigade? 
Once you land at SFO, it's easy to get into the city itself. Here are a few different ways:
BART
Bay Area Rapid Transit (BART) all-electric trains are a fast, inexpensive, and dependable way to get from SFO to San Francisco. Once you have your luggage, follow the signs for AirTrain, a free tram service to all terminals. Take either the Red or Blue AirTrain line to the Garage G and BART stop in International Terminal G. Proceed to the platform and board the San Francisco/Antioch train.
BART fares are based on distance traveled; the greater the distance, the higher the fare. A round-trip fare from SFO to downtown San Francisco is $19.30 ($9.65 one-way). 
When you arrive at your destination, you must scan your Clipper Card again to exit the station. If you don't have enough money on your ticket to exit, don't worry. You can add more at the Add Fare machine in the station.
Ride-Sharing Apps
With app-based transportation services, including Lyft and Uber, you can arrange to ride with drivers using their personal, non-commercial vehicles via smartphone. These services pick up passengers on Level 5 of the Domestic Garage. This video demonstrates how to find your ride at SFO. Fares and travel times vary according to demand and traffic.
Shared Van & Shuttle Service
Several privately-owned, shared-ride vans provide service between SFO and passenger-specified locations. The one-way rate from SFO to the city center is approximately $17. Depending on the number of passengers, shared ride vans may make multiple stops, so the travel time can vary. In the Domestic Terminals, shuttles pick up passengers curbside on the Arrivals Level. In the International Terminal, passenger pick-up is on the Arrivals Level roadway center island.
Taxis & Limousines
SFO is served by a number of taxi and limousine companies. Taxis depart from roadway islands on the lower level outside the Arrivals/Baggage Claims area in all terminals. Uniformed taxi coordinators work from 7 a.m. until 1 a.m. to ensure a smooth process for travelers. All cabs are metered. The travel time to popular drop-off points in downtown San Francisco is usually around 30 minutes (depending on traffic) and fares range from $45 to 60.
For a limousine, arrange service in advance with your company of choice or upon arrival via the Lodging, Transportation and Attraction Boards, which provide free phone connections to participating limousine operators. These boards are located on the Arrivals/Baggage Claim Level of all terminals. Contact the service provider for pricing and availability.
SamTrans Buses
The San Mateo County Transit Agency (SamTrans) runs public buses between SFO and downtown San Francisco on the SFO, 292, and 398 lines for $2-$5 one-way for adults. Find SamTrans bus stops in the following locations at each terminal:
Terminal 2: Arrivals/Baggage Claim Level, center island adjacent to Courtyard 2.
Terminal 3: Arrivals/Baggage Claim Level, curbside adjacent to Courtyard 4.
International Terminal: Level 1 at Courtyard A and curbside adjacent to Courtyard G.
Parking
San Francisco neighborhoods and popular tourist destinations are often sprinkled with a myriad of parking options, including metered parking.  However, we encourage visitors to take the confusion and anxiety out of the equation and heading to SpotHero to reserve parking ahead of your trip or while you're in town. 
Flying into Oakland International Airport (OAK)
BART
Taking BART from OAK is an easy and low-cost option to get to San Francisco. After you've picked up your luggage, look for BART signs in the baggage claim. The station is located across from the Terminal 1 baggage claim area and a short walk from Terminal 2. Board a train for the quick eight-minute ride from OAK to the BART Coliseum station, where you can transfer to the BART train bound for your final destination in San Francisco.
OAK trains depart every 5 minutes from 8 a.m. to 8 p.m. daily. Service is less frequent at other times. Round trip BART fares from OAK to San Francisco ($22), downtown Oakland ($17.20) or other East Bay cities are less than half the cost of taxis or shuttles to the same destination.
Ride-Sharing Apps
Smartphone app-based transportation services like Lyft and Uber serve OAK, providing rides via drivers in their personal, non-commercial vehicles. Arrange your ride via the app, and then follow the signs for Smartphone App Rides in Terminals 1 and 2. Drivers wait for passengers on the second curb of the pickup area. Fares and travel times vary according to demand and local traffic, but a typical ride from OAK to San Francisco takes approximately 45 minutes and ranges in price from $30 to 45.
Shuttle, taxi and limo service prices vary for shuttles, taxis and limousines from OAK to San Francisco. There are multiple options and special prices for traveling groups.
Flying into San Jose Airport (SJC)
Caltrain
Caltrain provides commuter rail service along the San Francisco Peninsula. From the San Jose Airport, take the Airport Flyer-VTA Route #60 bus to the Santa Clara Transit Center. A new shuttle departs approximately every 15 to 30 minutes from 5 a.m. to 11:30 p.m. One-way fare is $2.
Caltrain fares are based on the number of zones that are partially or wholly traveled through by the passenger. There are two Caltrain stops in San Francisco: 22nd Street and Fourth Street. Both are in Zone 1. Allow a minimum of 60 minutes to arrive in San Francisco. Occasionally, the trip might take longer.
Shuttles
Prices vary for shuttle service from SJC. There are also multiple options and special prices for traveling groups. 
Arriving by Train
Amtrak offers a comfortable and enjoyable way to get to San Francisco. The city is served via Thruway bus connections at Emeryville. Ride with the convenience of amenities and picturesque scenery right outside your window as you explore what the Bay Area has to offer.
From the North, take the Coast Starlight from Seattle and Portland.
From the South, the Coast Starlight travels daily from Los Angeles.
From the East, the California Zephyr travels from Chicago and Denver daily.
The Amtrak San Joaquin offers departures from Bakersfield and Fresno.
The Capitol Corridor, also operated by Amtrak, serves 18 stops between Sacramento and Silicon Valley.
Getting Around San Francisco
Muni
Muni is San Francisco's bus and metro system that runs throughout the city, operating buses, trains, cable cars and the F-line streetcar. Muni buses remain above ground and on streets while Muni Metro runs on rails and sometimes go underground. Bus stops come in many forms: small bus shelters, yellow paint on street poles, and white paint on streets. Metro stops can be found on an island in the middle of the street and in underground stations. Using the Metro Map, find the nearest Metro to your location.
Cable Cars and Street Cars
Cable cars and street cars are San Francisco's historic public transit. Cable cars are located downtown and run on three lines: Powell-Hyde, Powell-Mason, and California Street. The F-Line streetcar runs up and down Market Street all the way to Fisherman's Wharf. Purchase fares in advance at multiple locations or via smartphone using the MuniMobile app. A Clipper Card will work on both cable cars and streetcars. 
PresidiGo Shuttle
The​ PresidiGo Shuttle system provides free and accessible transportation to an​d around the Presidio from three routes in the city, seven days a we​ek. Many stops are within a short walking distance from Muni or Golden Gate Transit bus lines.
Ride Sharing
There are a few on-demand car services to choose from, most of them started by San Francisco locals. You must first download the app, register, and set up a credit card payment system to use them. To use these services, set a pick-up location and destination in the app. Within minutes, you will be matched with a driver. Make sure to communicate with your driver; call, text, or wave down their car and always confirm that you are getting in the correct vehicle.
Taxi
As is customary in most U.S. cities, visitors may hail a taxi directly or use a smartphone app.
Bike and Scooter
You can get around San Francisco on two wheels thanks to the many bikes and scooters available.
Across the city, there are 5,500 scooters provided by Lime and Spin. Download any one of their apps to your phone to search for available motorized scooters nearby and enjoy a fun and scenic ride between your destinations.
The Bay Wheels bike share program, operated by Lyft, provides 4,500 bikes and more than 6,000 docks for them across San Francisco. A bike share is great for one-way trips between neighborhoods and is often the quickest, most affordable way to get around. For longer trips or crossing the Golden Gate Bridge, consider renting a bike or signing up for a guided tour.
If you are going to explore San Francisco on two wheels, here are some vital do's and don'ts to remember:
Do check brakes and wheels before riding.
Do wear a helmet and follow traffic rules. Only ride in the bike or travel lane.
Do obey traffic signs and signals.
Do park your bike or scooter upright and with care on the sidewalk or in a designated bike rack.
Don't ride on sidewalks.
Don't park in ramps or at blue, yellow or white curbs. Blocked paths can be dangerous for people with disabilities.
Don't block sidewalks or building entrances.
Ferries
A ferry ride on the bay is a fun way to travel beyond San Francisco. Enjoy lunch on the water in Sausalito (there's shopping, too) or visit the quaint town of Tiburon with scenic views of the city. The Golden Gate Ferry will take you to Angel Island State Park, Larkspur, Sausalito, and Tiburon to the north and all Golden Gate ferries depart from Gate B at the north side of the Ferry Building. Don't miss the Giants Ferry to Oracle Park or the Warriors Ferry to the Chase Center!
The San Francisco Bay Ferry can take you to Alameda, Oakland, Richmond, Treasure Island, and Vallejo to the east and they operate out of the three gates south of the Ferry Building. There are several ways to pay: by Clipper Card, San Francisco Bay Ferry mobile app, paper ticket, at the ferry ticket office, or onboard most ferries with cash or credit card. There's even room for bikes on the ferries (space available). 
Renting A Car
If you want to explore destinations beyond San Francisco, you can use any of our local tour partners or you can rent a car yourself. 
Like any big city, San Francisco has to deal with issues like vandalism and theft. If you plan on renting a car, please note wherever you park your car, no matter the time of day or night, be sure to take all valuables with you. If you love it, don't leave it.
---