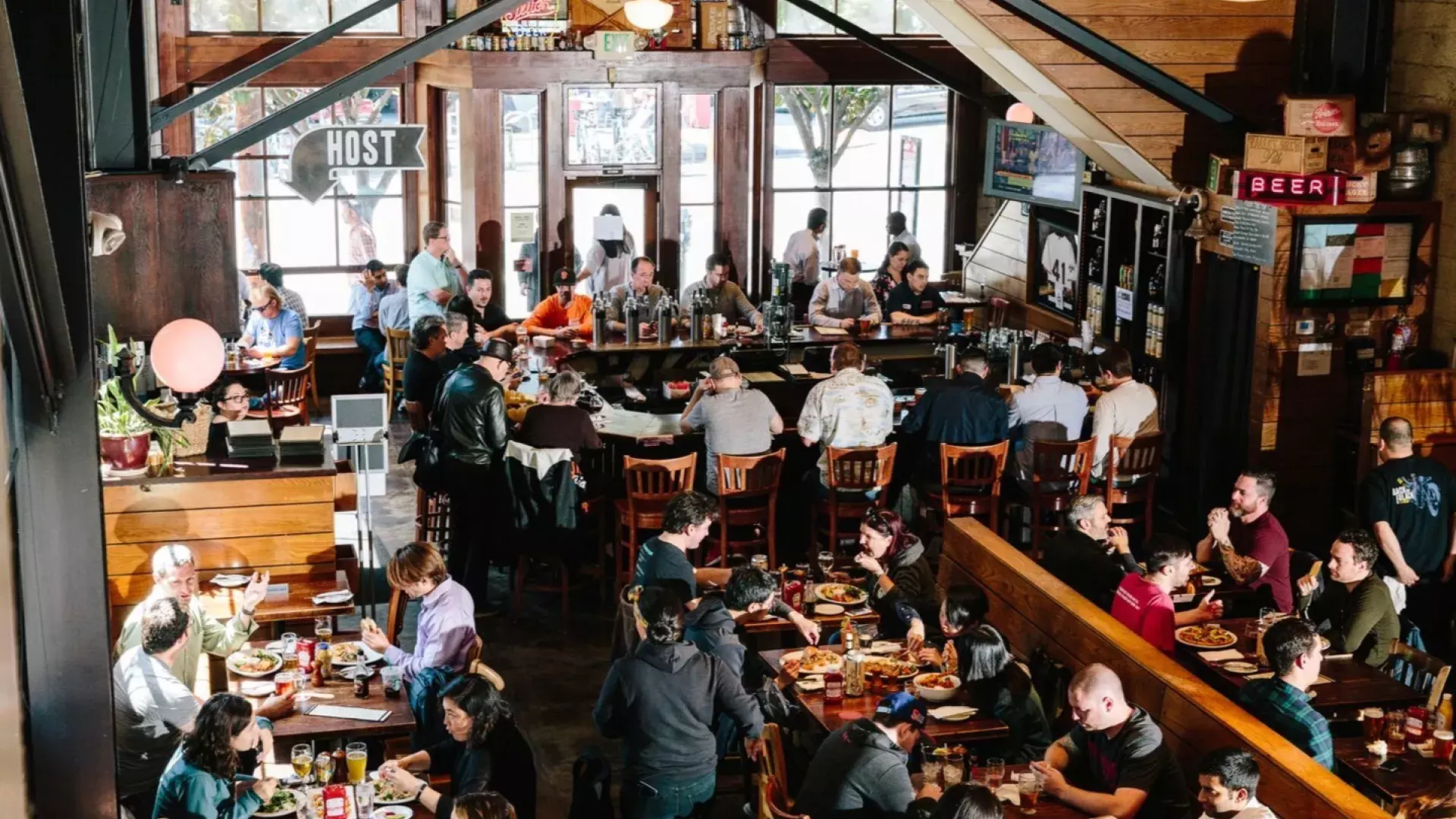 The Best Breweries in San Francisco
San Francisco is a bucket list destination for craft beer enthusiasts. Explore the best breweries in San Francisco on your next visit.
If you're a beer aficionado looking for things to do in San Francisco, brewery hopping should top your list. From stalwarts to upstarts, the City by the Bay is known for its proliferation of excellent craft breweries, taprooms, and gastropubs. We've included how to reach these hoppy havens on public transit, so you can enjoy your brews responsibly. With countless brick-and-mortar locations, as well as annual events like SF Beer Week, San Francisco has truly evolved into a beer lover's paradise.
Anchor Brewing Company
495 De Haro St.
A San Francisco icon, Anchor Brewing is one brewery you absolutely must visit while in the city. Make a reservation to tour the main brewery in Potrero Hill, or stop by Anchor Public Taps (no reservation required) just across the street and sample their iconic Anchor Steam Beer. The 19 Muni bus goes right to the brewery. Get off at Mariposa and De Haro streets and you're there!
21st Amendment Brewing
563 Second St.
Known for their funky cans and creative brews, like Hell or High Watermelon, 21st Amendment is a fun place to visit in person. Located just two blocks from Oracle Park in SoMa, the brewery also serves yummy food (including brunch until 2 p.m. on weekends). Take the 10 Muni bus from downtown and get off at Second and Brannan streets.
Barebottle Brewing
1525 Cortland Ave.
Located in Bernal Heights, Barebottle is like your favorite neighborhood hangout. Games such as ping pong and corn hole fill up the cavernous warehouse space, and food trucks often pull up out front. Join Barebottle for a daily brewery tour if you're curious about how things work, and then order up a Salted Mangolicious New England-style IPA. (Bonus points if you make the slog up to the top of the hill at Bernal Heights park afterward.) The 24 Muni bus is the best option for public transit. 
Barrel Head Brewhouse
1785 Fulton St.
This NoPa brewpub offers over 40 beers on tap, including their own in-house creations. There's a malty winter Scotch ale, a pine-flavored IPA, and a red ale that has hints of caramel and orange, among many others. Barrel Head is also proud of its signature brewtails, which have clever names like Tiger's Blood and Keller Bee. The 5 Muni bus will get you right there. Hop off at Masonic Street.
Bartlett Hall
242 O'Farrell Street
This industrial chic space just off Union Square has its own microbrewery in-house. The brews on tap at Bartlett Hall change weekly, which means you're guaranteed something different every time you visit. Good thing the food is so delicious; you won't feel guilty about returning! Take the 38 Muni bus or BART to Powell Street and you'll be close by.
Ballast Point 
705 16th Street
This brand-new brewery in San Francisco's Mission Bay neighborhood will be your next go-to spot for great brews and elevated bar food! Try a glass of their classic Sculpin, or sample a selection of brews unique to their SF location, all inspired by Northern California. Can't decide which beer to try? Order a 4-ounce pour and create your own tasting! Order dinner from their well-crafted menu that includes bone marrow, Baja fish tacos, classic Smash Burger, Chipotle braised short ribs, and more! Each menu item pairs exceptionally with their beers. Just ask the staff for recommendations!
Black Hammer Brewing
544 Bryant St.
The taproom is open daily at Black Hammer, which is not far from Oracle Park, making it a perfect pitstop for pre-game beers. This artisan operation is small-scale, so the offerings change all the time. The Sparkle Pony (a Belgian blonde ale), Bock Party (traditional bock beer), and Daft Funk (a Brett strong ale) are just some of the brews we've enjoyed there. Why not take the 47 Muni bus to Fourth and Bryant streets and see what they're pouring today? 
Cellarmaker Brewing Co.
3193 Mission St.
Known for small-batch, experimental brews, Cellarmaker always has something inventive in the works. Although they usually keep at least a few hoppy beers on tap, you'll find everything from Double Mad Nibs Imperial Chocolate Milk Stout to Babooshka Ya-Ya Baltic Porter scrawled on the slatted chalkboard. At the outer edge of the Mission, Cellarmaker can be reached by taking BART to 24th Street or the Muni J-Church line to 30th Street.
Fort Point Beer Company
The Ferry Building and 742 Valencia St.
Although the Fort Point Beer Company brewery itself is housed in a historic building in the Presidio, near the Golden Gate Bridge, the Fort Point taproom is conveniently located in the Ferry Building on the Embarcadero. Try their widely distributed park wheat beer or opt for something a little more unique, like the Manzanita, a smoked altbier brewed with charred manzanita. Almost all roads lead to The Ferry Building, so you'll have no trouble getting there. Their Valenica Street location is easily reached aboard the 14, 22, or 33 Muni bus lines.
Harmonic Brewing
1050 26th St. and 7 Warriors Way
Both Harmonic Brewing locations are open from Wednesday to Sunday. Their 26th Street location features a rotating roster of beers on tap and visiting food trucks. Their new space, part of Chase Center's Thrive City, is perfect for sports fans, with its ample seating for big groups and multiple TVs. They also extend their hours on days when the Chase Center hosts events. Both locations are best reached along the T Muni light rail.
Laughing Monk Brewing
1439 Egbert Ave.
Off the beaten path in the Bayview neighborhood, Laughing Monk offers up great brews and a packed calendar of events, including Yoga & Beer and weekly Trivia Nights. With a bent toward Belgian brews, Laughing Monk also offers a strong American IPA and a delightful milk stout. Oh, and did we mention they frequently host food trucks on the premises? Take the T Muni light rail to Gillman and Paul avenues to get there.
Magnolia Brewing Co.
1398 Haight St.
Founded in 1997 at Haight and Masonic, Magnolia is a bastion of the San Francisco craft beer scene. The extensive menu still includes their very first beer, the Blue Bell Bitter. Inspired by British gastropubs, the original location puts a distinctively San Francisco spin on the traditional pub experience. The 7 Muni bus is convenient for getting to Haight Street. 
New Belgium Brewing Taproom
1000A Third St.
Just on the other side of McCovey Cove, the sight of many a Giants' Splash Hit, sits the New Belgium Brewing Taproom. With a deep menu of awesome shared plates and beers that are big on flavor as well as their ABV, New Belgium Taproom is a great place to treat yourself. The taproom is dog-friendly and has quirky merch for sale, too. Take the T Muni light rail to get there.
Park Chalet
100 Great Highway
Located quite literally at the edge of the world, Park Chalet has unparalleled views of both Golden Gate Park and the Pacific Ocean. The place is famous for its weekend brunch and Taco Tuesdays, but it also pours its own brewed ales. They run the gamut from a classic IPA to a caramel-flavored black lager. You can take the 5R Muni bus all the way to the end of the line to get to Park Chalet, but in the interest of maximizing your time, you may want to opt for a ride-share.
Southern Pacific Brewing
620 Treat Ave.
Tucked away off of Folsom Street in the Mission, Southern Pacific is a sprawling brewpub in a converted warehouse that looks like it could have housed some of the locomotives that chugged along the famous railroad of the same name. Their taps change daily, but our favorites are their California Blonde and traditional Hefeweizen. Taking the 14 or 49 Muni bus lines to Mission and 20th streets is your best bet for public transit.
Speakeasy Ales & Lagers
1195 Evans Ave.
Recently remodeled, this prohibition-themed joint is hidden away in Hunters Point. Try their famous Big Daddy IPA or, if you're feeling bold, the Double Daddy Imperial IPA. Speakeasy is a bit of a trek from most public transit options, but it's worth a visit. Taking a ride service such as Lyft is your best bet.
Sunset Reservoir Brewing Company
1735 Noriega St.
If you find yourself in the Outer Sunset for a day at Golden Gate Park, the San Francisco Zoo & Gardens, or Ocean Beach, do yourself a favor and stop by Sunset Reservoir Brewing Company. Grab a Foggy Lager, a nod to classic San Francisco weather, and kick back with a plate of Blistered Shishito Peppers or other pub fares in this cozy brewery. You can take the Muni light rail N line to 25th Avenue to get there.
Woods Cerveceria
3801 18th Street
Located at the northwest corner of Dolores Park, one of San Francisco's most popular green spaces, Woods Cerverceria is styled after a rustic Argentinian estancia. Beyond their eye-catching labels and delicious beers, Woods also creates several co-ferments: beer spontaneously fermented with grapes by native wine yeast. Try one of these unique creations on your next visit. You can get to Woods Cerverceria on the 33 Muni bus or the J Muni light rail.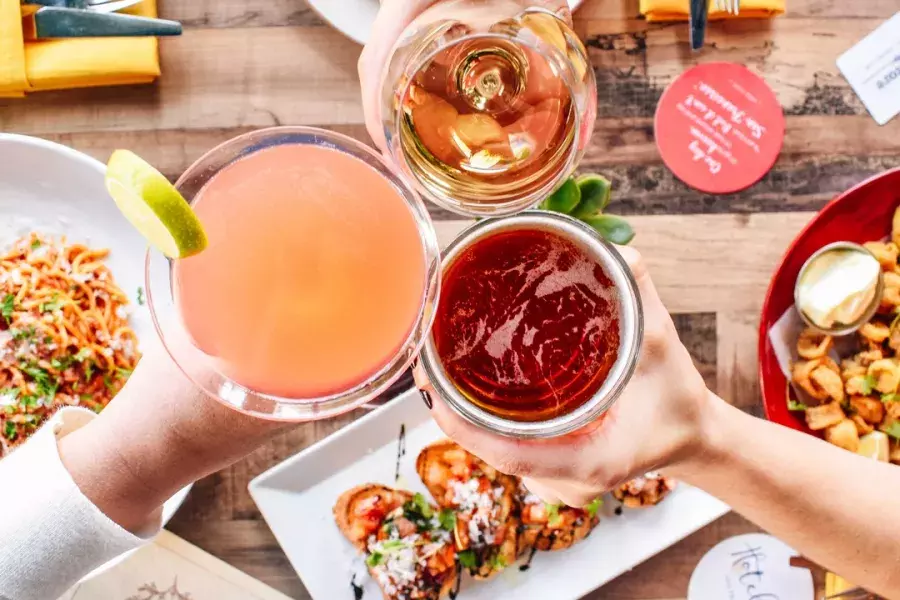 Explore More Eats & Drinks in SF
Looking for more great places for a drink in San Francisco? There's no limit to the number of incredible restaurants, bars, lounges, breweries, and even wineries.
Explore
---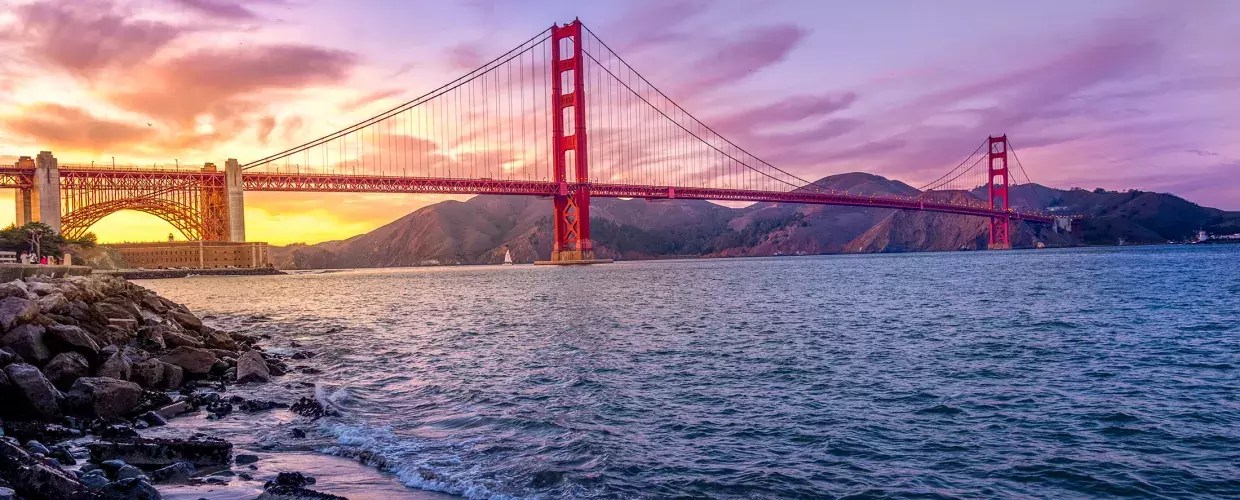 Stay Connected with SF
Sign Up for Our Newsletter
Be the first to know about upcoming events and festivals, new restaurants, special deals, and everything else happening in the City by the Bay.