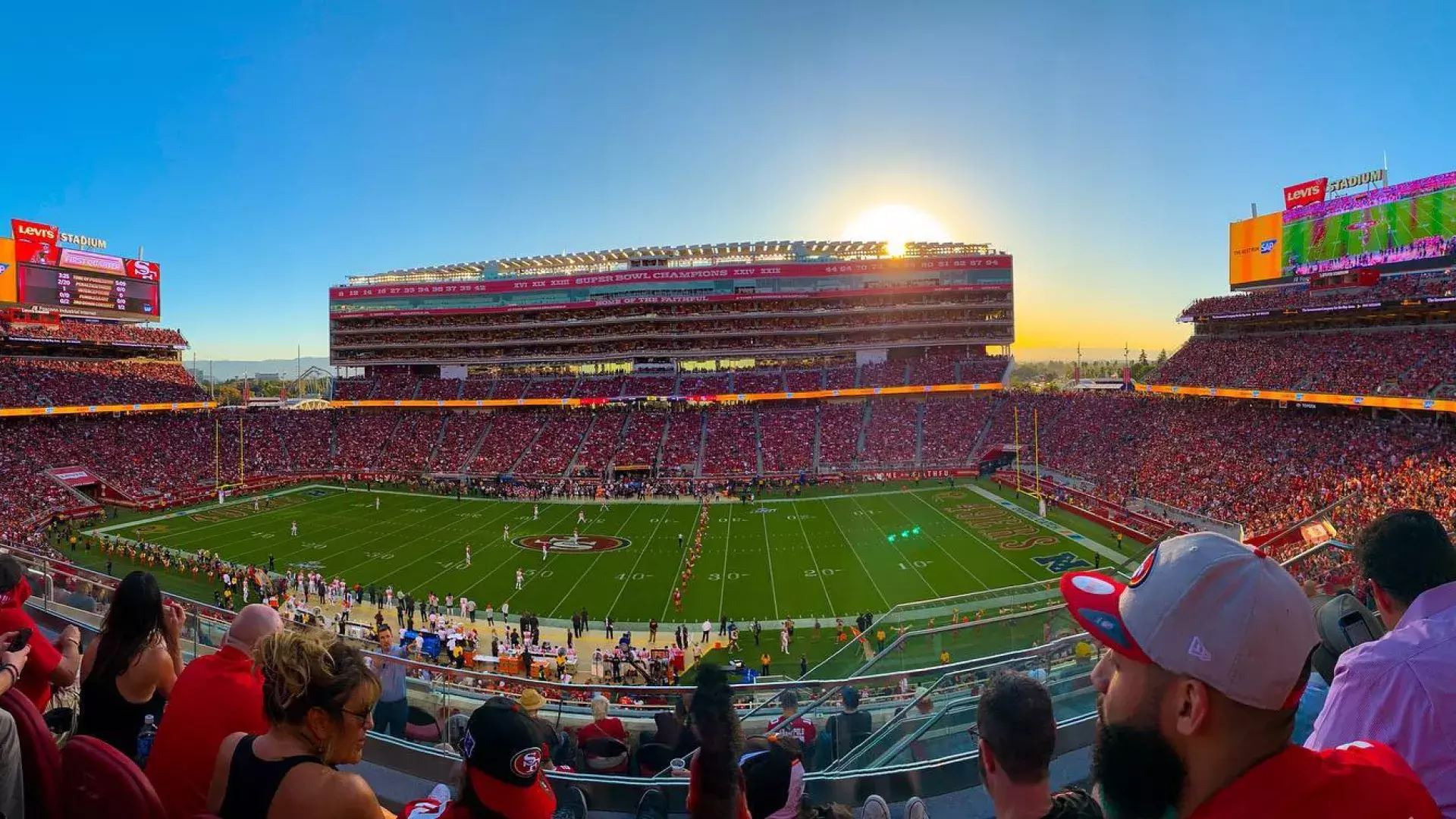 The Guide to

Wathcing the San Francisco 49ers at Levi's Stadium

San Francisco's original sports team is based in the state-of-the-art Levi's Stadium in Santa Clara, California.
San Francisco has a proud history of professional sports, and the San Francisco 49ers hold a particular place of honor as the city's very first major league sports team. If your trip to San Francisco coincides with football season, don't pass up an opportunity to see the 49ers in action. Every game is exciting, and the state-of-the-art Levi's Stadium, the new home of the 49ers and 2016's Super Bowl 50, offers a first-class experience.
Highlights in 49er History
The 2014 move to Levi's Stadium indeed took the 49ers from San Francisco to Santa Clara, but relocation hasn't dimmed fans' passion for their team. This franchise has a long and storied history, and it has played a critical role in the careers of some of football's greatest heroes.
The San Francisco 49ers were founded in 1946. Their original home was Kezar Stadium in Golden Gate Park. Affectionately known as the Niners, the team's name is a nod to the prospectors who flocked to California during the 1849 gold rush. In 1970, the 49ers moved to the famed Candlestick Park, where they saw years of record-breaking success. In 1995, the team won its fifth Super Bowl, becoming the first in the league to collect that many championships.
Some of the most extraordinary football players in history spent time with the 49ers, including wide receiver Jerry Rice, quarterback Joe Montana, and safety Ronnie Lott. In the 2018 season, fans counted on quarterback Jimmy Garoppolo to lead the team to victory.
Visiting Levi's Stadium
Taking in a 49ers game gives you an opportunity to see what's beyond San Francisco. Levi's Stadium is about an hour south, in Santa Clara. If you have some time to spare before kickoff, check out the waterslides at California's Great America amusement park or learn what drives your favorite electronics at the Intel Museum. Of course, there is so much to see and do inside the stadium you might have to leave these attractions for another day.
Tailgating is permitted in the stadium parking lots from the time they open until kickoff, as long as you observe common courtesy. Noise levels should be reasonable, alcohol consumption should be responsible, and you should avoid taking up extra parking spaces or impeding traffic flow.
If you prefer to bring snacks into the stadium with you, pack them in clear plastic and cut the fruit into pieces. Your water bottles must be sealed upon arrival. Levi's Stadium has plenty of on-site options to purchase food and beverages. 
Take a break from the game and explore the team's history at the 49ers Museum. Housed inside Levi's Stadium, this exhibition hall features artifacts from the 49ers' earliest years. Though the Museum is generally open to the public on Fridays, Saturdays, and Sundays, there are extended hours on game days for your convenience.
Finally, if you have a young visitor with you, don't forget to visit the Dignity Health Plaza at Gate C before halftime is over. Your littlest fan will be awarded a souvenir "My First 49ers Game" Certificate to commemorate the experience.
Getting to the Game
The move from San Francisco to Santa Clara may have added some distance, but don't worry. There are plenty of options for getting to and from the game. These are some of the most popular:
Car Rental
For maximum flexibility, you may wish to rent a vehicle and drive from San Francisco to Santa Clara. The trip takes approximately an hour, and there is plenty of parking on-site. Lots open three-and-a-half hours before kickoff, and the pre-purchased car parking fee is $50. If you pay for parking upon arrival, the fee increases to $60.
Rideshare Service
The popular ridesharing services Uber and Lyft are both active in San Francisco, and many visitors rely on these services to get from their hotel to Levi's Stadium.
Public Transportation 
The Bay Area has an array of public transportation options that will get you to Levi's Stadium safely and affordably. You can take Caltrain or Capital Cooridor trains from San Francisco and the East Bay, as well as the more local Valley Transportation Authority (VTA) light rail or bus service.
Everything Else
Preseason games are played in August, and the regular season runs from September through December. Post-season games are played in January, and the Super Bowl is played at the beginning of February. From start to finish, the football season is thrilling. Every week, teams get closer and closer to the final showdown.
Once football season ends, there are plenty of reasons to visit Levi's Stadium. You can attend performances by world-famous entertainers like Taylor Swift and Beyonce, or you can take in other sporting events like college football and soccer.
Tickets for 49ers games and other Levi's Stadium events are available through your favorite ticketing website or by visiting Levi's Stadium online. You can also purchase 49ers tickets directly through the team's home page.
---