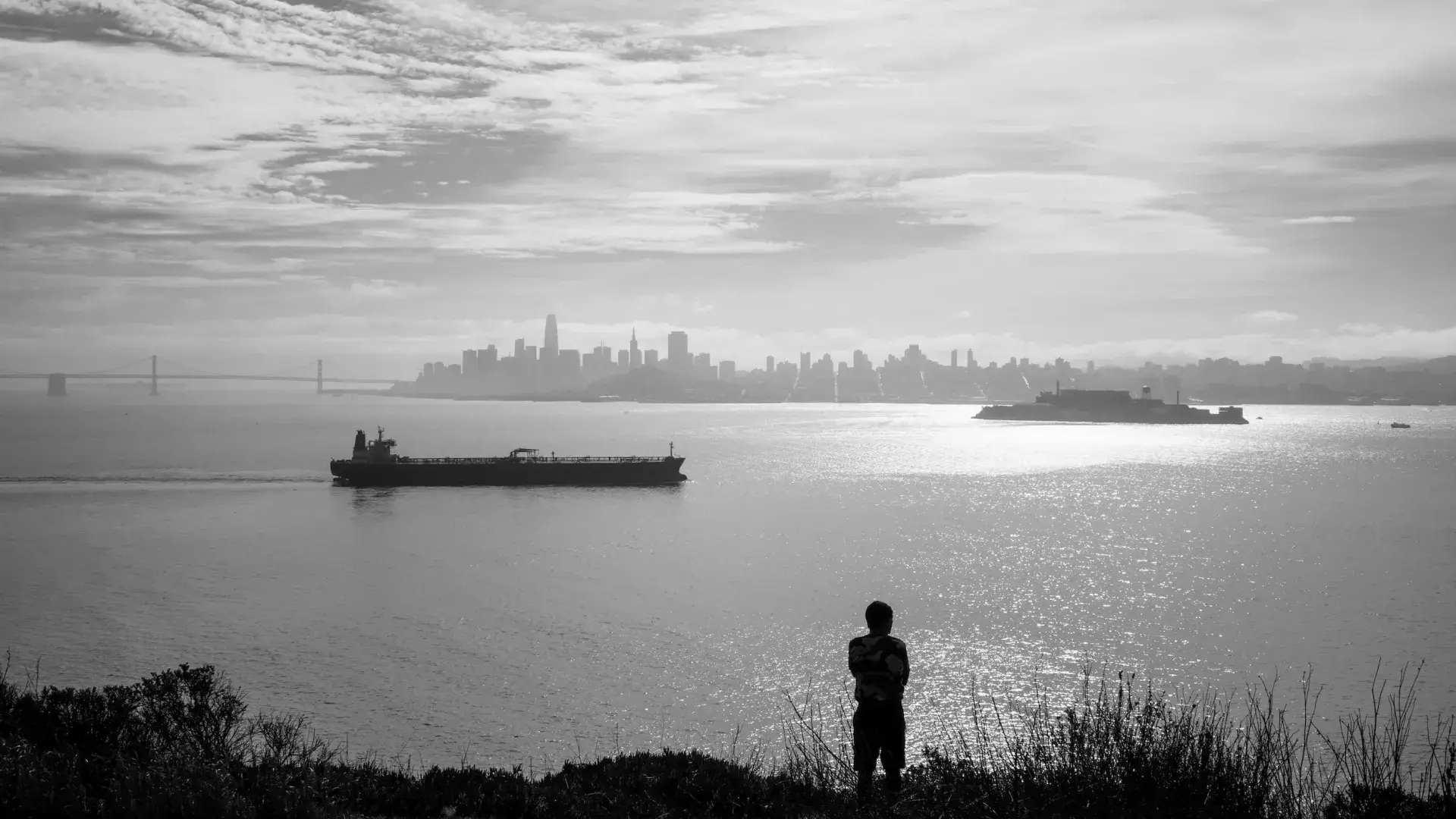 History of Angel Island

The Ellis Island of the West

Learn the dynamic history of San Francisco's Angel Island, the gateway for approximately 175,000 Chinese immigrants in the 1900s.
"This place is called an island of immortals, But in fact the mountain wilderness is a prison. Once you see the open net, why throw yourself in? It is only because of empty pockets I can do nothing else." - Poem carved into barracks wall Angel Island Immigration Station, author unknown.
On a weekend summer day, as the morning fog lifts over the San Francisco Bay, China Cove on the northeastern shore of Angel Island State Park is washed in sunlight–tranquil except for the laughter of children playing on the small stretch of sandy beach and the voices of 200 to 300 visitors.
To most first-time visitors, the cove is another picturesque spot from which to picnic and watch tankers and yachts sail by. To others who know about the island's history, the cove is a curiosity. But to those whose relatives passed through the old immigration barracks on the north slope of the cove, the small, drafty, wooden building–bare and sparse–represents the "Ellis Island of the West."
Angel Island is often overshadowed by its more famous sister island, Alcatraz. Activities and attractions offered on the island include picnic sites with breathtaking views, fishing and sunbathing at coves and beaches, hiking trails through wooded terrain, biking on the five-mile Perimeter Road, camping, historic military sites and buildings and an educational tram tour. The most popular attraction, however, is the old Immigration Station at China Cove.
History of Immigration to San Francisco
Originally built to process an anticipated flood of European immigrants entering the United States through the newly opened Panama Canal, the Immigration Station on Angel Island opened on Jan. 21, 1910, in time for World War I and the closing of America's "open door" to stem the tide of these immigrants from Europe. The facility instead served as a detention center for the majority of the approximately 175,000 Chinese immigrants who came to America between 1910 and 1940, seeking escape from the economic and political hardships of their homeland. At any one time, between 200 and 300 men and 30 to 50 women were detained on Angel Island.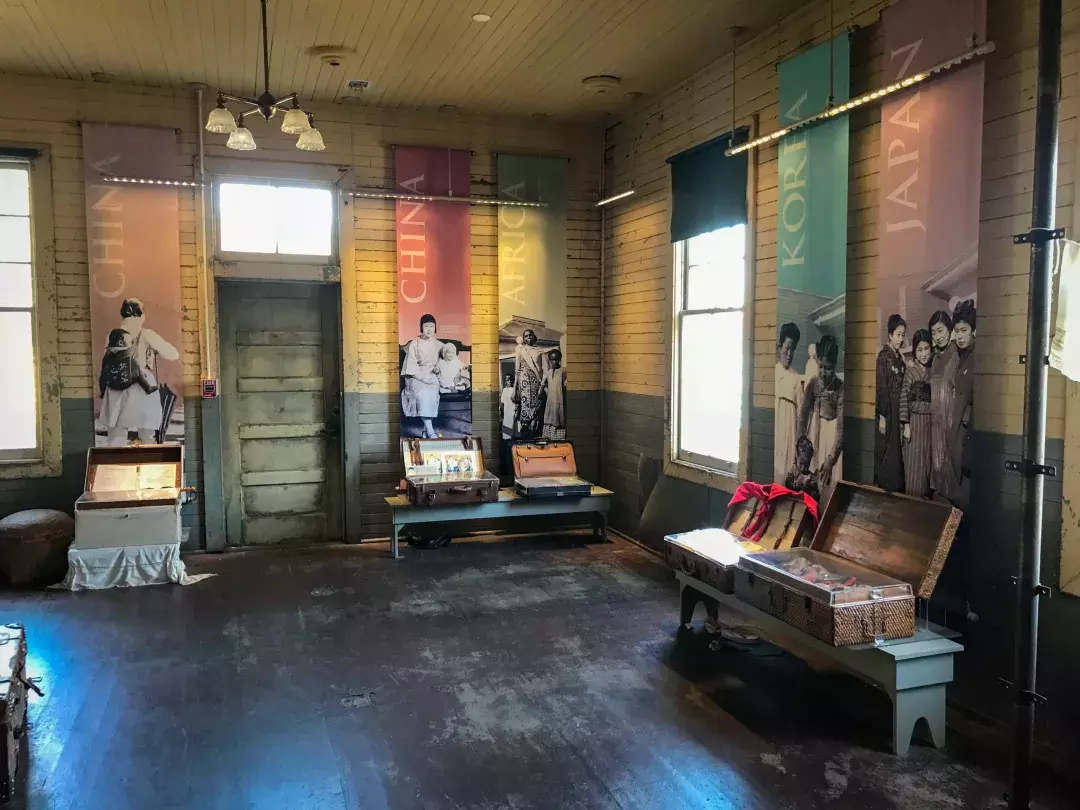 What these newcomers found when they reached America was discrimination and a series of restrictive anti-Asian laws, including the Chinese Exclusion Act of 1882. Although all Asians were affected, 97% of the immigrants processed through Angel Island were Chinese.
After the earthquake and fire of 1906 destroyed records that verified citizenship, many Chinese residents of California were able to claim citizenship for themselves and dozens of "paper children."
Citizenship papers were then sold to prospective immigrants. Entire villages would often purchase papers for one representative in the hopes that he would return from "Gam Saan," or "Gold Mountain," and share his expected wealth. Immigration officials responded to this deception by detaining all working-class Chinese immigrants for interrogation.
Typical questions asked in these interviews included:
How many stairs lead up to your house?
How many chickens did you own?
Recite your family history.
Those whose answers did not match those of their "paper parents" were deported.
According to Immigration Station docents, almost 10% of the detainees were deported. Rather than face the humiliation of being sent back to their villages, which had pooled meager resources to buy citizenship papers, many deportees took their own lives.
Chinese immigrants were held on Angel Island for weeks, months, or even years while awaiting hearings or appeals on their applications. In contrast, immigrants passing through Ellis Island on American's east coast—who were generally European—were processed within hours or days and merely had to pass medical exams.
Poetry
Authorities regularly separated family members to prevent the exchange of information and routinely inspected letters and gift packages. To vent their frustrations at their forced idleness and isolation, detainees wrote poems expressing their anger, despair, homesickness, and loneliness.
The poetry, written and intricately carved on the walls in the classical style of the Tang dynasty, were recorded by two detainees in the early 1930s and rediscovered in 1970. Some of the writing on the walls is still legible today. It was this poetry that led to the $250,000 appropriation from the California State Legislature for the preservation of the Immigration Station barracks.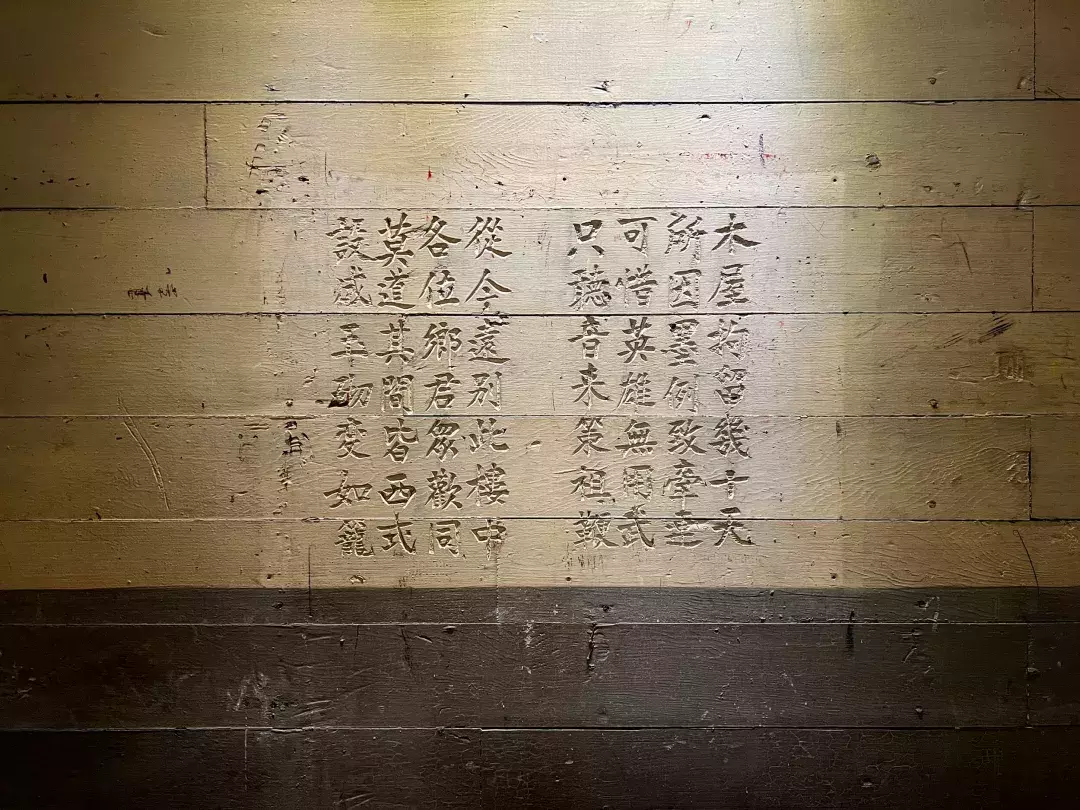 In the now sparse and airy rooms, one can only imagine the isolation and lack of privacy each detainee was forced to endure. Crowded into bunks three tiers high, the men and women imprisoned in the cramped "dormitories" lived in constant distrust of each other.
The women's bathroom, the site of many suicides, looks bright and almost cheerful with its new coat of paint. However, visitors are chilled by the building's draftiness—or is it the thought of unhappy ghosts trapped on this island of immortals?
Although complaints about unsatisfactory conditions and mistreatment were filed frequently—the first filed only a few days after the station opened—bureaucrats were slow to address the charges and did not abandon the detention center until a fire on Aug. 12, 1940 destroyed the administration building.
Three months later, on Nov. 5, a group of Chinese immigrants—125 men and 19 women—were loaded onto ferries and transferred to temporary quarters in South San Francisco.
End of An Era
On this seemingly ordinary day came the end of a sad and bitter era. The Ellis Island of the West had finally closed its doors.
For the thousands of Chinese immigrants who passed through the Angel Island Immigration Station, it is an era best forgotten. On the whole, former detainees have been reluctant to talk about their experiences, preferring to leave this chapter of history closed.
More than 50 years after the closing of the immigration station, there is finally a sense of conclusion. Over 2,000 former detainees have been able to return to their island prison to make peace with the past.
"We finally made it to Gold Mountain," said Paul Chow, former chairman of the Angel Island Immigration Station Historical Advisory Committee. "And we're here to stay. We are part of the United States, just as much as the Europeans are," he said of the Chinese Americans. "We have put the pain behind us. Now we are free to open a new chapter in Asian-American history."
Learning From the Past
Angel Island Immigration Station Foundation (AIISF) raises awareness of the experience of immigration into America through the Pacific. AIISF collects and preserves the rich stories and personal journeys of thousands of immigrants and shares them with visitors and everyone living in America through education initiatives and public programs. The Angel Island Immigration Station reminds us of the complicated history of immigration in America. It serves as a symbol of our willingness to learn from our past to ensure that our nation keeps its promise of liberty and freedom.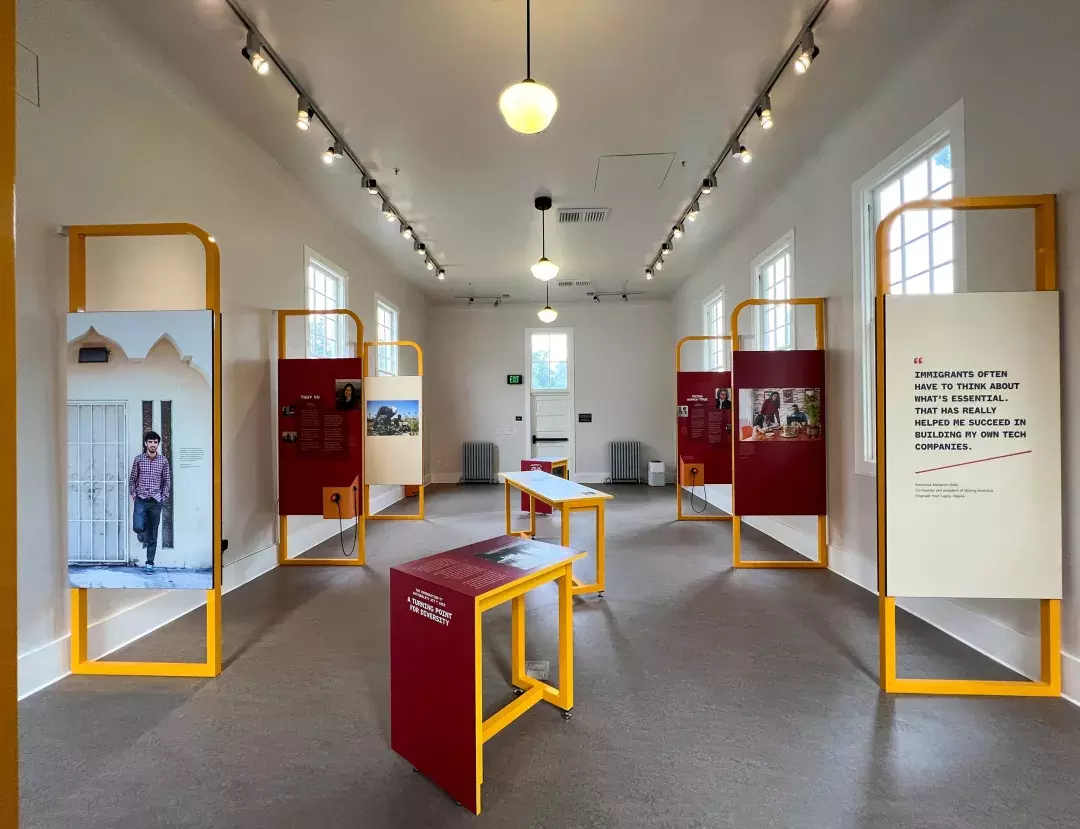 ---