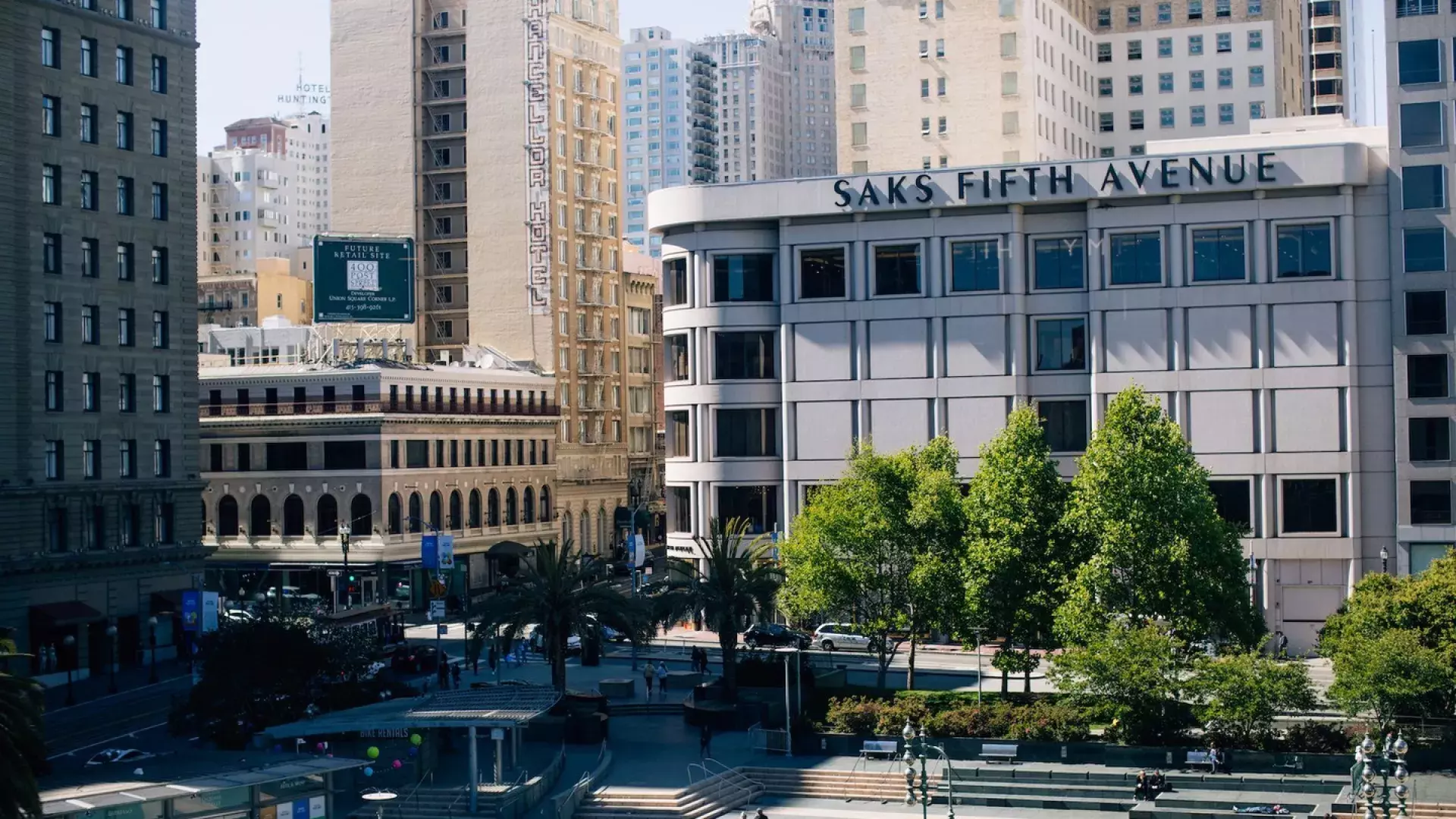 Where to Shop Luxury Retail in Union Square
San Francisco's Union Square has some of the world's most desirable brand names, all within a few blocks of each other. Here's our guide for treating yourself.
Union Square is where both visitors and locals flock for luxury retail. Within a few blocks, you can find dozens of famous brands, including Carolina Herrera, Tiffany's, Lacoste, and more.
Shopping in Union Square
Macy's
170 O'Farrell St.
One of the most iconic stores in the United States, Macy's has been around since the 1800s. Shoppers will find just about everything, from clothing to housewares to gifts, at this location. When you're feeling a bit peckish, you can find sustenance at one of the many restaurants, cafes, and bars located right inside the store. Be sure to visit The Cheesecake Factory on the 8th floor where you will be rewarded with views of Union Square. 
Neiman Marcus
150 Stockton St.
Neiman Marcus is a luxury department store. You'll find everything you'll need to stay classy, including shoes, men's and women's clothing, handbags, jewelry and accessories. They carry high-end brands, such as Tory Burch, Yves Saint Laurent and Michael Kors. When you need a break, you can head to The Rotunda for a luxurious lunch; or, if you just need a snack, The Fresh Market has an offering of light salads and sandwiches.
Saks Fifth Avenue
384 Post St.
Though not on Fifth Avenue, this Saks still lives up to its flagship parent store in New York City. You'll find menswear, women's fashion, a beauty counter, handbags, accessories and jewelry here.
Apple Union Square Store
300 Post St.
No one could possibly live without the newest iPhone. Thanks to this convenient location of the world-famous consumer electronics manufacturer (and Bay Area original!), you won't have to miss out. You can spend hours browsing new technology in this mammoth steel and glass structure.
Bloomingdale's
845 Market St. at Westfield San Francisco Centre
You can't go wrong shopping at Bloomingdale's. This famed department store offers several floors of high-end shopping for both men and women. Take a coffee break and grab a sample at the Nespresso Boutique to enjoy all your favorite flavored coffee pods.
Louis Vuitton
233 Geary St.
Louis Vuitton is such an icon, it hardly needs an introduction. Find all your favorite wallets, handbags, and luggage pieces at the Geary Street location, all crafted from Louis' famous leather, stamped with the iconic LV print.
Nordstrom 
865 Market St. at Westfield San Francisco Centre
Union Square boasts the second-largest Nordstrom store in the United States. You can find everything from women's and men's clothing to designer bags and shoes. If you need a break, head to Bazille, one of Nordstrom's iconic restaurant branches. When you need a little pick-me-up, the Espresso Bar is just the spot for a shot (or two).
Valentino
105 Grant Ave.
You can never own too many handbags. Valentino on Grant Avenue will ensure your collection is fully stocked. While you're here, check out a pair of classic pumps, too. Valentino also specializes in menswear and women's fashion.
Looking for more luxury shopping experiences? Union Square isn't the only neighborhood you'll find them. Check out these other luxury shopping options throughout the city, and even beyond the bridge.
How to Get to Union Square
Take the Powell/Hyde or Powell/Mason cable cars to Powell and Market Streets, or take BART to Powell Street station.
Hotels in Union Square
If your true purpose in San Francisco is to shop until you drop, you might want to stay in Union Square. Check out one of the many luxury hotels in the neighborhood for easy access to shopping, restaurants, and events.
---