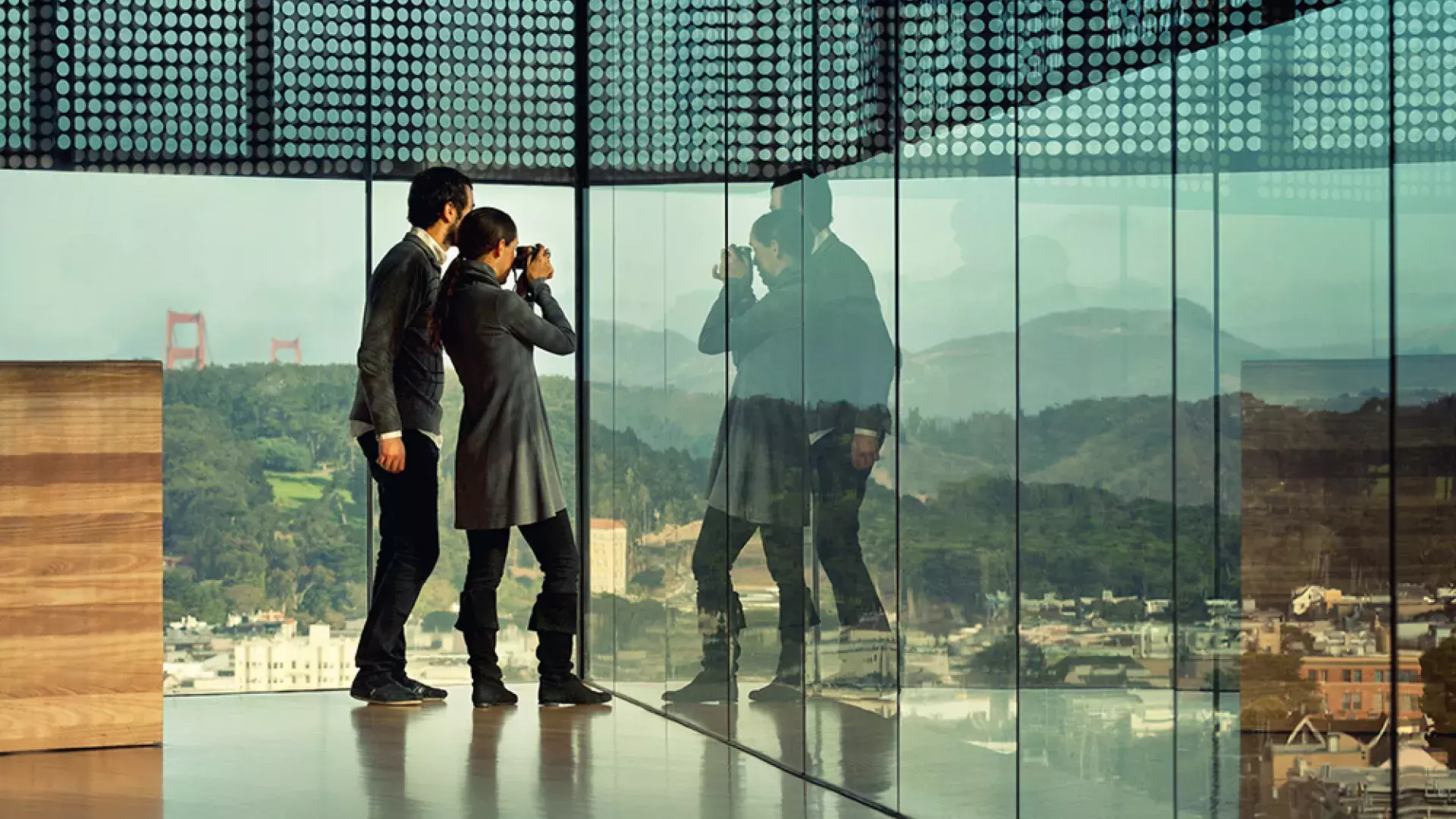 Romantic Things to Do in San Francisco
From fine dining to picnics in the park to sailing the bay at sunset, San Francisco offers romantic experiences to help couples feel the love.
For Those Looking to Wine and Dine
Cocktails with a View at Top of the Mark 
Known for its signature martinis and magnificent views of San Francisco, Top of the Mark is the perfect place for a romantic evening. Arrive for pre-dinner drinks and experience the sun setting on the San Francisco skyline, or linger for a nightcap with the twinkling lights of the city below.
Taste Your Way Through the World of Wine 
San Francisco is a wine lover's town! With plenty of wine bars to choose from, you'll find the right wine to fit your palate. Explore the intimate Etcetera Wine Bar in the Mission, with live music and perfect pairings. Or maybe the cosmopolitan Press Club in Union Square with an extensive selection of wine from all over the world. 
For the Art Lovers
San Francisco Museum of Modern Art 
Stroll through SFMOMA's 170,000 square feet of gallery space to find art that makes your heart flutter. Find giant murals by Diego Rivera, intimate portraits by Matisse, and feel inspired by O'Keeffe. You can spend the whole day at SFMOMA, so don't forget to stop by their world-class restaurant, grace, and cafe Steps Coffee. 
Illuminate Your Night
Permanent light art installations can be found all across San Francisco. Go for a stroll on a clear evening and be dazzled by the luminous creations that artists from around the world have created to brighten San Francisco's nights.
For Adventure Seakers
Golden Gate Bridge
Take a romantic stroll on San Francisco's most famous bridge. Or, for more adventurous couples, rent a bicycle built for two with Blazing Saddles or Bay City Bike. Ride over the Golden Gate Bridge from San Francisco to Sausalito and enjoy a quaint, waterfront lunch. Too tired to bike back? Take the ferry from Sausalito to San Francisco.
Sail the Bay with Your Sweetheart
San Francisco Sunset Tour
Witness the remarkable west coast sunsets with your special something. No matter the occasion, this sunset cruise around San Francisco Bay is sure to spark romance and passion. See the sights, bathed in an orange glow, as you sail toward the Golden Gate Bridge and back. 
Romantic Dinner Cruise
Go overboard for your partner and embark on an opulent evening cruise of romantic bliss. Get lost in each other's eyes as you indulge in a gourmet dinner at an intimate table for two. Enjoy your favorite cocktails at the premium bar and hit the dance floor. Share a kiss under the twinkling stars and watch the city lights disappear behind you.
For A Daytime Date
Take a Stroll on Lover's Lane
Take your date off the beaten path and hike through San Francisco's historic Presidio. Open spaces, trails, and inspiring vistas provide plenty of opportunities to be alone with your loved one while enjoying the quiet beauty that can only be found at the Presidio. Steal a kiss on Lover's Lane and experience the sunset from Baker Beach. Guided tours are available through Urban Hiker SF, or explore on your own.
Ferry Building Marketplace
Sample artisan cheeses, sip Blue Bottle Coffee, and feast on Tomales Bay oysters. The Ferry Building Marketplace is the perfect day-date destination.
Picnic in Golden Gate Park
For the budget-minded, bring a picnic lunch, rent a boat, and go for a romantic ride around the beautiful, 12-acre Stow Lake. Also in Golden Gate Park, share the love by making a handmade, pressed flower card at the Conservatory of Flowers and watch as the penguins build their nests out of heart-shaped valentines at the California Academy of Sciences.
---