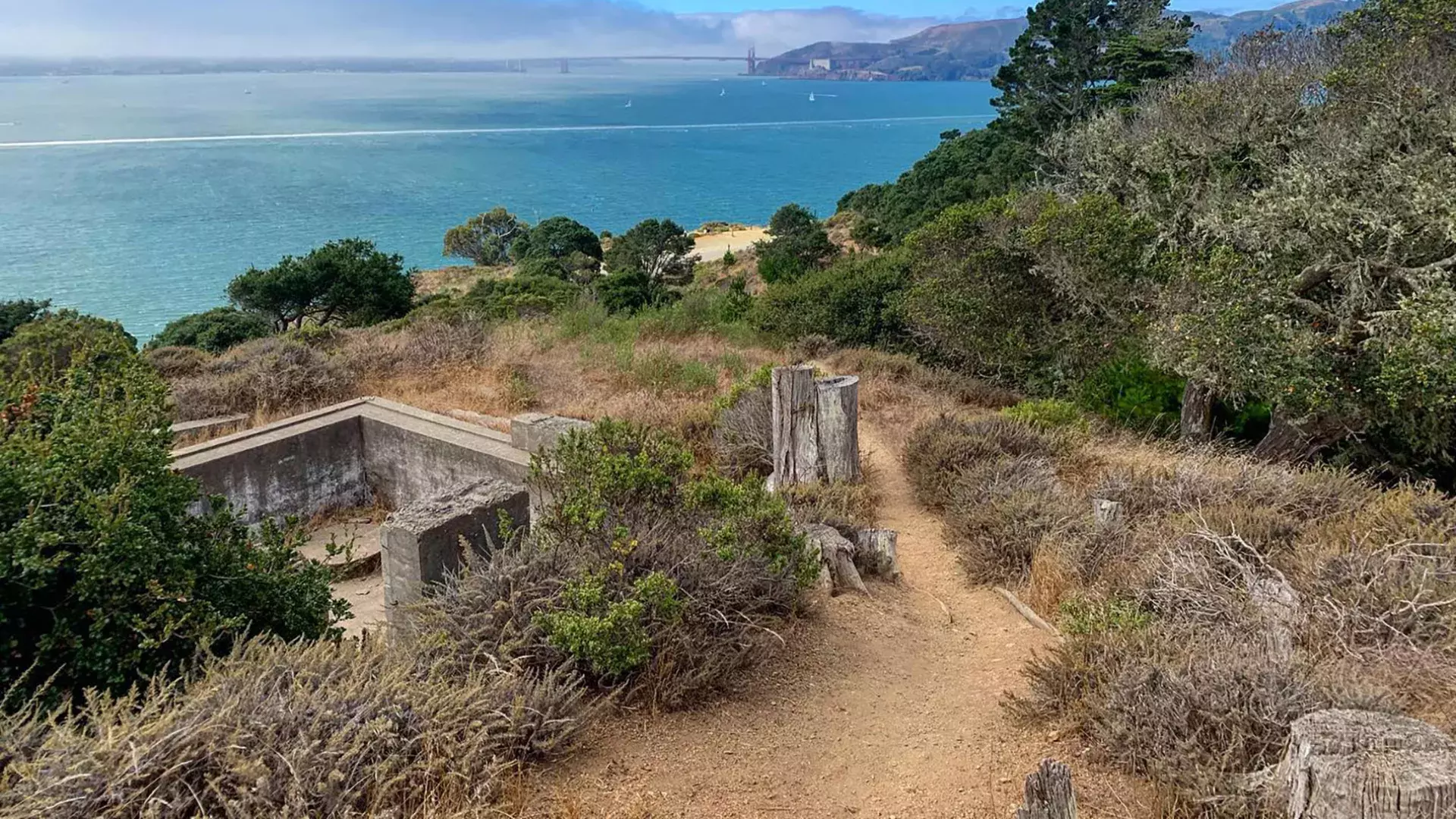 8 Great Places For

Camping in San Francisco and Beyond

Looking to get closer to Mother Nature during your stay? Here's where to camp in San Francisco and the Bay Area.
San Francisco may be a bustling city, but the great outdoors is never too far out of sight. If you love camping, then a visit to the Bay Area is just what you need. There are many beautiful spots for camping both within and beyond city limits. Here are the best places for camping in San Francisco and beyond.
Rob Hill Campground
1475 Central Magazine Rd.
Technically the only campground in San Francisco city limits, Rob Hill Campground is a gorgeous spot in the Presidio. Rob Hill is just off the Bay Area Ridge Trail, and you can get there by bus, bike, or driving and hiking out. There are four public campgrounds here. Each fits 30 people. The facilities include a fire pit, a barbecue, food storage lockers, picnic tables, and restrooms (without showers). You can only bring four vehicles to the campsite, so if you're going with a big group, plan strategically. One added perk of camping in Rob Hill is that you can check out all of the other cool stuff the Presidio has to offer. 
Angel Island Campground
Angel Island
Start your camping adventure on Angel Island by hoping on the ferry to the Island. Make sure to bring your hiking shoes, as it's about a two-mile trek to the campsites from the ferry landing. The East Bay Sites are generally protected from wind. The more exposed Ridge Sites offer views of the Golden Gate Bridge and San Francisco. The Sunrise Sites can be reserved individually or combined as a group camp for up to 24 people.
Kirby Cove Campground
948 Fort Barry, Sausalito
Kirby Cove is just north of the Golden Gate Bridge, and it offers campers unrivaled views both of the bridge and the Pacific Ocean. The campground is set on a sandy beach, and there is a winding path from the parking lot to the campsite. The area is foggy and cool, so you'll be comfortable there year-round. There are five spots for camping at Kirby Cove, two of which are accessible to people with disabilities. There is also a day-use site if you want to spend the day outdoors but prefer sleeping in your own bed.
Bicentennial Campground
Conzelman Rd., Sausalito
Choose Bicentennial Campground for a quick and easy getaway into nature that also has stunning views of the water. The campground is located in the rugged beauty of the Marin Headlands, surrounded by cypress tree groves and unparalleled views of the Golden Gate Bridge and the city skyline. There are three campsites there, each of which can fit three people. The facilities include barbecue grills, food storage lockers, and picnic tables. 
Hawk Campground
Sausalito
Hawk Campground is a beautiful spot for camping in Marin County, with stunning views of Gerbode Valley. The campground is perched high on a hill. It has three campsites that fit four people, picnic tables, and portable toilets. It's free to camp here, but you have to make your reservations in advance. This campground is deep in the woods: it's either a three-mile hike from the Marin Headlands Visitor's Center or a two-mile hike from the Tennessee Valley parking area. Once you're there, you'll feel worlds away from the hustle and bustle of the city, even though you're actually just a short drive away.
Steep Ravine Campground
Rocky Point Rd., Stinson Beach
Steep Ravine Campground is located in Mount Tamalpais State Park. It's popular with visitors and locals alike because it has a collection of adorable wooden cabins, each with a wood stove, table, benches, and platforms for sleeping. Perched high up on a cliff, you can look out and see the Pacific Ocean. You don't have to sleep in a cabin here; you can also bring your own tent. There are only seven campsites here, so reserve one early if you want to visit.
Anthony Chabot Regional Park
9999 Redwood Rd., Castro Valley
One of the best spots for camping in the East Bay is Anthony Chabot Regional Park, a giant campground that is situated in a stunning, wild landscape and offers a tremendous amount of amenities for visitors. You can enjoy hiking trails, riding trails, picnic tables, restrooms showers, phones, drinking water, and more. There are 11 RV hookup sites, 10 tent-only sites, and then 47 sites for tents or small RVs. 
Francis Beach Campground
Kelly Ave., Half Moon Bay
Located at Half Moon Bay State Beach, this gorgeous campground is well-appointed, with sites for both tents and RVs. The campground also has flush toilets and coin-operated showers. Francis Beach Campground is just a few minutes from the town of Half Moon Bay, so you're just a hop, skip, and a jump from civilization, should you need to refuel. Campers say they really love it here because of the Coastside Trail, which runs along the eastern boundary of the campsite and beyond, offering a beautiful spot to run, ride bikes, or walk.
---