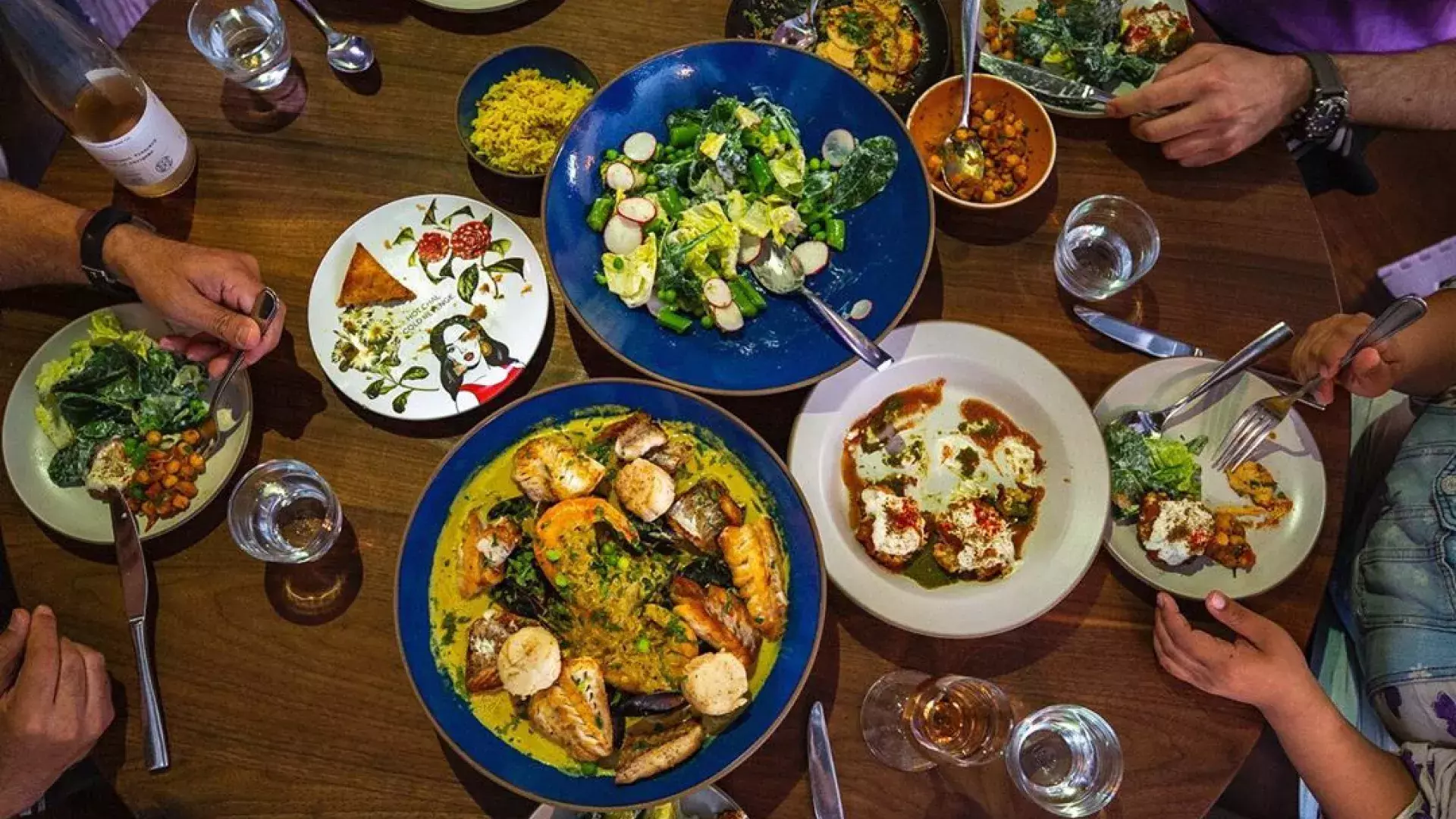 Bars and Restaurants Along San Francisco's Central Subway
San Francisco's best food tour just might be a ride along the Central Subway.
Chinatown
China Live 
644 Broadway Mon. - Thurs.: 5 - 9 p.m.; Fri. and Sat.: 4 - 9:30 p.m.; Sun.: 12 - 8 p.m.
Located in the heart of Chinatown, China Live boast multi-course Chinese cuisine, artisan teas, and tasty snacks in an upscale environment. Throughout this space, you'll find wooden tables, ambient lighting, and a chic bar area.
The food is just as tremendous as the atmosphere. Enjoy favorites like Sheng Jian Bao (pan-fried dumplings), Sichuan dumplings, fried scallion bread, and firecracker chicken. The cocktails at the "secret bar" upstairs are also very tasty. Sample the Confucius Tea Whiskey Cocktail or the Sequoia Sake!
Nearest stop: Chinatown - Rose Pak
Hing Lung Company
1261 Stockton St. Wed. - Sun.: 10:30 a.m. - 7:30 p.m.
Also known as "Go Duck Yourself," this family-owned business has been a staple in the community for many years and continues to be a favorite among locals and visitors.
At Hing Lung Company, you can find mouth-watering dishes prepared with fresh ingredients and traditional Chinese cooking techniques. Some of the must-have items on their menu include their famous roast pork and roast duck, which are expertly prepared for maximum flavor and tenderness.
The owners, Eric and Simon Cheung, are dedicated to preserving the tradition and authenticity of their father's meat shop while also embracing modernity and innovation. As a result, this is one of the best places in San Francisco for authentic Cantonese barbecue.
Nearest stop: Chinatown - Rose Pak
House of Nanking
919 Kearney St. Mon. - Fri.: 11 a.m. - 9 p.m.; Sat. and Sun.: 12 - 9 p.m.
House of Nanking serves Chinese fare in a cozy atmosphere, and is so tasty that you might have to wait in line outside! Try dishes like sesame chicken, salt and pepper shrimp, and hot and sour potato salad. Order the flower tea for something different; this drink has a flower that blooms inside the cup!
Nearest stop: Chinatown - Rose Pak
Wong Lee Bakery
732 Jackson St. Mon. - Sun.: 6:45 a.m. - 6:30 p.m.
This no-frills Cantonese bakery has some of the best and most authentic dim sum in San Francisco. Order platters of dumplings, dim sum, noodles, onion bread, and egg rolls at unbeatable prices. The egg tarts are a must-try, boasting flaky crusts and smooth filling. Wong Lee Bakery might have a long line, but the portions and flavors make it worth the wait.
Nearest stop: Chinatown - Rose Pak
Union Square
Shalimar Restaurant
532 Jones St. Mon. - Sun.: 11 a.m. - 10 p.m.
If you're craving some delicious Indian-Pakistani takeout, you can't go wrong with Shalimar Restaurant. The environment is casual, and all the focus is on top-tier cuisine. Menu favorites include chicken curry, tikka masala, garlic naan, and daal chana.
Nearest stop: Union Square / Market St.
Peacekeeper
925 Bush St. Mon. - Fri.: 3 p.m. - 2 a.m.; Sat. and Sun.: 1 p.m. - 2 a.m.
Enjoy a meal at Peacekeeper, a vibrant spot with high ceilings and massive skylights, serving a great selection of beers, wines on tap, and Oaxacan-inspired cocktails. Its namesake cocktail features a spicy pineapple, ginger, lime, and serrano tequila blend.
Order a cocktail and some chips and salsa while taking in the ambiance. The huge retractable roof opens to the sky, and the fireplace is an excellent spot to get cozy.
Nearest stop: Union Square / Market St.
Jasper's Corner Tap and Kitchen 
401 Taylor St. Mon. - Wed.: 6:30 a.m. - 10 p.m.; Thurs. - Sat.: 6:30 a.m. - 11 p.m
This contemporary gastropub serves crave-worthy New American cuisine, like buffalo wings, smoked gouda mac and cheese, and duck confit poutine. Open for breakfast, lunch, brunch, dinner, and dessert, Jasper's offers hearty food at reasonable prices.
Jasper's is also known for its impressive selection of beverages, with 18 rotating local craft draft beers on tap. It also offers a seasonal lineup of handcrafted cocktails, made with the finest ingredients.
Nearest stop: Union Square / Market St.
The Sentinel
37 New Montgomery St. Mon. - Fri.: 7 a.m. - 2 p.m.
This popular joint is known for its made-to-order sandwiches, making this a great place to grab a quick lunch. Some of the most popular sandwiches include roast beef, lamb and eggplant, and the BALT (basil, avocado, lettuce, and tomato). The Sentinel also serves breakfast, offering breakfast sandwiches, oatmeal, and softball-sized muffins.
Nearest stop: Union Square / Market St.
SoMa / Yerba Buena
The Bird
115 New Montgomery St. Mon. - Wed.: 10 a.m. - 9 p.m.; Thurs. - Sat.: 10 a.m. - 9:30 p.m.; Sun.: 11 a.m. - 9 p.m.
The Bird is a go-to for fried chicken sandwiches and crispy curly fries. The standard chicken sandwich is topped with pickles and crunchy apple slaw. If you're feeling adventurous, order the spicy chicken sandwich. The breading on this chicken is naturally gluten-free, making this an excellent spot for those with dietary restrictions.
Nearest stop: Yerba Buena / Moscone
Mourad
140 New Montgomery St. Tues. - Sat.: 5 - 10 p.m.
This elegant restaurant provides an authentic Moroccan experience with menu items like hand-rolled couscous, kanpachi, raw oysters, and duck basteeya. If you have a big group, take advantage of the family-style meals, boasting massive portions of lamb shoulder, chicken, or whole snapper and four sides.
Nearest stop: Yerba Buena / Moscone
Benu
22 Hawthorne St. Tues. - Sat.: 5:30 - 8:30 p.m.
Benu offers a three-Michelin-star dining experience with a chic and upscale atmosphere, perfect for a special occasion. The restaurant's tasting menu features a selection of French and Asian-inspired dishes, ranging from lobster coral xiao long bao to yuba dessert with white chocolate and almonds.
Nearest stop: Yerba Buena / Moscone
Mission Bay
New Belgium Brewing Taproom & Restaurant
1000a Third St. Mon. - Sun.: 11 a.m. - 10 p.m.
New Belgium Brewing Taproom & Restaurant, situated in the vibrant Mission Bay neighborhood, is a must-visit for beer enthusiasts. Guests can indulge in a world-class beer menu and savor globally-inspired seasonal cuisine.
Not only does New Belgium Brewing San Francisco provide an exceptional selection of beers and food, but it also offers an impressive view with its patio overlooking Oracle Park. This location is perfect for sharing good brews and good times with friends and family while enjoying the stunning views of the stadium.
Nearest stop: Mission Rock
Cavaña
100 Channel St., 17th Floor Mon. - Thurs.: 4 p.m. - 12 a.m.; Fri.: 4 p.m. - 1 a.m.; Sat.: 2 p.m. - 1 a.m.; Sun. 2 p.m. - 12 a.m.
With fantastic views, creative cocktails, and flavorful South American cuisine, Cavaña is a must-try in Mission Bay. This stunning space atop the LUMA Hotel is drenched in natural light and panoramic views. Sample some Latin-inspired tapas and cocktails made with tequila and mezcal.
Nearest stop: Mission Rock
Dumpling Time Thrive City
191 Warriors Way, Suite 101 Mon. - Thurs.: 11:30 a.m. - 8:30 p.m.; Fri.: 11:30 a.m. - 9 p.m.; Sat.: 11 a.m. - 9 p.m.; Sun.: 11 a.m - 8:30 p.m.
Dumpling Time is a popular dumpling-and-beer house from the acclaimed restaurant team behind the city's Michelin-starred Niku Steakhouse. With a focus on creativity and innovation, Dumpling Time presents a range of Asian dishes reimagined with local Californian ingredients, offering a playful and casual dining experience.
Not only does Dumpling Time serve delicious dumplings, but it also offers a selection of small plates, soups, steamed, boiled, pan-fried, noodle, and vegetable dishes, as well as a variety of beverages. Among the popular choices are seafood gyoza and chili pork dumplings.
Nearest stop: UCSF / Chase Center (16th St.)
The Ramp
855 Terry A Francois Blvd. Mon. - Thurs.: 11 a.m. - 8:30 p.m.; Fri.: 11 a.m. - 10 p.m.; Sat.: 10 a.m. - 10 p.m.; Sun.: 10 a.m. - 8:30 p.m.
Offering a variety of American, bar, and seafood cuisine, The Ramp caters to everyone's taste buds. Boasting an outdoor patio beside the water, this former bait shop-turned-brunch hotspot offers a relaxed and fun atmosphere for locals and visitors alike. The Ramp Restaurant is known for its award-winning Bloody Marys and refreshing drinks, which pair well with the fantastic oysters, burgers, and fish and chips.
Nearest stop: UCSF Medical Center (Mariposa St.)
Dogpatch
The Sea Star
2289 Third St. Mon. - Thus.: 4 p.m. - 1 a.m.; Fri.: 4 p.m. - 2 a.m.; Sat: 2 p.m. - 2 a.m.; Sun.: 2 p.m. - 1 a.m.
This bar has been serving excellent drinks since 1899, so to say it's a San Francisco classic would be an understatement! With a jukebox and vintage-style bar, The Sea Star will make you feel like you've stepped back in time. Enjoy live music, nautical-themed accents, a pool table, and beers on draft. Stop in for happy hour or stick around for late-night pizza!
Gilberth's Latin Fusion
2427 Third St. Tues. - Fri.: 10:30 a.m. - 3 p.m., 5 - 9:30 p.m.; Sat. 5 - 9:30 p.m.
This casual yet classy spot offers a unique blend of Spanish and Mexican cuisine and is perfect for a midweek date or a catch-up dinner with friends.
The menu at Gilberth's is diverse and full of flavor, featuring juicy, perfectly seasoned chicken, and roasted fish. They also have a taco bar, complete with a variety of fillings and toppings, catering to lunchtime cravings. For those seeking lighter fare, the menu includes delicious salads, sandwiches, and tapas, which can be enjoyed with their selection of beer and wine.
Marcella's Lasagneria & Cucina
1099 Tennessee St. Tues. - Sat.: 10 a.m. - 2 p.m. 
While the interior of this Italian restaurant is extremely laid-back, they take their pasta seriously—the lasagna, to be specific. Savor six layers of pasta, Parmigiano, mozzarella, bechamel tomato sauce, and your choice of fillings, including Bolognese, Italian sausage, and mushrooms. Marcella's is only open for lunch during the week, so plan accordingly!
Besharam
1275 Minnesota St. Wed. - Sat.: 5 - 9:30 p.m.; Sun.: 5 - 8 p.m.
Dogpatch is home to a number of creative spaces, and that includes the kitchen at Besharam. Chef Heena Patel creates exquisite, traditional Gujarati dishes, including dhokla, drunken pani puri, and dahi wada. Besharam also features a robust drink menu for a restaurant of its size.
Bayview
The Den, a Café by Craftsman and Wolves
1598 Yosemite Ave. Mon. - Fri.: 7:30 a.m. - 2 p.m. 
The Den is a charming café from the renowned Craftsman and Wolves, a contemporary pâtisserie known for its creative culinary delights. The Den offers a cozy, intimate atmosphere where patrons can relax and indulge in a variety of scrumptious treats, from freshly baked bread and exquisite pastries to savory dishes. The café also caters to different dietary preferences, ensuring everyone can find a delicious bite.
Nearest stop: Third St. & Williams Ave.
Laughing Monk Brewing
1439 Egbert Ave. Tues. - Fri.: 4 - 10 p.m.; Sat.: 12 - 10 p.m.; Sun.: 12 - 8 p.m.
This spot is one of the best hangouts in San Francisco, offering events like beer yoga and First Friday karaoke. You can expect to sample brews in a mix of Belgian and American beer styles. An onsite food truck also serves amazing lobster rolls, so come hungry!
Nearest stop: Carroll Ave.
Smokin' Warehouse Barbecue
1465 Carroll Ave. Mon. - Fri.: 11:00 a.m - 2 p.m.
Only open for a few hours each weekday, Smokin' Warehouse Barbecue is worth clearing an afternoon for. Choose from barbecue ribs, pork, and brisket. Just be sure to order ahead because they sell out fast! Don't forget to sample a side of jalapeno bacon mac and cheese, one of the most popular menu items.
Nearest stop: Carroll Ave.
---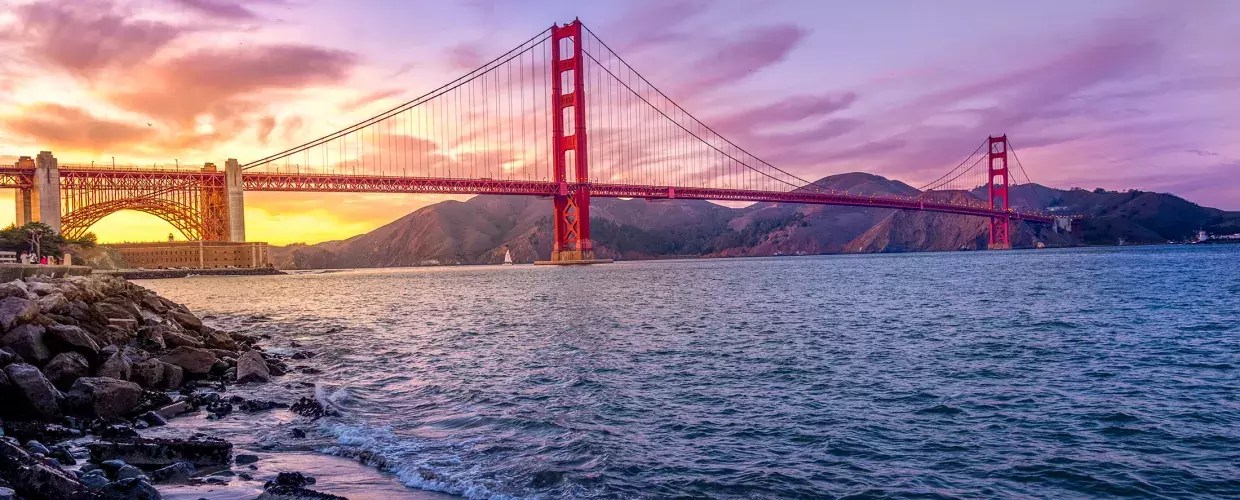 Stay Connected with SF
Sign Up for Our Newsletter
Be the first to know about upcoming events and festivals, new restaurants, special deals, and everything else happening in the City by the Bay.