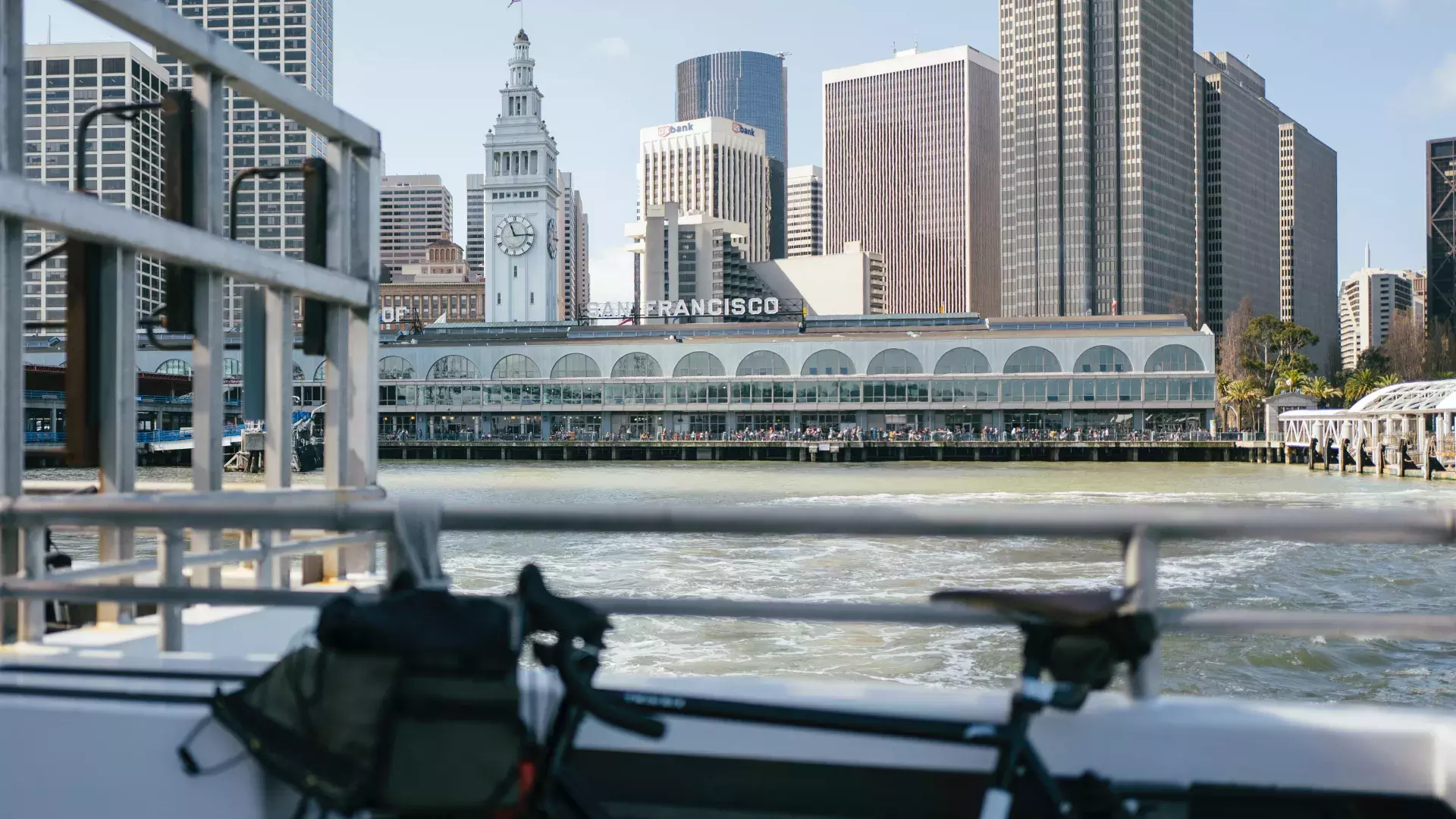 Find the Perfect

Bike Tour in San Francisco

San Francisco is incredibly bike-friendly, which means that a ride on two wheels can be an excellent way to see the city.
San Francisco is a bike-friendly city. Hopping on your own set of wheels is a great way to see the city. Whether you want to follow one of our partners' predetermined routes or have a guide peddle along with you, there are plenty of options for seeing San Francisco by bike tour.
Find Your Bike
Bay City Bike Rentals and Tours
501 Bay St.
Bay City Bike offers guided tours that range from six to 15 miles, both in the city and beyond, and for all skill levels and ages. You can also rent one of their bikes and explore the city on your own. Traveling with a big group? Bay City Bike is great for private events.
Bike & View San Francisco Bike Rentals and Tours
1772 Lombard St.
All rentals at Bike & View San Francisco include a helmet, bike lock, map and bag for your belongings at no extra cost. Their suggested route for a self-guided tour takes you to 32 of San Francisco's most impressive points of interest, from Oracle Park to Fisherman's Wharf and all the way to the Legion of Honor.
Blazing Saddles Bike Rentals & Tours
2715 Hyde St.
Blazing Saddles' guides will take you across the Golden Gate Bridge to Sausalito, while their self-guided tours offer routes that can take you even deeper into hilly, scenic Marin County. They also have a fleet of electric bikes that can be used by anyone who isn't up to peddling the whole time.
Dandyhorse San Francisco Bike Tours & Rentals
1259 Hampshire St.
The tour routes at Dandyhorse were designed to take you off the beaten path, and with its staff of expert local guides, you'll really get an authentic taste of San Francisco. We do mean that literally—one of their offerings is the Mission Food & Murals tour!
Dylan's Tours
782 Columbus Ave.
We included Dylan's Tours on our list of excellent bus tours, but they offer guided electric bike tours as well. See all the places in San Francisco that you can't reach on four wheels but you can on two! You can opt for a fully guided tour or one that allows you time to explore the city on your own.
Ford GoBike
Various Locations
When visiting San Francisco, you might see racks of blue Ford GoBikes in popular neighborhoods. These bikes can be rented for a fee, but they are meant for neighborhood-to-neighborhood travel. They are not associated with any tour offering and are intended for a limited-time use. You may be charged if you use one and do not return it within a specified time. That's why for visitors looking to get the most out of their time on two wheels, we recommend the following options.
Parkwide Bike Rentals and Tours
501 Bay St.
One big benefit of Parkwide's service is that they have multiple locations around the city, meaning one-way rentals are an option. Traveling with a group and want to share the work of peddling? Parkwide has two- and four-seater surreys that you can ride along the roads of Golden Gate Park and others.
Unlimited Biking
887 Beach St.
Rent a bike to explore San Francisco on your own, or join Unlimited Biking on an exhilarating guided bike tour through popular neighborhoods and attractions like Fisherman's Wharf, Ghirardelli Square, Golden Gate Bridge and more. They have the largest fleet of high-quality Cannondale Bikes, including hybrid, road, e-bikes, tandem, and baby seat attachments. To make your bike adventure even more convenient, a helmet, basket, bike lock, and color-coded map with key attractions is also included in your rental.
Wheel Fun Rentals
2627 Taylor St.
Wheel Fun has a variety of bicycles (manual and electric, road and mountain, and adult and family tandem). Their guided tour takes you across the Golden Gate Bridge to Sausalito and Tiburon, after which you can ride the ferry back across the bay to San Francisco.
Find Your Route
Guided tours are great, but if you're set on exploring San Francisco on your own, the city has plenty of clearly marked routes you can follow on your bike.
The San Francisco Bay Trail
Lining the city's bayfront from Dogpatch to the Golden Gate Bridge, San Francisco's portion of the Bay Trail is just a tiny part of a 500-mile total route that takes you across the entire bay perimeter. In San Francisco, it's a flat and easy ride that takes you past a number of the city's most iconic attractions.
Great Highway
Would you rather ride along the ocean? Start high up near Land's End and cruise south down through the Richmond and Sunset neighborhoods along Great Highway. It's a smooth ride without much vehicular traffic to contend with. Bonus: you can easily peel off into Golden Gate Park and ride along its many roads and lanes.
The Wiggle
Fun fact: this path existed before cars, before bikes, even before horses! Once a trail that local Native Americans used to avoid San Francisco's steepest inclines, this bike route connects downtown Market Street to NoPa and Haight-Ashbury. It earned its name for the frequent turns along its one-mile stretch. Your arms may get more of a work-out than your legs!
Marin Headlands
Sure, many of our bicycle rental and tour partners offer you the opportunity to ride across the Golden Gate Bridge—but why not do more riding once you reach the other side? The roads in the Marin Headlands feature designated bike lanes, meaning that you can keep peddling up and over the high hills, exploring this protected refuge and witnessing tremendous views of the bay, the bridge, and the city behind you.
Skyline Boulevard
Looking to journey beyond city limits and explore the peninsula? Skyline Boulevard (also known as California Route 35) begins in San Francisco, but the best stretch for cyclists lies between Half Moon Bay and San Jose. Traffic is light and the elevation of the road itself gives you some spectacular views of Silicon Valley, the south end of San Francisco Bay and the Pacific Ocean.
Make the Most of Your Ride
Don't forget that you can easily combine a bike tour with select San Francisco attractions by purchasing a bundled attraction pass.
---