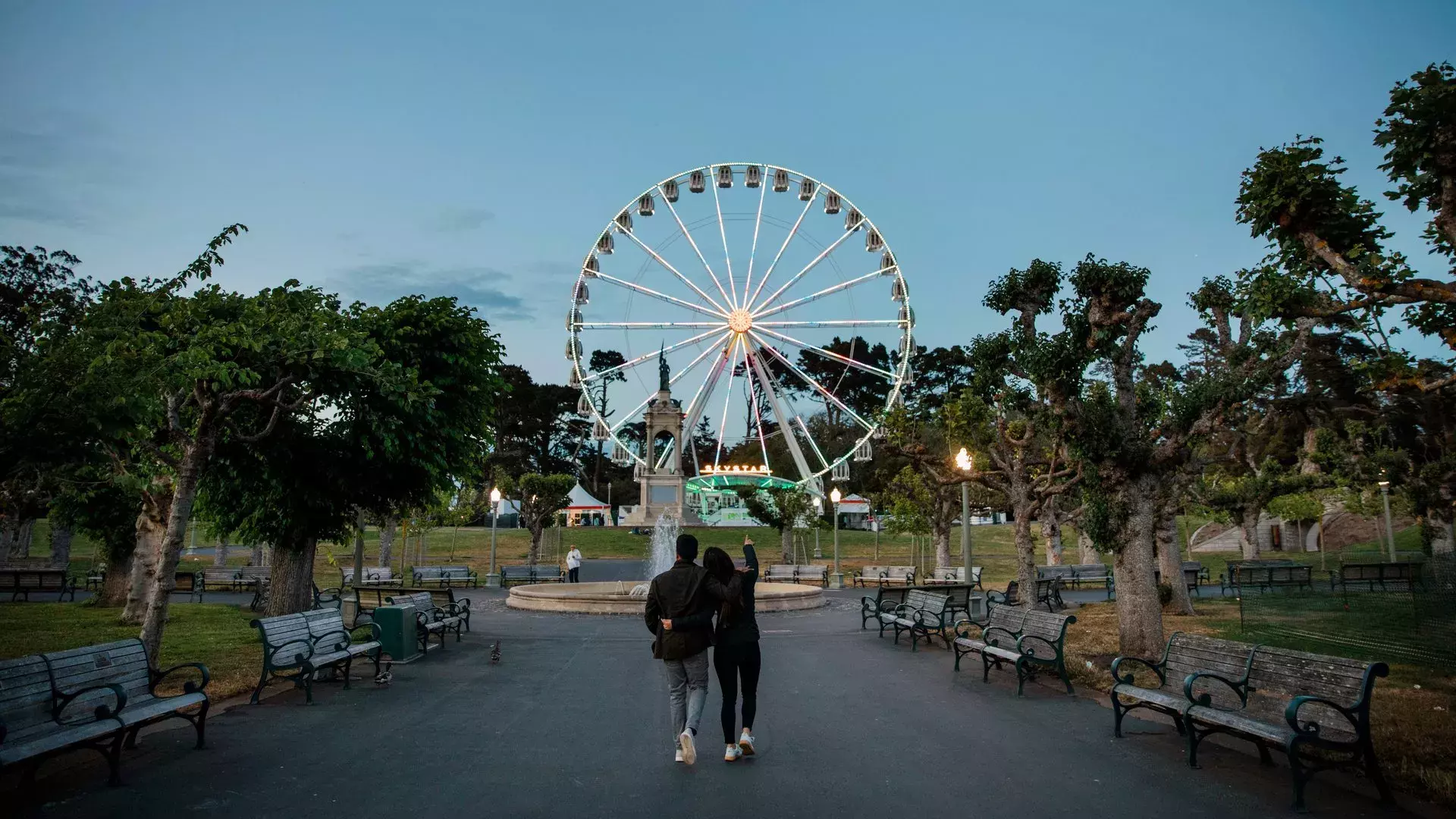 Guide to the

SkyStar Observation Wheel in Golden Gate Park

Find out how to experience Golden Gate Park's newest attraction, one of the most spectacular ways to see San Francisco.
Golden Gate Park may be more than 150 years old, but that doesn't mean it isn't full of fun, new surprises. Take, for instance, the towering SkyStar Observation Wheel. A new addition to the park in 2020, the Wheel will remain to thrill its passengers for another four years. Here's everything you need to know to plan a visit for you and your fellow travelers the next time you're in San Francisco.
About the SkyStar Observation Wheel
Standing 15 stories tall, the state-of-the-art SkyStar Observation Wheel features 36 enclosed, well-ventilated gondolas, boasting unparalleled views that span the city. From its heights, you'll be able to see all the greenery of Golden Gate Park, the churning Pacific Ocean to the west, the Golden Gate Bridge and Alcatraz to the north, and the gleaming skyscrapers of downtown to the east.
Operational hours are 10 a.m. to 10 p.m., seven days a week.
Health and safety modifications to prevent the spread of COVID-19 include thorough sanitizing of all gondolas between each use; only allowing family and friends to share a gondola; social distancing in lines; and onsite hand-washing stations.
How to Get to the Wheel
The Wheel is located at the Music Concourse, the outdoor plaza near the de Young Museum, the California Academy of Sciences, and the Japanese Tea Garden. Public parking is available from 7 a.m. to 7 p.m. in the adjacent Music Concourse Garage, with entrance on the Fulton Street side.
You can also reach Golden Gate Park on Muni, San Francisco's public transit system. From downtown or Union Square, take either the outbound 5 or 7 Muni bus. The 5 will stop at Eighth Avenue and Fulton Street, and the 7 will stop at Ninth Avenue and Lincoln Way. The Music Concourse, including the SkyStar Observation Wheel, are a short (and beautiful!) walk from either stop.
Inside Tips
The best time to take a ride on the Wheel is between 6 and 10 p.m. Wait times tend to be shorter, and you'll be treated to incredible sunset views as your gondola climbs into the sky. 
If you're looking to mark an occasion with something truly memorable, then a visit to the Wheel may be just what you're looking for. Many riders have already celebrated birthdays, graduations, and more at the Wheel. It's even been the site of a few proposals!
Buy Your Tickets
Tickets are available for purchase and may be reserved by ordering online at skystarwheel.com. Tickets are $18 per person, $12 for seniors (65+) and children (12 and under). San Francisco County residents, with valid identification, are eligible for a 15% discount per ticket.
Nearby Attractions
The SkyStar Observation Wheel is in good company with the many excellent attractions inside Golden Gate Park.
On opposite sides of the Music Concourse are the California Academy of Sciences and the de Young Museum. The Academy features a planetarium, an aquarium, and a rainforest enclosure, all beneath one living roof! It's a must-visit for anyone interested in the natural world. Meanwhile, the de Young holds a collection of art that spans cultures and centuries. Sculpture, textiles, ancient artifacts and more can be found within its halls. And if you didn't get your fill of heights on the Wheel, there's always the Hamon Observation Tower at the de Young, which elevates you seven stories above ground.
Also nearby are the Japanese Tea Garden, featuring traditional Japanese architecture and tasty treats, and the Conservatory of Flowers, where some rare plants from other climates are carefully tended and on display. If you really have a green thumb, you'll want to visit the San Francisco Botanical Garden, as well. 
Open fields, wooded groves, specialty gardens, and more can be found as you explore Golden Gate Park at your own pace. You can even rent a boat and take a ride around Stow Lake. The park also contains within its boundaries a nine-hole golf course, two tremendous Dutch windmills, and its own resident herd of bison (safely in their own enclosure, naturally).
---