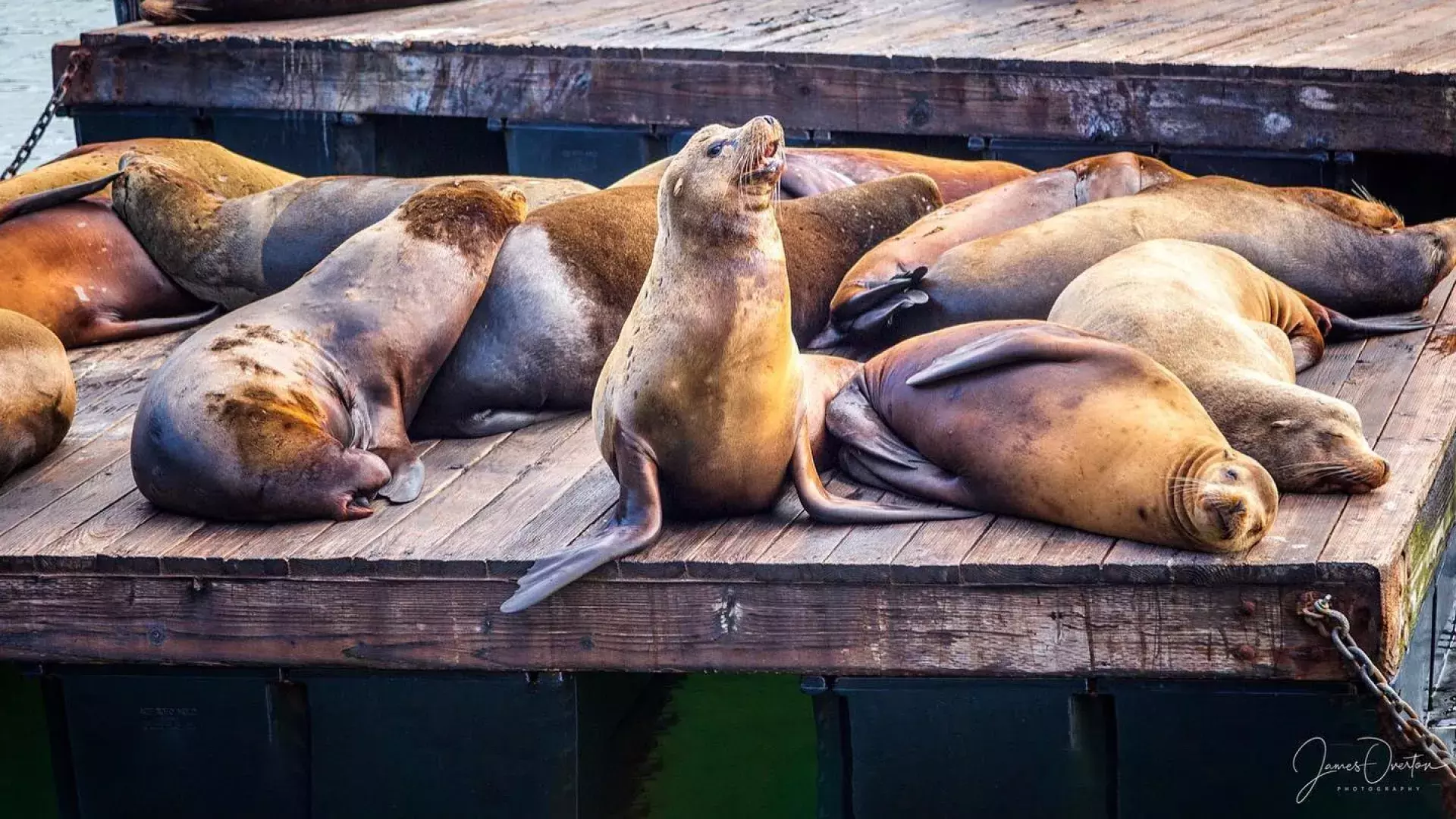 Sightseeing, Dining, and More at Fisherman's Wharf
Enjoy a day of shopping, sightseeing, and dining in the Fisherman's Wharf neighborhood, one of San Francisco's most popular neighborhoods.
Fisherman's Wharf is as iconic to San Francisco as the Golden Gate Bridge and the historic Cable Cars. This area dates back to the 1800s during the California gold rush when Italian immigrants came to San Francisco looking for jobs, and prosperity. Many settled in North Beach and what is now known as Fisherman's Wharf. These fishermen found great success in the San Francisco Bay, catching Dungeness crab and other local delicacies to sell from their boats.
The wharf started to transform in the '70s & '80s into a bustling tourist destination. Seeing the fishing vessels come and go, mend nets, and bring in the catch of the day became a fun activity for both locals and tourists. In 2010, the neighborhood was further developed, turning it into the hub of culture, food, and industry that it is today! When exploring, look for little bits of history along the piers and waterfront area, you can't miss them! 
PIER 39
From amazing views and a sea of sea lions to clam chowder bread bowls and California wines, your visit to the area starts at PIER 39. Kick off your visit by exploring two levels of dining, entertainment, shopping, and attractions - including Hard Rock Cafe, 7D Experience, Fog Harbor Fish House, sailing options, and much more - all surrounded by unbeatable views of the city and the bay. With so many fun activities, here are our favorite 10 Things to Do at PIER 39. Get out and explore this bucket list destination in San Francisco! 
Alcatraz City Cruises
Alcatraz is a must-see for everyone and especially first-time visitors. Aptly named Alcatraz Cruises, the National Park Service concessionaire operates visits to Alcatraz. Visitors can tour the eerie old cellblocks and listen to recorded memories of former prisoners and guards. The night tour is especially spooky and provides a great way to see San Francisco twinkle! 
Tip: Be sure to book reservations well in advance of your visit to San Francisco.
Ghirardelli Square
900 North Point St.
With shops, breweries, and award-winning restaurants, Ghirardelli Square is a premier San Francisco destination. Enjoy spectacular views of the Golden Gate Bridge to Alcatraz, landscaped gardens, one-of-a-kind shopping, and, of course, the famous Ghirardelli Chocolate.
Tip: Be sure to indulge in Ghirardelli's World-Famous Hot Fudge Sunday, featuring fresh hot fudge handmade daily in-store from rich Ghirardelli chocolate. 
Aquarium of the Bay
PIER 39 & Beach St.
Walk through clear tunnels to experience the underwater world of just some of the aquarium's 20,000 marine animals, including leopard sharks, bat rays, and giant sea bass swimming overhead. Make sure to catch the river otters at play and the giant Pacific octopus on view, too. You can purchase an Aquarium of the Bay ticket as part of a CityPASS attraction pass to save on other attractions as well.
Buena Vista Café
2765 Hyde St.
Across Jefferson Street from the Hyde Street cable car turnaround, grab lunch or a pick-me-up at the always-popular Buena Vista, which introduced Irish coffee to America back in the 1950s.
Favorite dishes: Dungeness Crab Melt, Clam Chowder in a Sourdough Bread Bowl, Roasted Turkey with Sage Gravy, and their delicious Pumpkin Pie with Cinnamon Whipped Cream
Scoma's
1965 Al Scoma Way
There are plenty of choices for dinner around Fisherman's Wharf, but Scoma's is a local tradition famous for fresh seafood and its classic feel. Delicious, fresh seafood combines with iconic waterfront views of the San Francisco Bay. Be sure to visit their location in Sausalito, a short ferry ride from San Francisco! 
Favorite dishes: Dungeness Crab Cocktail, Oysters alla Scoma, Clam Chowder, "Lazy Man's" Cioppino, and Linguini Bolognese. 
Boudin at the Wharf
160 Jefferson St.
Two-story flagship building allows visitors to observe the bakery in action. Learn how their famous sourdough French bread is made and why it cannot be baked anywhere else on earth. Stop by the upstairs Bistro to try an iconic SF eat, clam chowder in a sourdough bread bowl! Also, try their sourdough crust pizzas, sandwiches (with sourdough bread of course), and their freshly baked bread you can take to go! 
Blue & Gold Fleet
Breathing the salt air, riding the tides, sailing under the noble Golden Gate Bridge, and feasting your eyes on the hills and city skyline are fun ways to spend an hour or more. Blue & Gold offers scenic cruises, as well as ferry service to Marin County. Want to learn more about Alcatraz? Take their Escape from the Rock 90-minute cruise and learn the history and stories of the iconic prison. Or maybe their 60-minute San Francisco Bay Cruise gives you an up close and personal visit underneath the Golden Gate Bridge! You can purchase a Blue & Gold cruise as part of a CityPASS attraction pass to save on other attractions as well.
San Francisco Maritime National Memorial Park
499 Jefferson St.
At the end of the Hyde Street Pier, jutting into San Francisco Bay, historic ships such as the 1895 schooner C.A. Thayer, the 1890 steam ferryboat Eureka and the 1886 square-rigger Balclutha highlight a collection of vintage watercraft. An open-sided boat repair shop on the pier gives visitors a good look at repair and restoration work, free of charge. The park visitor center is located on the landward side of Jefferson in a beautifully restored former cannery. Stop by and talk to the rangers to learn all the history of this location. 
Madame Tussauds
145 Jefferson St.
Get closer to your favorite stars and icons than ever before! Step onto the court and shoot hoops with Steph Curry or jam on stage with Jimi Hendrix to experience the full "Spirit of San Francisco." Strike a pose with Beyonce and sparkle center stage with Adele, or get behind the camera with Steven Spielberg at the world-famous wax museum's outpost on the wharf.
Museum of 3D Illusions
55-61 Jefferson St.
Let your imaginations run wild at the Museum of 3D Illusions. Hang from a San Francisco skyscraper, become a professional surfer, and survive a lava eruption! The 40+ optical illusions make for great photo opportunities at every corner of the museum. 
Cartoon Art Museum
781 Beach St.
This museum houses nearly 7,000 original pieces of cartoon art, including comic books, graphic novels, anime, political cartoons, and much more at its new location in Fisherman's Wharf. Visitors of all ages can view original cartoon art at exhibitions and screenings, produce their own comics and animation in classes and workshops, and mix and mingle with professional and aspiring cartoonists.
Cioppino's
400 Jefferson St.
With dozens of dinner choices around Fisherman's Wharf, Cioppino's is a crowd favorite for locals and visitors alike. This family-owned restaurant has been operating for over 100 years and is famous for its Cioppino – a seafood lover's dream!
Favorite dishes: Red Chili Shrimp & Calamari, Dungeness Crab Cakes, Clam Chowder, Seafood Fettuccini, Cioppino, Fishermans Platter, and Tiramisu.
San Francisco Brewing Company
3150 Polk St.
San Francisco-inspired pub food with an outdoor beer garden in Ghirardelli Square. Sample one, or two, of their small-batch beer while enjoying interactive games or live TV sports. Explore their delicious menu which is reflective of the diversity of Bay Area cuisine. The menu is designed to complement each of their beers, ask for pairing recommendations on your next visit. 
Favorite dishes: Cheddar Bacon Tots, SF Brew Co Cheddar Burger, Turkey Stout Chili, and Brewer's Pizza.
---