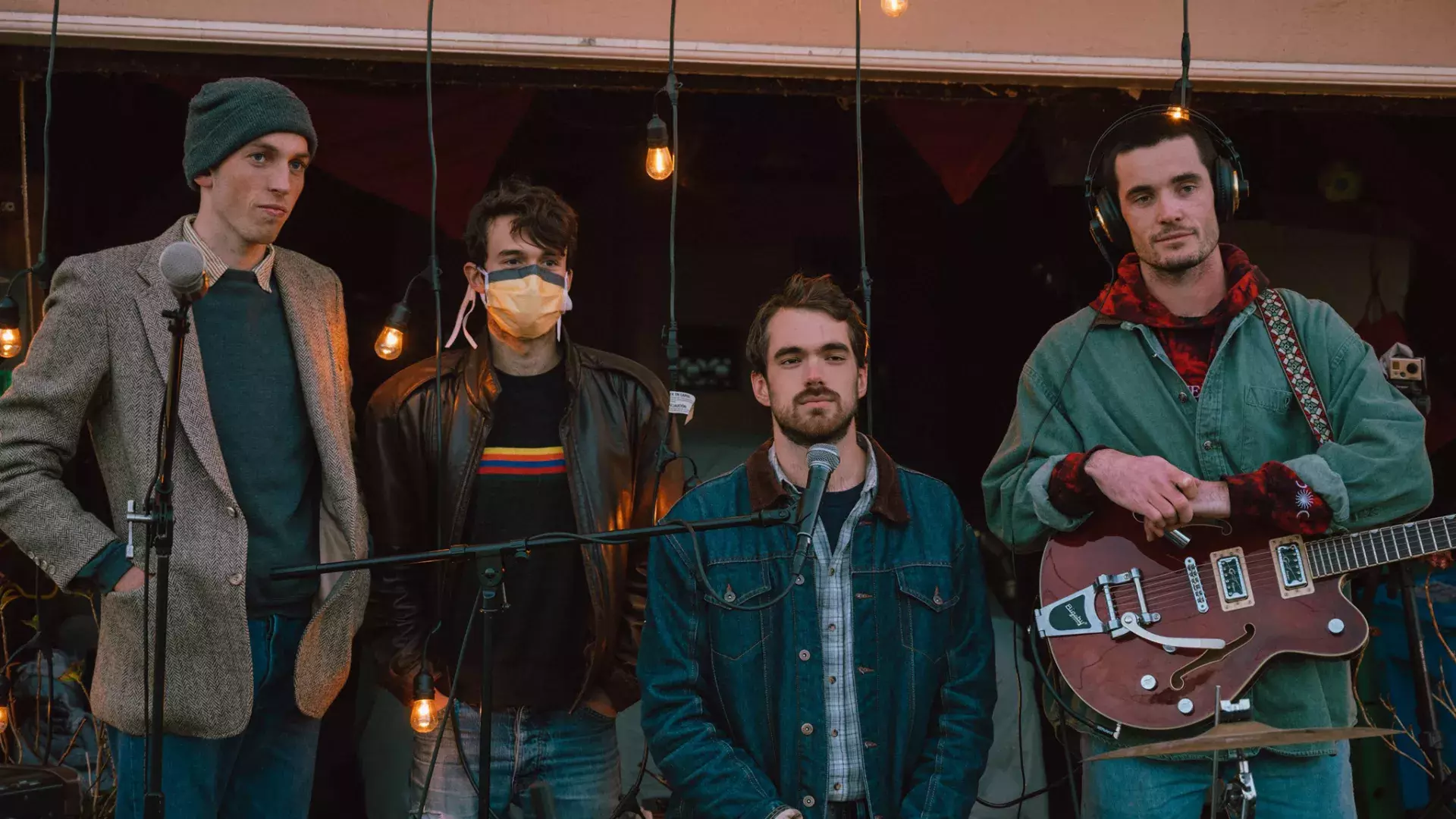 How I See SF:

Local Band The Quilters

See San Francisco through the eyes of some homegrown musical talent, The Quilters. Get your San Francisco recommendations direct from the source, our locals.
If you want to have a truly genuine San Francisco experience, then you have to consult the experts: our friendly locals. Knowledgable, passionate, and always ready with a recommendation for what to do, see, or eat, San Franciscans of all types have been part of our ongoing "How I See San Francisco" series.
Brothers Ray and Jerome Porter are born and raised San Franciscans who grew up in a very musical household. As members of the San Francisco Boys Chorus, they met fellow musician Dorian Cunningham. While out surfing one day at Ocean Beach, the Porter brothers met Iam Bhisitkul, another music lover who is equally adept at classical and electronic styles. Together, they formed The Quilters, a band that plays what they call "West Coast Americana". Influenced by artists as varied as Patsy Cline, Bruce Springsteen, and Creedence Clearwater Revival, The Quilters are among the latest in San Francisco's long and storied history of homegrown musical talents. 
We asked Ray, Jerome, Dorian, and Iam how they see San Francisco, and what they think makes for an unforgettable visit.
How did your band, The Quilters, come together?
Ray: We've known Dorian (drums/vocals) and Iam (everything/vocals) since we were all little kids. At the start of shelter-in-place, the band Jerome and I were playing with broke up. At that time, Dorian and Iam had graduated from college and were living in San Francisco again. Jerome and I had always talked about how cool it would be to play in a band with these two guys. They're such talented musicians and good people, and COVID-19 finally brought the dream to reality. We're super grateful to be playing with this band, and hope we can keep it going for a long time!
San Francisco is full of music history. Who are some San Francisco musicians who inspired you?
Ray: My brother and I have always been big fans of Creedence Clearwater Revival and John Fogerty. Our dad had a big influence in the music we listened to growing up. He always bumped CCR, and I feel like that's where I first learned to love that Americana twang and grit in the singing and instrumental tones. 
When I was about 12 or 13, our older brother Gabe mentioned that CCR was from the East Bay. That sort of blew my mind. I remember thinking "They aren't from the south?!" From that point on, I felt like that sound was available to me, too. I could feel their sound in my soul, but I just assumed I couldn't do what they were doing because I was a kid from San Francisco who surfed. But that music was and still is in me, even though I didn't grow up in the south or midwest. It's an American sound!
Tell us about the outdoor concerts you've performed this past year.
Ray: We needed a space to record a live set for a virtual music festival we were playing. Usually we would have just filmed it in the garage at Porter House, or my backyard, but we decided to just open the garage door, move all the instruments into the driveway and film it out in front of Porter House. Throughout that first set, a bunch of people from around the neighborhood congregated to watch and seemed to really enjoy it. We realized people were fiending for live music, so we decided to make it a regular gig. We're still throwing these shows. There's an invite list that people can join through the link in our Instagram bio. 
Jerome: We've done about six shows outside Porter House now, and each time feels like an opportunity to improve everything—from our musical performances to set design to our songwriting to how we engage with the audience. Doing shows at our own house gives us more control over more factors than a band our size would normally have at a venue, and we've had an absolute field day making it as "vibey" as we can through elaborate set design, hospitality toward the audience, and perfecting our sound and sound system. 
Now that we're safely returning to indoor live events, what are some of your favorite places for live music in San Francisco? 
Jerome: I love seeing big name acts at places like the Fillmore, the Independent, or the Warfield, but I also honestly miss the open mics. Before COVID, you could go to an open mic every night of the week and would likely see some really solid performances. The Riptide on Taraval was my favorite. Neck of the Woods on Clement had a great one. 
What are some other San Francisco experiences you're eager to get back to now that the city is reopening.
Jerome: I want go check out Church of 8 Wheels! Roller skating became much more popular over the last year—and it looks darned fun—but I don't have skates. It'd be a blast to go rent some and zoom around a rink with cool lights and some classic dance music. 
Where do you indulge your artistic side in San Francisco?
Ray: I love the Roxie Theater in the Mission. They consistently have awesome films and live acts coming through their venue. I'm also a big fan of the Botanical Gardens in Golden Gate Park. Landscaping isn't usually considered art, but the experience of being in the Botanical Gardens is very akin to other artistic experiences I've had.
Which neighborhood, other than your own, do you like to explore?
Jerome: Part of the beauty of San Francisco is that it's so small you can walk from one neighborhood, through another, and into a third in a matter of blocks. Dorian and I like to walk our dogs at every new park we can find. It turns out there are a lot of parks in the city, and a lot of tiny neighborhoods around them that we didn't even know existed (most of which have good banh mi!). Finding a new park or neighborhood and trying to complete our mental map of the whole city is super fun. There's a great book called "Cool Grey City of Love" by Gary Kamiya about exploring San Francisco's neighborhoods and the history behind them.
What's your favorite annual event that happens in San Francisco?
Jerome: The migration of the humpback whales. Like clockwork every early fall, you can see them offshore in their little pods, blowing water from their blowholes and thwacking their tails on the water. It's pretty amazing.
Dorian: The easter celebration hosted by the Sisters of Perpetual Indulgence. They're an organization of queer and trans nuns that throws a massive party/drag competition in Dolores Park every year, and it's always a really great time. It's such a perfect expression of the soul of San Francisco.
What does a typical day in San Francisco look like for you?
Dorian: I think the most insightful way to see how my typical day goes is to track my caffeine consumption. If I have time in the morning, I'll go to Sightglass on Divisadero to start my day. After that, I'll generally have work until some time in the afternoon. During that work day, I often end up in Noe Valley, where I'll stop by Noe Cafe for a little pick-me-up. After I get out of work, I'll generally head over to rehearsal in the Sunset, where Ray makes incredibly high-quality home cappuccinos. 
Ray: Jerome and I both live out by Ocean Beach, and surf is perpetually on our minds. Our days consist of walking our dogs on the beach in the morning and checking the surf. If it's good, we'll get in the water before rolling back up the hill to Porter House, where we work on songwriting together in the afternoon. In the evenings, Dorian and Iam will come over for rehearsal. 
Where and what would you choose for your last meal in San Francisco?
Ray: I'm going go with a childhood favorite and say Sub Center in West Portal. I've ordered the same thing every time since I was about six: the center hot pastrami with avocado, and a bag of sour cream and cheddar Ruffles. If it ain't broke, don't fix it.
Which restaurant is still on your list to dine at in San Francisco?     
Jerome: Burma Superstar. Their sister restaurant, B Star, was fire! Definitely going make a reservation for the original.
Dorian: Bar Crudo is definitely at the top of the list for me. I moved into NOPA right at the start of the pandemic, so I've been close to it this whole time, but I haven't been dining out a lot. 
Ray: Pizzetta 211 is always a killer spot. My favorite pizza in San Francisco. 
Where do you like to view sunrise and sunset? What are some of your favorite views or vantage points around the city?
Ray: It's hard to beat a sunset at Fort Funston. Those bluffs are epic, and you can find some secluded spots to post up and enjoy the views. Big added bonus if you like dogs! There's a plethora of exceptional doggos running around there pretty much all the time. 
Dorian: I agree with Ray on this one: that Fort Funston view is really hard to beat! My other favorite view is in the Presidio, specifically the Immigrant Point Overlook. It's a beautiful view of the woods, the ocean, the start of the Marin Headlands, and the very top of the Golden Gate Bridge. It's also right by the house I grew up in so it has a lot of sentimental value for me as well.
What should every visitor to San Francisco do at least once?
Ray: Walk around. The hills can be killer, but it's so cool walking from neighborhood to neighborhood and feeling them change. And burning all those calories is a great excuse to eat as you go.
Start off in the Inner Richmond, eat brunch at Pearl 1601, then make your way to North Beach, hitting Japantown for a ramen lunch and Chinatown for some late afternoon dumplings. Then go say hi to our friends at Tommaso's in North Beach and let them make you the best authentic Italian food in San Francisco.
What's one part of San Francisco that you wish visitors knew about?
Ray: There are so many cool parks around the city, of varying sizes and topographies. Some of my favorite are McClaren, Bernal, the northwest portion of Golden Gate Park, and Stern Grove. All very different; all fantastic places to go for a walk or bring a picnic!
Tell us about a time you felt most at home in San Francisco.
Jerome: I've worked five service jobs in the Outer Sunset, and to walk through the neighborhood and greet the owners of all the shops by name makes me feel like a real loc'. 
Ray: Playing our live shows in the Sunset outside of the house we grew up in is pretty special. Our music is informed to a large degree by our experience growing up in the Sunset, so to play it live with this neighborhood as the backdrop is perfect. I feel quite at home during those shows. 
Any final advice for visitors coming to San Francisco?
Ray: Wear layers of sweatshirts and jackets. This climate is one moody dude, and it'll change on you quickly!
Follow The Quilters on Instagram, Facebook, YouTube, and Spotify.
---