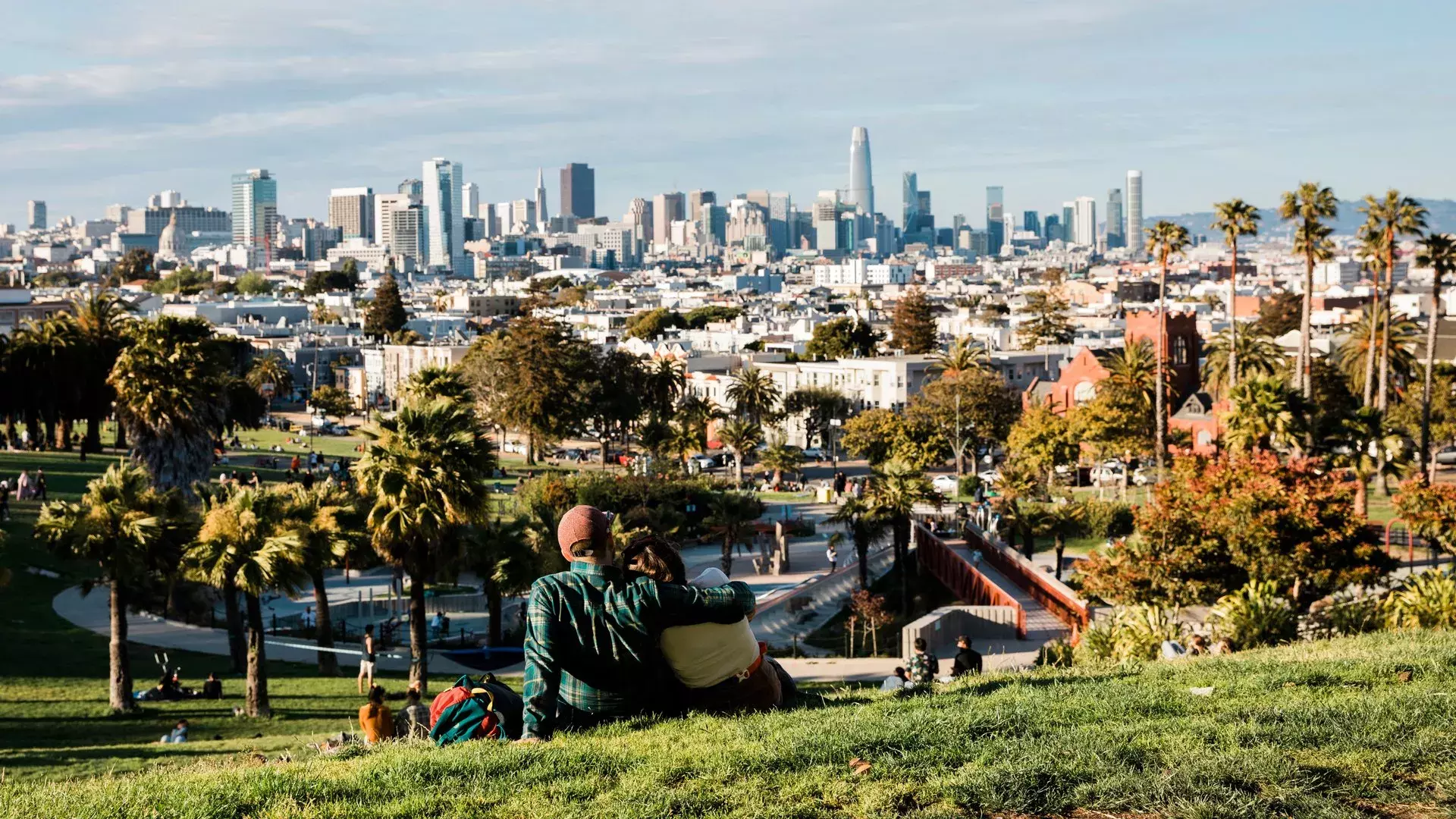 San Francisco Parks:

Where to Enjoy the Great Outdoors

The hundreds of parks in San Francisco offer you no shortage of activities. Enjoy beaches, hills, impressive man-made architecture or natural wonders.
Whether you're into golf, tennis, or simply strolling through the City by the Bay, you'll never get bored!
Here are a few popular parks you shouldn't miss when visiting San Francisco.
Alamo Square Park
At Alamo Square, you'll find a full range of activities, from walking trails to tennis courts and a playground. There's a dedicated dog park, but the entire area is canine-friendly, so you can go ahead and bring your puppy to play. Catch a glimpse of the row houses, the Painted Ladies, featured in the popular 80's sitcom "Full House" while you're there. Open daily from sunrise to sunset.
Alcatraz Island
While the main tour of Alcatraz Island will take you indoors, through the prison that once held the likes of Al Capone, you'll want to stroll around the island on your own, too. Trails are leading to the shore that offer an impressive view, not only of the Bay but also of the Golden Gate Bridge and the skyline of San Francisco. There's no food service on the island, so be sure to bring supplies for a meal at one of the scenic picnic benches. To get to the island, you'll need to take a ferry. Reservations are required, so book early via Alcatraz Cruises.
Angel Island State Park
Coined the "Ellis Island of the West," Angel Island State Park is reachable by ferry; but if you prefer, you could kayak the three-mile route yourself and go trekking on the island by foot. Bikers will find trails running 13 miles through shady, beautiful trees and along incredible bay views. For a more novel way to see the island, buy a roundtrip ticket from Blue & Gold Fleet and Segway over the hills. The US Immigration Station is open Wednesday through Sunday, 11 a.m.-3 p.m.
Bernal Heights
Enjoy fresh air at Bernal Heights, a pleasant park that offers plenty of space to roam, an extensive playground and a beautiful backdrop to take a lot of Instagram pictures. Just up the hill from the gardens, you'll find the recreation center, which offers several programs for families, as well as a gym and basketball court. Open daily from 5 a.m. to midnight.
Dolores Park
This Mission District park is the perfect place to enjoy great views while you picnic and people watch. On sunny, warm days (yes, we have those), you'll find this park packed as locals flock with their blankets and beach chairs to soak up the sun and the energy. Great expanses of grass make the park popular with dog owners, but there's also a playground and several tennis and basketball courts to play on. Tip: head to the southwest corner of the park for an amazing view of the San Francisco skyline. Open daily from 6 a.m. to 10 p.m.
Francisco Park
Sitting eye-level with Alcatraz and within earshot of the cable car bells, Francisco Park sits pretty between Russian Hill and Fisherman's Wharf. What was once a water reservoir is now a 4.5-acre park that includes an ultramodern playground, dog park, and grassy lawn. A couple of historic reservoir features remain, including the original berm with sloping concrete walls. Beneath Hyde Street is an opening to see some of the former inner organs of the city. A few blocks from the backside of the iconic Ghirardelli sign, Francisco Park will appeal to just about every San Francisco visitor looking for that iconic shot.
Golden Gate National Recreation Area
Islands, redwood forests, a former federal prison (Alcatraz), ocean beaches and historic points of interest are all part of the Golden Gate National Recreation Area (GGNRA). Across the Golden Gate Bridge, the GGNRA encompasses vast areas of undeveloped lands in the Marin Headlands, as well as wildlife sanctuaries, picnic areas facilities and 100 miles of trails. Bird-watching is a popular pastime and the National Park Service offers seasonal activities throughout the year, from lighthouse visits to hawk watches.
Muir Woods National Monument
A place for tree lovers to walk and marvel, the Muir Woods National Monument is one of the last and most beloved stands of old growth coastal redwoods in the world. Some of the trees soar more than 260 feet high and are more than 1,200 years old. A number of sightseeing companies include Muir Woods in their itineraries and this is probably the best option for ease of access. Reservations are required for vehicle entrance to Muir Woods (personal and commercial); for details, visit www.gomuirwoods.com.
Presidio Heights
Presidio Heights is a hot destination for families with children of any age. Recently renovated, the park is best known for its exciting playground equipment and full-length basketball court. However, you'll also find plenty of space to relax, as well as picnic tables to enjoy a meal under the open sky.
Presidio of San Francisco
Part of the Golden Gate National Recreation Area, the Presidio of San Francisco is home to the Walt Disney Family Museum and Fort Point, not to mention miles of picnic areas, hiking trails, bike paths, and much more. 
Presidio Tunnel Tops
Designed by James Corner Field Operations, the team that created New York City's High Line, the Presidio Tunnel Tops are 14 acres of new parkland at the heart of the Presidio. By being ingenuously built over Highway 101, the Tunnel Tops connect the Main Lawn of the Presidio to Crissy Field, giving visitors a safe and car-free way to walk all the way to the shoreline. The Tunnel Tops feature scenic overlooks, trails, and picnic areas that offer stunning views of San Francisco and the Golden Gate Bridge. They're populated with 180 varieties of native plants and will be crucial to the ongoing conservation efforts within the wider Golden Gate National Recreation Area.
Salesforce Park
This 5.4-acre rooftop park is located above the Salesforce Transit Center in the heart of SoMa. Visitors are welcomed with 200+ species of plants that make this living roof lush, as well as a children's playground, amphitheater, and eateries. You can take the escalators or elevators up to the park, or take the gondola lift for an even more impressive experience.
San Francisco Maritime National Historical Park
Located near popular Fisherman's Wharf, this park offers an excellent view of San Francisco's historic ships at Hyde Street Pier. To stretch your legs and see some of the most impressive scenery in the state, follow the paved walking trail that leads for several miles along the coast. You'll see everything from Alcatraz to the Golden Gate Bridge and Fort Mason. Fort Point is the end of the trail and just as scenic as the rest of the hike. The park itself is open from dawn to dusk daily.
Washington Square
Located in the center of North Beach, a historic Italian neighborhood north of Market Street, the park was established in 1847, making it one of the city's oldest parks. On any given sunny day, you'll find people in the community laying around, having a picnic with friends. Since it is surrounded by many restaurants and cafes, it's the perfect spot to bring takeout items and relax.
---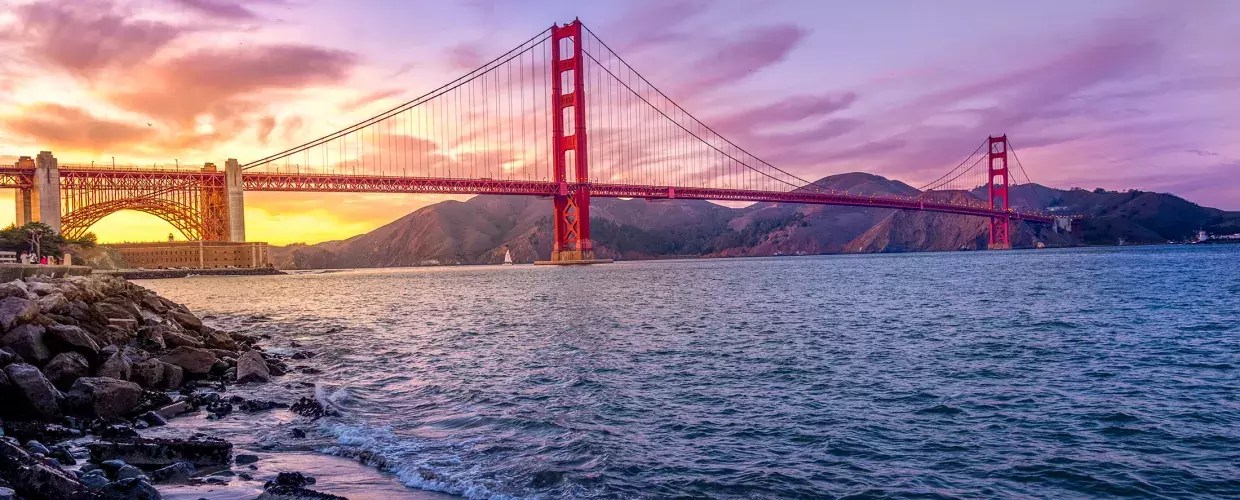 Stay Connected with SF
Sign Up for Our Newsletter
Be the first to know about upcoming events and festivals, new restaurants, special deals, and everything else happening in the City by the Bay.