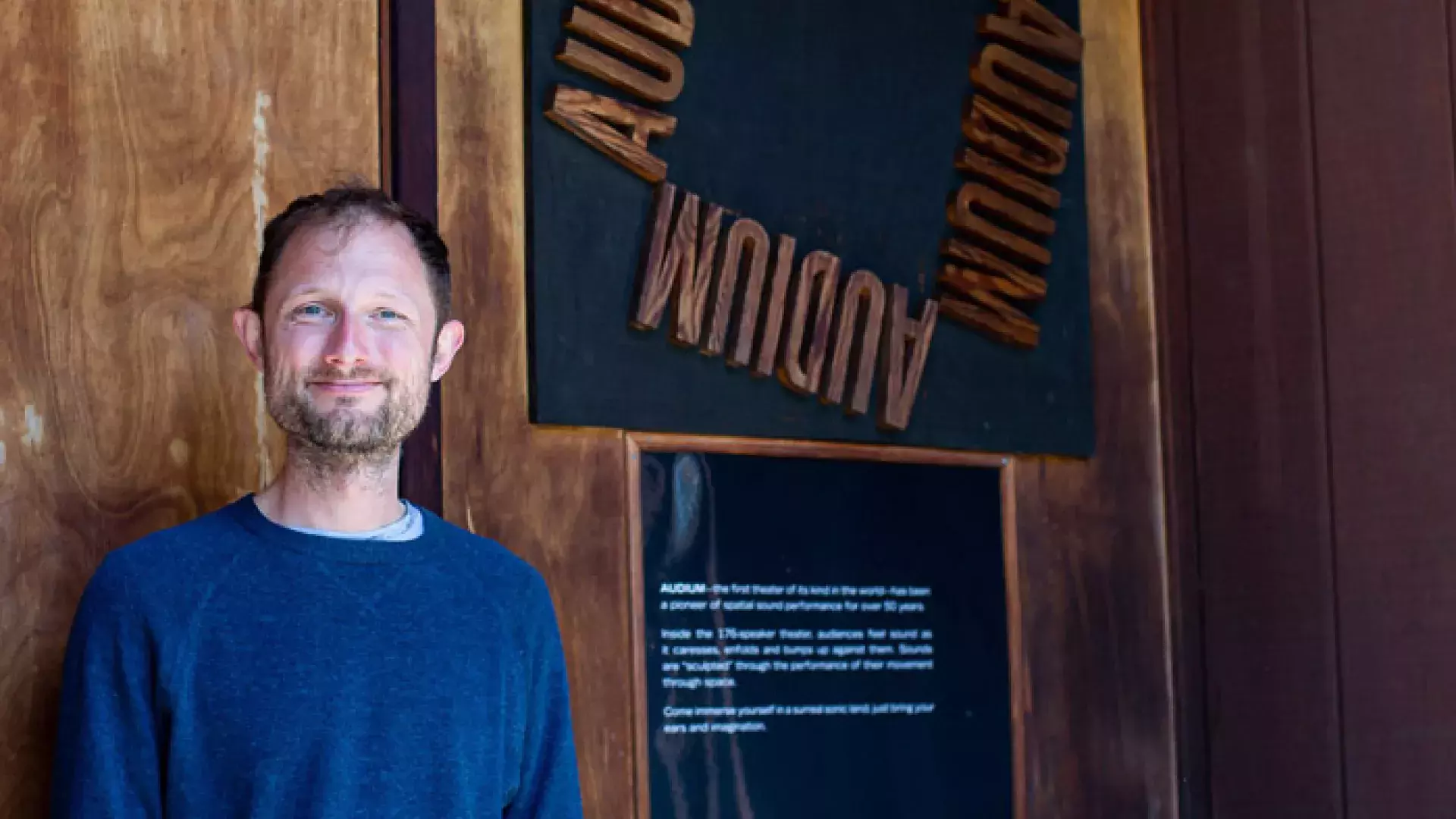 How I See SF:

Audium's David Shaff

Learn how David Shaff, an electronic music composer at Audium, not only sees but also hears San Francisco.
If you want to have a truly genuine San Francisco experience, then you have to consult the experts: our friendly locals. Knowledgable, passionate, and always ready with a recommendation for what to do, see, or eat, San Franciscans of all types have been part of our ongoing "How I See San Francisco" series.
David Shaff is an electronic music composer, trumpet player and executive director of Audium Theater. Born and raised in a San Francisco household full of strange sounds emanating from the basement (his father and composer Stan Shaff being the culprit), David gained an early appreciation of music and sound of all sorts. 
He has designed and performed many soundscape compositions for Audium, including collaborations with his father and visual artist Ryan Elisabeth Reid. He is currently working with sound engineer Paul Barton and an assortment of Bay Area sound artists to reimagine the design of Audium's sound system for future generations.
We asked David to talk about some of his favorite things in San Francisco and what he recommends to visitors.
What does a typical day in San Francisco look like for you?
I usually bike from the Richmond District to Downtown. I like to stop near the Conservatory of Flowers to enjoy the quiet for a few minutes. Then I'm either working on soundscapes or giving performances down at Audium Theater. 
Which neighborhood, other than your own, do you like to explore? 
On a sunny Sunday morning, I head to the Sunset, get coffee and a treat, and take it to Ocean Beach. Also, wandering the neighborhood around Glen Park, Ocean Avenue and Ingleside brings me back to the old San Francisco vibe.
Tell us how Audium came to be.
Audium was founded by my dad, Stan Shaff, and his technical partner, Doug McEachern, back in the late 1960s. Stan and Doug were among some of the pioneers of electronic music. They wanted to move sound the way dancers move their bodies. So Doug got a few speakers together. 4 speakers became 16, which became 32, and it just kept growing. With help from a series of grants by the National Endowment for the Arts, they built a permanent home for their work: an immersive listening environment with 176 speakers. Since 1967, Audium has offered weekly public performances and workshops. It's probably one of the longest-running shows in San Francisco!
What is your favorite sound in San Francisco? 
Foghorns. The vibe by the Golden Gate Bridge on a really foggy day is magical, like out of a Hitchcock film. You don't have to see the bridge for it to be mesmerizing. 
Where do you indulge your artistic side in San Francisco?
The Stern Grove Festival in the Summer is a lot of fun and totally free! We always bring a picnic and share with friends. There are some world-class performances to see and be inspired by. 
As an acoustic expert, what are some of your favorite places for live music in San Francisco?
Bird and Beckett Bookshop in Glen Park has these evening jazz shows. The bookstore turns into a full-fledged jazz club, with some of the best and most intimate concerts you can find in San Francisco. Another gem is The Lost Church in the Mission.   
What's your favorite annual event that happens in San Francisco?
Carnaval. So many great sounds!
Where and what would you choose for your last meal in San Francisco? 
A super veggie burrito from Taqueria Cancun.  
Which restaurant is still on your list to dine at in San Francisco?
Han Il Kwan in the Richmond. It's right down the street from me but I still haven't been!  
Where do you like to view sunrise and sunset? 
Baker Beach is world-class. I'm still blown away by the view every time. Also, it feels like you aren't in the city out there, like you've passed through a portal and it's just the sand, wind and seagulls. 
San Francisco has a history of being a hub of innovation. How do you see that evidenced around the city today?
It's interesting. Up until COVID, San Francisco was known as the tech capital. As we come out of the pandemic, things are massively changing. I've been working on a podcast, Audium Listens, where we talk with Bay Area artists about life during COVID and, among other things, this very topic. There are signs everywhere that the city is still innovating. We've got beautiful new parklets for outdoor dining, relaxed rules for outdoor music and entertainment, slow streets for people to bike and play in, and the city is investing grant money back into our small businesses and cultural venues. I think if we keep prioritizing our gathering spaces, the city is on the right track for success—and being an even more exciting place to be.
What should every visitor to San Francisco do at least once?
Hit up the jams at Club Deluxe in the Haight, a late night jazz spot that features exclusively local bands. Really good ambiance and some of the best musicians in town. 
What's one part of San Francisco that you wish visitors knew about?
The outdoor roller disco party that's happening most every day (but especially on Sundays) in Golden Gate Park on JFK Drive near Sixth Avenue. So many old-school characters. It's a really good scene that can hypnotize you—because they keep going round and round!
Tell us about a time you felt most at home in San Francisco.
For me, there isn't any one particular memory. It's just the feeling I have at the end of a long day after being out and about around the city. Usually such days involve meeting up with friends and walking or biking to multiple parts of the city. It's that feeling that this is a big international city and yet it's still small enough to see people you know everywhere.
Any final advice for visitors coming to San Francisco? 
Walk around and ask people questions. Don't be afraid, and don't just use your phone for everything. We make real memories of places through that kind of connection. There are people here with all kinds of stories just waiting for someone to listen.
---