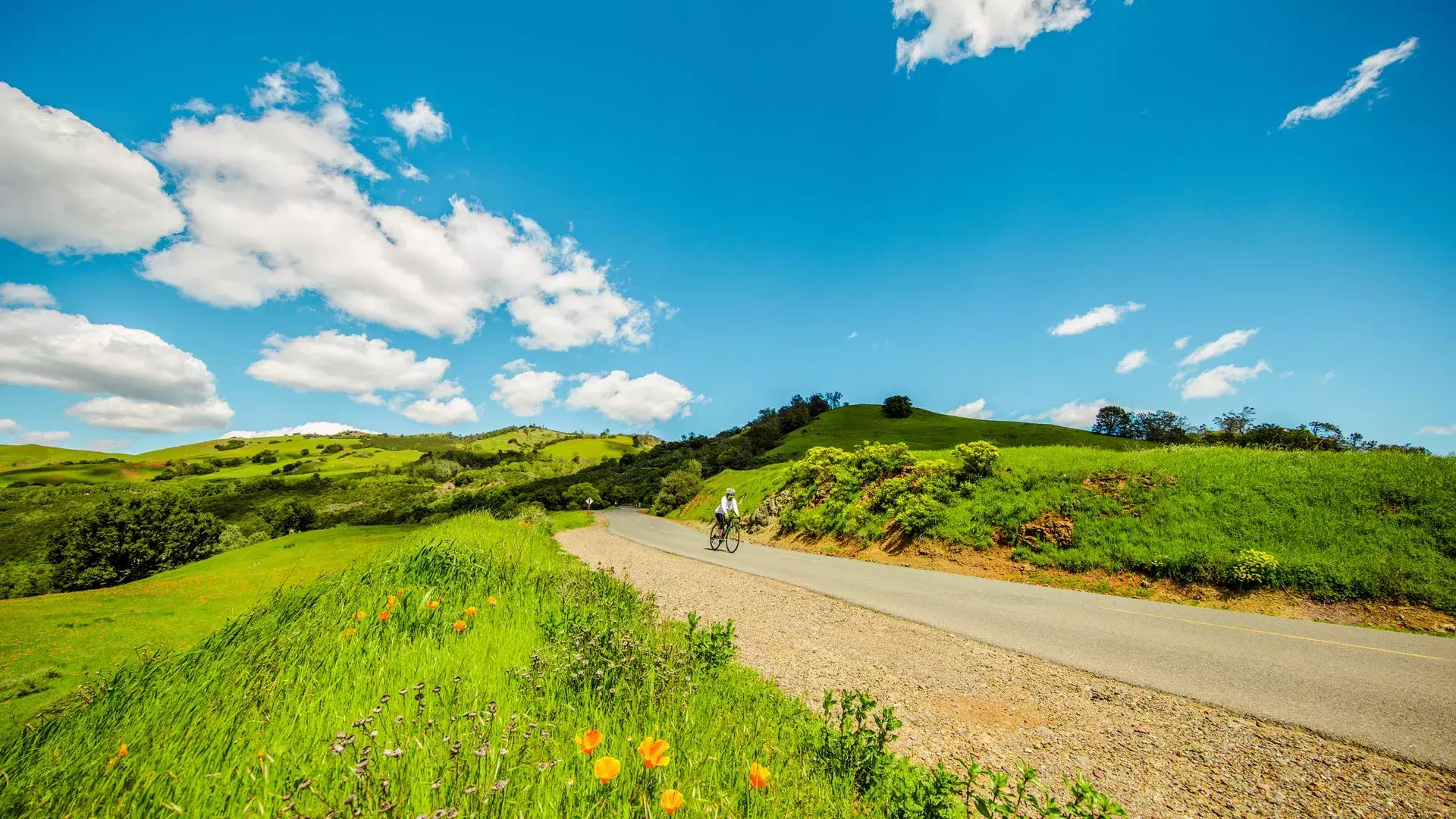 Five Days in the

Mt. Diablo Region

From Concord to Pleasant Hill to Walnut Creek, this region is a blend of clean, open space and charming downtowns nestled in the valleys of Mount Diablo.
Here you'll enjoy plenty of outdoor activities, culinary thrills, upscale shopping, live music, local beer and California's oldest award-winning wine country. Visit for a romantic getaway, girls' weekend, mountain adventure or family trip as you soak in the California sunshine.
Two Days in the Tri-Valley
From the top of Mount Diablo, you can see the three valleys that give the region its name. Nestled within the Tri-Valley are four cities, each with its own unique history and charm: Pleasanton, Livermore, Dublin, and the town of Danville. Here you'll find California's oldest wine country with 50 tasting rooms, a craft beer trail with 19 stops, Northern California's largest Premium Outlets, a delightfully diverse restaurant scene, an award-winning Ice Cream Trail, adorable downtowns, plenty of music and theater, unspoiled hiking trails with views for days, and sunshine you can count on.
With an original blend of scientists, wine makers and techies who call it home, the Tri-Valley is accessible from anywhere in the Bay Area; just 35 miles east of San Francisco, less than an hour away from three international airports, and serviced by Bay Area Rapid Transit (BART) and the ACE train. Experience local California, minutes from the city but worlds away.
Day 1 (Coming From the North)
Start your day off right with breakfast at Sideboard Neighborhood Kitchen and  Coffee Bar (a stop on the Tri-Valley Caffeine Trail) in Danville. They locally source all their ingredients and even have a trendy coffee bar where folks sip artisan coffee and talk about how to save the world.
After fueling up, head over to beautiful Mt. Diablo State Park, accessible via Mt. Diablo Scenic Blvd. in Danville. Enjoy a nice morning hike—or for a different perspective of the mountain, visit Tao House, home of Pulitzer-winning playwright, Eugene O'Neill, and now a National Historic Site. The view of Mt. Diablo is amazing through the writer's window, and the old barn still hosts his plays today.
For shopping and lunch, head to downtown Danville.  Hartz Avenue and East Prospect Avenue  are perfect streets to spend the afternoon window shopping at Whim House or finding a scrumptious nibble at Danville Chocolates. Danville Harvest  is a great option for lunch nearby. All their food is sourced with fresh, organic ingredients.
After lunch, don't miss the world-class  Blackhawk Museum in Danville where you'll discover interesting exhibitions from the brand new World of Nature Experience, Spirit of the Old West, Art of Africa, Into China, or the world-renowned Automotive Gallery. One ticket gets you into all exhibits.
Take the back road via Camino Tassajara for an unforgettable country drive to Dublin. If you come in the winter, you'll know exactly how this city got its name. The emerald green hills are a jaw-dropper. And what better spot to hop on the Tri-Valley Beer Trail? Thirsty Bay Tap 'n Pour, Inc 82 and Altamont Beer Works have exactly what you're looking for when it comes to beer or cider, as well as a relaxing vibe in which to enjoy your company.
For dinner, continue on the Beer Trail for some of the Tri-Valley's best food. BottleTaps in Pleasanton has mouthwatering food pairings that go with both beer and wine. Hard to choose, but you don't have to! Try their famous pub pretzel and charcuterie board all together! Live music usually starts at 7:00 pm.
It's been a long day! To get ready for Day 2 in the Tri-Valley, you're going to need a good night's sleep. The Tri-Valley has 40 lodging options from boutique to four-star, including your favorite top hotel brands.
Day 2
Wake up to our Caffeine Trail with a fresh brewed coffee and scrumptious meal at artisan cafe The Press, with two locations in Pleasanton and Livermore.
Once awake, you're going to want to head down to Lake Del Valle in Livermore with its gorgeous views and plenty of trails to get the heart pumping. You could even rent a boat or kayak, but be sure to keep an eye out for golden eagles, as Del Valle Regional Park is home to one of the country's largest golden eagle habitats.
After enjoying the great outdoors, reward yourself with some retail therapy at the San Francisco Premium Outlets in Livermore. Shopping makes everyone hungry, so pop across the street and make way for dumplings at Pacific Pearl.
"Wine" down with some wine tasting at  Ruby Hill Winery in Pleasanton. Their history goes way back to the 1800s, before Prohibition! With 50+ tasting rooms on Livermore Valley's Wine Trail, you'll want to check out as many as you can in California's original wine country!
Finish off your weekend with an exquisite dining experience at Sabio on Main. This Michelin-rated farm-to-fork restaurant is located in historic Downtown Pleasanton. Afterward, how about a little something for the road from the famous Meadowlark Dairy Drive-Thru, one of the Tri-Valley Ice Cream Trail's most popular stops. Treat yourself to a soft-serve cone without even getting out of the car! 
Wave goodbye to the beautiful Tri-Valley! We look forward to seeing you again soon!
If you happen to be here on a Saturday morning, you won't want to miss our famous Farmers' Markets in Downtown Pleasanton and Downtown Danville from 9 a.m. to 1 p.m.
Note: If you're visiting the Tri-Valley from the South, start with Day Two and finish with Day One.
Grab your gear and go for a glorious hike of Mt. Diablo. You'll take in the fresh air and magnificent views while crushing your smart watch goals in record time. Next, enjoy a wine tasting at Shadowbrook Winery to relax your muscles in an elegant indoor/outdoor setting stylishly laid out for optimum relaxation.
Gardens, Cocktails and Food Galore!
For a quaint and calm oasis, visit to Ruth Bancroft Garden. It's a world-renowned 3.5-acre garden, housing a collection of succulents and drought-tolerant plants from around the world. Take a tour of the garden and work up a thirst, then head over to CaliCraft to sample a wide array of brews in their beer garden and taproom.
At sunset, kick off the evening at Benvenuti Ristorante to try Walnut Creek's signature cocktail, "The Calipolitan". If Italian food isn't your choice, spice up the night by heading over to Lita for delicious and Instagrammable food and cocktails. Take a stroll over to Lottie's Creamery to sample delicious flavors like Brown Sugar and Cream, Lemon Lime Sorbet (Vegan), and Vanilla Salted Almond Toffee. Our downtown provides the perfect backdrop to enjoy public art and strollable streets along the way.
Engage in dining from a wide array of culinary cultures in Walnut Creek. Your dining experience will be memorable as you restaurant-hop for appetizers, main courses, dessert, and end with a night cap. Map out your dining adventure with a complete list of downtown Walnut Creek restaurants!
It's time to bring it down a notch and relax. You don't have to go far to find serenity, with Walnut Creek and nearby Pleasant Hill boasting some of the best luxury spas in the entire Bay Area. Spavia Day Spa is your one-stop spa for everything from refreshing facials and to top-notch massages. The serene oasis of the American Family Hot Tub and Massage features the best of both worlds: soothing soaking tubs and professional massage services. (Tip: Opt for an "open" room for scenic views of the sky.) From the moment you step into the gorgeous 6,800-square-foot Woodhouse Day Spa, you know you're in for a treat. Enjoy a variety of relaxing massages and skin treatments—including award-winning facials that make for a perfect end to your stay. Back at the hotel, end the night with a glass of wine and relax by the fire pit.
Stay in Pleasant Hill - "At the Centre of Everything"
Tired of Netflix and chill? Then explore wide-open spaces! From soaring mountains and redwood forests to serene bays, Pleasant Hill is surrounded by spectacular natural wonders. Whether you're looking to discover a new hiking trail, splash around in a lake with the kids, there's no end to the fun ways to experience the great outdoors in and around Pleasant Hill.
Day 1
Frequented by locals and visitors alike, Briones Regional Park is a lovely stretch of rolling grassy hills and shaded oak canopies ideal for a leisurely stroll. The Alhambra Creek is a popular trailhead among families and outdoor enthusiasts. Arrange for one of several self-guided or guided activities at Mount Diablo State Park, where you can enjoy mountain biking, trail walks, horse riding, bird watching and specialty hikes, focused on everything from meditation to fossil hunting!
Fuel up before heading out to your afternoon activities with a scrumptious lunch at El Morocco, Kobe Japan, Jack's Restaurant, or Zachary's Chicago Pizza. There's nothing quite like spending an afternoon on the water, and there are plenty of ways to get wet, with family-friendly outings and solo adventures. Choose a guided paddle at the Martinez Marina, where you can leisurely explore the tranquil Carquinez Strait. Many outfitters in Alameda and Benicia rent boards and will teach you how to gently pull yourself along the shore or ride some mini-swells for a toning arm and core workout. Or, pit yourself against the elements on a guided river expedition with All-Outdoors California Whitewater Rafting. Have the kids with you, or you're just a big kid at heart? Take a splash at the Bay Area's newest waterpark, Six Flags Hurricane Harbor, or go for a high-flying ride at Six Flags Discovery Kingdom in nearby Vallejo. (The faint of heart can opt instead for the park's animal attractions.)
Finish the day with fantastic sunset views, or end your night with dinner and live music at WiseGirl Ristorante, Back Forty Texas BBQ, or Wences Restaurant. The night is still young; if you fancy your chances, discover a slice of gambling history at the world's oldest continuously running poker room, the California Grand Casino.
Day 2
Spend your second day in Pleasant Hill on a wine trail. There are an array of wineries in town (Shadowbrook Winery, Pavilion Crossing, Viano Vineyards, Bhachu Vineyards), or drive 30 minutes north and you'll find yourself in the heart of Wine Country. The legendary Napa and Sonoma valleys are home to more than 400 wineries, pairing spectacular views with some of the best wines in the world.
A Day in Concord
From Concord's famous Taco Trail, multicultural food scene, and historic downtown, to our legendary live music events, local breweries, and wide, open spaces, adventure awaits at every turn. A quick getaway is always fun, easy, and full of unexpected discoveries. Here's how to make the most out of your time here.
Morning
Savor a leisurely brunch at Canasta Kitchen. This modern Mexican cafe just off the Plaza boats authentic, tempting comfort foods like huevos rancheros, chilaquiles, dulce de leche pancakes, and Mexican eggs benedict. Plus, who could say no to horchata coffee?
After that unforgettable meal, you'll likely want to venture out and explore the area's spectacular scenic hills, trails, and panoramic views. First stop on the agenda: Lime Ridge Open Space. This 1,226-acre park of quintessentially Californian grasslands and rolling hills is just the spot for a hike or bike ride.
To take in some spectacular views, head over to Mount Diablo State Park, less than 20 miles from downtown Concord. The 3,850-foot Mount Diablo dominates the skyline as one of the tallest peaks in the Bay Area, and you'll find excellent hiking, mountain biking, rock climbing, horseback riding and road biking. Entrance fees apply.
Mid-Day
After your outdoor adventure, head to the downtown area and get artsy at Concord's famous aRt Cottage. Join Fro and friends for a fun class in watercolor painting or mini succulent garden design.
From there, take a short stroll over to nearby historic Todos Santos Plaza to check out the iconic clock tower and cool, life-size statue of Don Salvio Pacheco, the city's founder. And, if a beer sounds good about now, make a stop at The Hop Grenade to sample some tasty craft beer varieties on tap.
If you've always wanted to sample the wares at Concord's popular Epidemic Ales brewery, make the drive across town. Be sure to try their award-winning Lager at World's End on tap while you're enjoying the casual, social atmosphere inside or on their patio.
And if all that beer makes you crave tacos, you're in luck: now is the time to get acquainted with Concord's famous Taco Trail. Head over to the Monument Boulevard neighborhood to check out some of the authentic stops at the heart of the Trail. We suggest Tortellaria El Molino, Mercado Del Sol, or El Faro Mexican Food.
With nearly 40 restaurants and taquerias, you won't be able to do them all in one day, so plan to come back often and try them all.
Evening
Enjoy the rest of the afternoon strolling around The Veranda shopping center, where you'll find shops, restaurants, and entertainment in a beautiful, outdoor setting. For a fun challenge try one of the experiences at the Red Door Escape Room.
There's also the plush and cushy Veranda Luxe theater, if you're in the mood for a good movie. If you'd rather go old school, make your way over to West Wind Drive Inn for a double feature and some snack bar treats.
From concerts to cosplay, craft fairs to car shows to carnivals, share in our community that knows how to rock! Catch Maroon 5, Santana, or even the Backstreet Boys at Concord Pavilion, or just enjoy great foodie fairs offering boozy and culinary delights.
---