Where to Shop

In San Francisco and Around the Bay Area

One-of-a-kind shopping experiences await you in every neighborhood of San Francisco (and beyond!).
The City by the Bay is known far and wide for its world-class museums, top-notch culinary scene, and sheer scenic beauty—but those are not the only reasons to visit. From internationally famous luxury department stores to the abundance of locally made artisan items, San Francisco offers never-ending options when it comes to high-quality, one-of-a-kind fashion, home décor, and art pieces. Here are several top San Francisco shopping experiences you shouldn't miss during your stay.
Union Square Is A Shopper's Heaven on Earth
As one of the largest and most dynamic downtown shopping areas in the United States, Union Square is a pedestrian-friendly district of gorgeous historic architecture, top name-brand boutiques, and luxury department stores. Because the area is also home to some of the city's finest hotels, restaurants and theaters, Union Square makes for a perfect shopping destination. Everything is within walking distance and set against the backdrop of San Francisco's most iconic landmarks, including the cable cars, Chinatown and Nob Hill.
From the racks of stores like Saks Fifth Avenue (384 Post St.) to the architectural elegance of Neiman Marcus (150 Stockton St.) and Tiffany & Co. (350 Post St.), San Francisco has luxury department store shopping covered.
Don't end your Union Square shopping spree there. Take a stroll down the neighborhood's charming alleyways for more hidden treasures. Maiden Lane, a pedestrian-only street from 11 a.m. to 6 p.m., offers outdoor cafés and upscale retailers. 
Finally, stop by local designer Joanie Char (537 Sutter St.) and check out the offerings.
Westfield San Francisco Centre Has It All
Located a short distance from Union Square, this indoor mall features over 200 top brands, including Bloomingdale's, Club Monaco, H&M, Kiehl's, Nordstrom, and Banana Republic. It also offers a variety of restaurants, from kid-friendly to fine dining. If you want to find a wide variety of shopping under one roof, Westfield San Francisco Centre provides one of the city's premier retail experiences.
Shopping San Francisco's Neighborhoods
Many of San Francisco's other neighborhoods should also be explored by anyone with an eye for fashion.
Hayes Valley, located just west of Civic Center and walking distance from Union Square, is a sunny stretch of high-end boutiques, including Azil Boutique (451 Hayes St.), where handmade jewelry by local designers can be claimed, and Amour Vert (437 Hayes St.), which specializes in eco-friendly high-fashion.
Another stand-out shopping district is Fillmore Street in Pacific Heights, easily accessible on the 1 California Muni bus from downtown. It is home to local knitwear sensation Margaret O'Leary (2400 Fillmore St.) as well as MIO (2035 Fillmore St.), which has showcased fashion and accessories from international designers across Europe and Asia since 1986. Just down the street lies the Japan Center Malls, the heart of San Francisco's Japantown. It's a multilevel shopping mall filled with unique imported items like the cast iron and bronze teapots at Asakichi (1737 Post St., #365).
No shopping trip to San Francisco is really complete without a perusal of the many unique shops on Haight Street, which is easy to get to on the 7 Muni bus. Besides novelty shops and some of the city's top vintage outlets—pop into the massive Wasteland (1660 Haight St.) to see what the fuss is about—this area is also home to hip, urban clothing boutiques like RVCA (1485 Haight St.).
Last but not least, check out the cutting-edge scene in the Mission District, which is easily accessible from downtown on BART. Here, the city's truly independent vibe is on full display with standout shops like Le Point (301 Valencia St.), which stocks emerging brands from around the globe. Thrift and vintage shopping is at its best in the Mission, too, with Community Thrift (623 Valencia St.) being well worth a visit.
Uniquely San Francisco Shopping
From the current, hard-hitting books of City Lights Bookstore (261 Columbus Ave.) in North Beach to the taxidermied animals and carnivorous plants at Paxton Gate (824 Valencia St.) in the Mission, San Francisco is brimming with one-of-a-kind shopping opportunities. Be sure to check into Local Take in the Castro (4122 18th St.). Specializing in San Francisco-inspired items, as well as locally-made products, this gift shop has something for everyone.
Swing by Timbuk2 (506 Hayes St.), where you can design your own backpack or messenger bag. The Richmond District's Foggy Notion (124 Clement St.) stocks San Francisco-themed designer tees and much more.
San Francisco has one of the largest maker and craft designer scenes in the nation, making it an excellent place to shop for unique home goods. Stop by San Francisco Mercantile (1698 Haight St.) for an outstanding selection from over a hundred local makers and designers. The City by the Bay also hosts several terrific maker and craft fairs throughout the year, including the Renegade Craft Fair during spring and winter at the Fort Mason Center.
Premium Outlets
Just a short drive from San Francisco—to the north, east or south—are some of the region's best outlet malls. Find discount prices on top brands such as Armani, Diesel, DKNY, Kate Spade, BCBG Max Azria, Calvin Klein, Neiman Marcus, and Saks Fifth Avenue. Combine sightseeing with visits to a premium outlet at any one of these locations:
---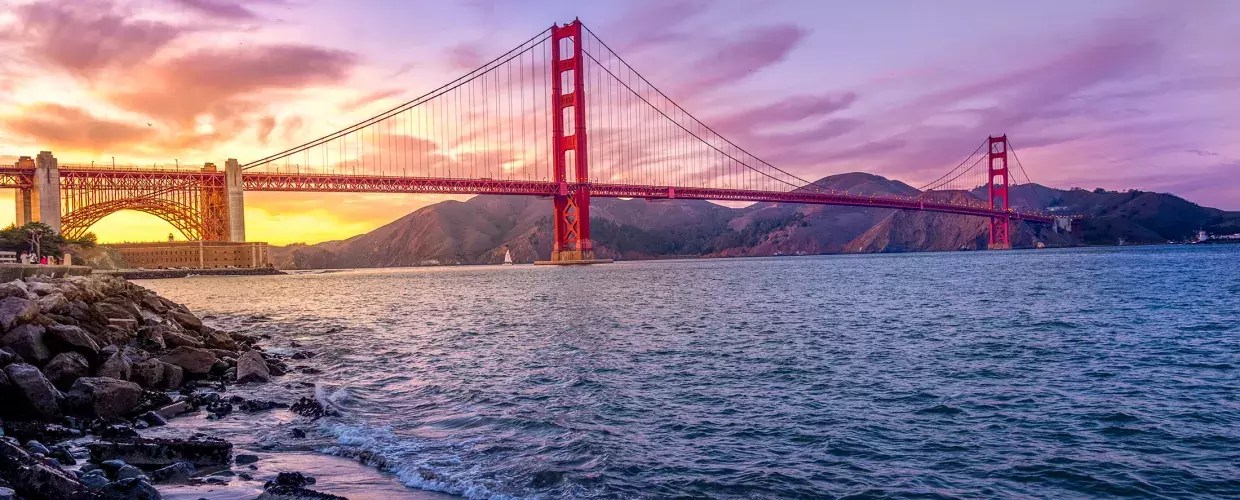 Stay Connected with SF
Sign Up for Our Newsletter
Be the first to know about upcoming events and festivals, new restaurants, special deals, and everything else happening in the City by the Bay.