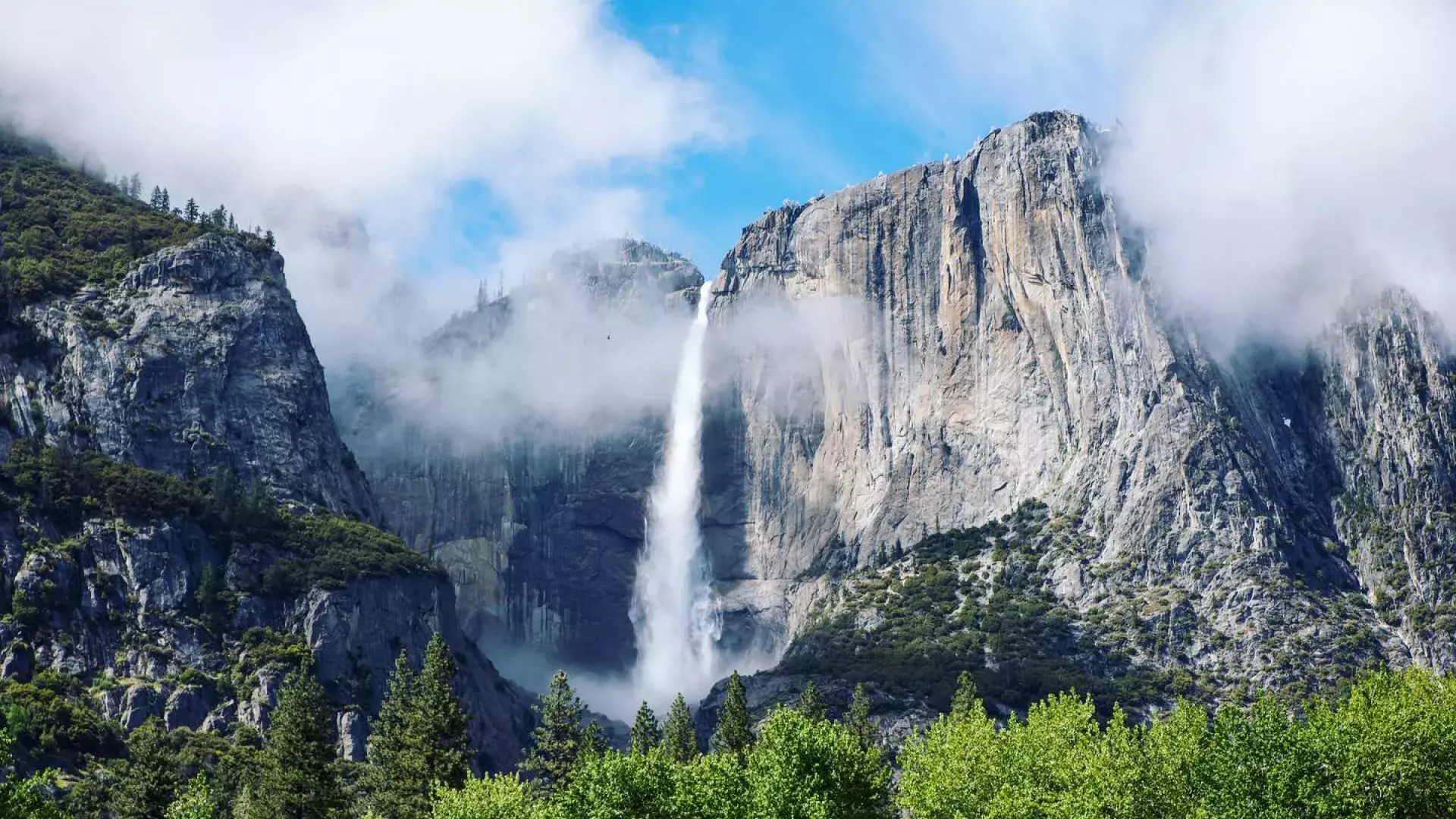 50 Things to Do

Beyond San Francisco

Whatever type of traveler you are, the greater Bay Area beyond San Francisco offers you incredible experiences.
San Francisco is 49 square miles full of countless things to do. But did you know that the surrounding Bay Area contains some absolute must-see destinations in their own right? Best of all, these outrageous places and outstanding experiences are all within a day's drive of the Golden Gate.
From the peaks and valleys of Yosemite to the cliffs and beaches of Monterey, and from the vineyards and spas of wine country to the rocking music halls of Oakland and Berkeley, there is so much you can see, do, taste, and cherish across the wider Bay Area.
Make San Francisco your home base for an extended adventure, and start planning your itinerary with these 50 things to do beyond San Francisco.
Yosemite and Mariposa
One of the country's largest and most famous national parks, Yosemite must be seen to be believed. You can visit any time of year for a variety of experiences. Nearby Mariposa is chock full of Gold Rush-era history.
Hike Through Yosemite National Park
Named a World Heritage Site, this pristine stretch of the Sierra Nevada mountain range is home to angular granite cliffs like famous El Capitan, waterfalls, giant Sequoia trees and about one-fifth of all of California's plant species. Head into Yosemite along the beautiful Merced River Canyon. Take a Valley Floor Tour and see the major sites such as Half Dome, El Capitan and Tunnel View.
Take in the View
Ramble out to Mirror Lake or take the more invigorating jaunt up to Upper Yosemite Falls for breathtaking views of the Valley Floor. Be sure to take a picnic lunch to enjoy at the top. After a sunset stroll around Cook's Meadow, head over to the Mountain Room to enjoy a delicious meal sourced from local farms.
Discover Yosemite Falls
At 2,424 feet, Yosemite Falls is the tallest waterfall in North America (and sixth tallest in the world). At its peak in the summer, Yosemite Falls vigorously flows. In the winter, it slows down, but it is still a sight to see.
Visit the Victorian Era
Take a leisurely drive up Highway 41 to visit the Yosemite Pioneer History Village and the Victorian Wawona Hotel. Take in the authentic pioneer village and visit the Thomas Hill art studio.
Take in the Winter Wonderland
There are many winter activities to enjoy in Yosemite, from horse drawn sleigh rides (weather permitting) to beautiful hikes to the southern-most entrance of the park. The Tenaya Lodge is also home to the Ascent Spa, an LEED-certified spa with a wide range of relaxing treatments.
Relax and Enjoy the Scenery
If you're visiting in the winter months, relax by the massive fireplaces at the Ahwahnee Hotel and sip a hot toddy at the bar. Afterwards, you can enjoy an evening of ice skating below the imposing granite face of Half Dome.
Go Back in Time in Mariposa
Mariposa is a charming Gold Rush-era town and the gateway to Yosemite National Park. Enjoy one of the town's many breweries, shop the antique stores that line Old Town Mariposa and enjoy dining at one of the Gold Rush-themed restaurants such as 1850 or the Miner's Inn.
Zip Above the Sierras
While you are in Mariposa, check out Yosemite Zipline and Adventure Ranch and experience the thrill of zipping high above the sierra forests on more than six unique courses. If you want more adventure, check out the Yosemite Mountaineering School, where you can learn the ropes and make your first ascent with experience climbing guides.
Monterey
The Monterey peninsula is known for its sheer cliffs, abundant and protected nature, and idyllic small town life. The region has attracted and inspired the likes of John Steinbeck, Clint Eastwood, Ansel Adams, and countless other creators. 
Drive Down Highway 1
Roll down the windows, breathe the fresh coastal air and venture down spectacular Highway 1. Photo ops along the way include the famous Bixby Bridge. 
Drink in the Pinots and Chardonnays
Take the road less traveled and jaunt around River Road in the Salinas Valley for epic views of the valley and tastings of killer Pinot Noirs and Chardonnays.
Watch the Sea Lions
At Point Lobos State Reserve, the "greatest meeting of land and sea," you can see California sea lions in their natural habitat. You might also spot a spouting whale in the distance.
Learn About California's History
Take in an exhibition of natural history or 19th and 20th century art and exciting work by todays emerging artists at one of the fine Monterey museums.
Play 18 Holes of Golf
Play where the pros do and book a tee time at the legendary Pebble Beach Golf Links or one of the other 25 courses in the county.
Wonder Under the Sea
Discover life in Monterey Bay without leaving dry land at the Monterey Bay Aquarium. Dedicated to marine research and conservation, the Monterey Bay Aquarium is known throughout the world for its interactive exhibits and ability to present marine life on a truly grand scale.
Feel the Love
Its name is Spanish for "Asylum by the Sea," and Asilomar State Beach could not feel more like a romantic haven. Only a mile long, this beach packs it in: rocky coves, white sand, tide pools and a dune preserve. Take your sweetie kayaking, bike riding, or for a sunset stroll. To make it extra special, cozy up in a rustic room at Asilomar Conference Grounds, a stunning landmark structure designed by Julia Morgan.
Berkeley and Oakland
These two East Bay cities are easily accessible from San Francisco by public transit and offer great dining, shopping, and more. But perhaps more than anything else, what Berkeley and Oakland offer is culture. Here are just a few of the must-see venues you should consider for taking in live music and performances.
Cafe Van Kleef
1621 Telegraph Ave., Oakland
Missing a little New-Orleans-style jazz in your life? Cafe Van Kleef can take care of that for you.
The Fox
1807 Telegraph Ave., Oakland
When it comes to glitzy Art Deco palaces that double as hipster music venues, Oakland doesn't disappoint. After a period of major glamour followed by a longer period of sad disrepair, the newly restored Fox hosts greats like St. Vincent, Andrew Bird and Willie Nelson.
The Greek
1815 Fourth St., Berkeley
Don't let the fact that it's a college theater dismay you. UC Berkeley's Hearst Greek theater, or "The Greek," has been a major player in the indie rock circuit for years now. A giant amphitheater that's still got intimacy and acoustics—plus those killer views? Done. 
The New Parish
579 18th St., Oakland
Those who dig smaller venues should check out Oakland's The Parish. Located in Oakland's hip Uptown, this spot attracts indie acts from pretty much any genre.
The Paramount
2025 Broadway, Oakland
If you're looking for a ridiculously beautiful venue in which to experience some symphonic bliss, then look to the Paramount Theater. This 1930s-era Art Deco movie theater turned concert hall has long been an Oakland mainstay. The architecture alone is worth the trip.
The 924 Gilman Street Project
924 Gilman St., Berkeley
When you think of a punk club, you don't typically picture a non-profit, all-ages collective. But that's exactly what you get at 924 Gilman. A punk icon since 1986, the Gilman is one of the longest running venues to book only independent musicians—and has helped give rise to the likes of Green Day and the Foo Fighters.
Go For A Ride
Looking to spend your time in the East Bay outdoors instead? Ride your bike through Berkeley and Oakland! Head straight east up into the hills (take Grizzly Peak Boulevard for some incredible views over the Bay), cycle through Tilden Regional Park, or try your hand at the slightly longer Three Bears Loop.
Wine Country
There are more than 850 wineries in Napa and Sonoma, from small, family-owned places to large state-of-the-art facilities.Here are some that are open to the public for tasting. Be sure to keep your eyes open for these producers in local restaurants and wine shops.
Corison Winery
987 St. Helena Hwy., Saint Helena
Cathy Corison is a living legend, revered in San Francisco's professional wine community by collectors and consumers. Her Napa Valley and Kronos Vineyard Cabernet Sauvignons are stunning examples of this flagship grape, but one of the best-kept secrets is the dry Gewurztraminer she makes from a 30-year-old vineyard in the Anderson Valley. 
Chateau Montelena
1129 Tubbs Lane, Calistoga
Chateau Montelena first captured the world's attention when the 1973 Chardonnay won the Judgment of Paris wine competition in 1976. While the Chardonnay continues to be one of the most age worthy made in California, it is the Estate Cabernet Sauvignon that hogs most of Montelena's press these days. 
Freemark Abbey
3022 St. Helena Hwy. North, St. Helena
Freemark Abbey was one of a handful of wineries to make serious wines in Napa in the late 60s. The Bosche Vineyard and biodynamically farmed Sycamore Vineyard Cabernet Sauvignons are the stars, with great aging potential. 
Grgich Hills Estate
1829 St. Helena Hwy., Rutherford
Founded in 1977 by Mike Grgich, who made the famed Chateau Montelena Chardonnay that won the Judgment of Paris tasting the previous year, Grgich Hills has a penchant toward cooler microclimate wines that are drinkable young but can also age. While the Chardonnay is the pinnacle of the production, the Zinfandel and Cabernet Sauvignon are among the finest you'll find on Highway 29.
Heitz Cellars
436 St. Helena Hwy, St. Helena
Heitz's Martha's Vineyard Cabernet Sauvignon is one of the most unique, long lived and delicious wines made in California. However, the other wines—including an organically grown Sauvignon Blanc and a Grignolino—are always worth a few sips.
Joseph Phelps Vineyards
200 Taplin Road, St. Helena
Joseph Phelps underwent a major renovation in 2014, making this already scenic spot even more idyllic. The selection includes Sauvignon Blanc, Chardonnay, Pinot Noir, Cabernet Sauvignon and Syrah but the Cab-based blend, "Insignia," is Phelp's hallmark. 
Robert Sinskey Wines
6320 Silverado Trail, Napa
Robert Sinskey is a moderately sized producer of wines made from organic and biodynamic grapes in Carneros and the Stags Leap Districts. A range of white and red wines is made, with Pinot Noir being the focus. 
Saintsbury
1500 Los Carneros Ave., Napa
Saintsbury has been a leading producer of Pinot Noir and Chardonnay from Carneros since the 1980s. In addition to the Carneros bottles, they have several single vineyard Pinot Noirs, and an always refreshing rosé.
Spottswoode
1902 Madrona Ave., St. Helena
Spottswoode released its first Cabernet Sauvignon in 1982 and every vintage since has become a collector's item. Today, four wines are made including their famous Sauvignon Blanc, the Lydenhurst Cabernet Sauvignon and the Field Brook Syrah from the Sonoma Coast.
Storybook Mountain Vineyards
3835 Hwy. 128, Calistoga
Storybook Mountain makes terrific Zinfandel from the Mayacamas Mountain Range, as well as small lots of Viognier, Cabernet Sauvignon and a superb red blend, Antaeus. The Zin Gris and Cabernet Rosé are scrumptious summer wines. 
Banshee Wines Tasting Room
325 Center St., Healdsburg
Founded in 2009, Banshee specializes in Sonoma County Pinot Noir and works with some of the most prized vineyards in the state. Many of these wines, as well as their Chardonnay, Sauvignon Blanc and Syrah, are available to taste at the outpost in Healdsburg. 
Bergamot Alley
328 A Healdsburg Ave., Healdsburg
Bergamot Alley is one of the best wine bars you'll find, well, just about anywhere. It is not California focused, but you'll see European wines here that are hard to find elsewhere. Beers and snacks are also available and most of the wines are available retail. 
Hanzell
18596 Lomita Ave., Sonoma
Hanzell makes one of—if not the best—aging Pinot Noir in California. The Chardonnay is also legendary and several years ago they introduced Sebella, a Chardonnay that drinks earlier than the Estate bottling. Located in the newly anointed Moon Mountain AVA, it has majestic views overlooking Sonoma.
Laurel Glen Vineyard
969 Carquinez Ave., Glen Ellen
Laurel Glen has been making outstanding Cabernet Sauvignon since 1981 from Sonoma Mountain. Counterpoint Cabernet Sauvignon is a great value and the "Crazy Old Vine Rosé" is perfect for summer sipping. 
Porter Bass
11750 Mays Canyon Road, Guerneville
Located in one of the cooler spots in Sonoma County, Porter Bass makes beautifully balanced, subtle and complex wines from Pinot Noir to Chardonnay and Zinfandel. The Poco a Poco wines are terrific values as well. This is one of the few Demeter (biodynamic) certified properties in California. 
Porter Creek Vineyards
8735 Westside Road, Healdsburg
Porter Creek is a family-owned organic property steeped in the French tradition of winemaking. While they are Pinot Noir focused, the old vine Carignane and George's Hill Chardonnay are standouts. 
Wind Gap Tasting Room at the Barlow
6780 McKinley St., #170, Sebastopol
Pax Mahle, the proprietor of Wind Gap, has done a superb job making natural wines from California accessible to a broader market. With Wind Gap and his other labels, Pax and Agharta, he offers a wide selection of cooler and warmer climate wines from an array of popular and esoteric grapes. 
Dance in the Aisles
You can have fun in wine country without wine! Napa's Uptown Theatre is the quintessential quaint, local establishment. It's got a small town feel with a big time sound and features an eclectic collection of performers, from musicians to comedians and writers.
Marin
Starting at the green headlands just on the other side of the Golden Gate Bridge, Marin County stretches north across breathtaking coastlines, rolling hills, and chic waterfront towns. Easily accessible by bike, bus, ferry—or a combination of all three—Marin offers great day trip experiences for visitors to San Francisco.
Ride A Bike
Alpine Dam Loop is probably the most scenic ride in Marin, if not the entire Bay. The 30-plus mile loop will leave your legs heavy after more than three hours of climbs and descents in and around Mt. Tamalpais and through towns like Larkspur, Ross and Fairfax, a good starting and ending point with downtown parking and spots to eat.
Hit the Beach with a Four-Legged Friend
One of the only pet-friendly beaches in Point Reyes, Kehoe is perfect for any pup. Even the journey to the beach—with its wildflowers, mustard plants and other four-legged beach bums—is an adventure. Long stretches of sand are great for playing fetch, taking a walk and sniffing out the other visitors, making the beach a great spot for a high-energy hound who is restless from city life.
South Bay
Less than an hour away, the cities of Santa Clara and San Jose and their South Bay surroundings are worth a visit. Here are a few activities to consider.
Dance Like No One's Watching
Famed as a great escape from the San Jose club scene, The Blank Club is a pocket-sized dive bar with a great lineup of punk, rock, new wave, electronic and indie bands.
Sip and Sing
Enjoy a nice glass of vino with your music at the Mountain Winery in Saratoga. The venue doubles as a concert venue and a winery.
Get Cultured
Featuring three different performing arts venues, a fascinating history, and stunning grounds, the Montalvo Arts Center has it all: elegance, beauty, a diversity of shows, and plenty to do outside of all the concert experience.
The Peninsula
Between San Francisco and San Jose, there are many suburban towns that offer great visitor experiences. Here are just a few of them.
Explore On Two Wheels
There are great bike riding opportunities along the peninsula. Many of the best trails go on or around the Santa Cruz mountains and are connected by Skyline Boulevard. From downtown Palo Alto, try taking the 40-mile loop up Page Mill Road, north on Skyline, and descend on Kings Mountain Road through plenty of greenery. A shorter, albeit classic loop is the Old La Honda Road, which also takes you along Skyline and down Kings Mountain.
Invigorate Your Senses at Filoli Gardens
Just 30 minutes south of San Francisco nestled in the slope of the Santa Cruz Mountains, Filoli House and Gardens is considered one of the finest remaining country estates of the 20th century. Find a 54,000+ square foot Georgian revival-style mansion, 16 acres of exquisite English Renaissance gardens, a 6.8-acre Gentleman's Orchard, and hundreds of acres of Natural Lands with 5 distinct ecosystems and a 1-mile Estate Trail at this one-of-a-kind historic site.
Get Wild (Sort Of) at Año Nuevo State Park
In Pescadero, Año Nuevo offers the perfect dose of wildlife and walking trails—with all the comforts and level ground of a beach. Take a self-guided tour during summer months, or hop on a guided tour to see the elephant seals during breeding season (December to March). Picnic tables, restrooms and drinking water are available at the visitor's center.
Feel Like a Kid Again
There is little that can beat the seaside nostalgia found at the Santa Cruz Beach Boardwalk. The beach itself is a hub for volleyball, surfing, kayaking and fishing on the pier. And when you get tired of the sand, venture over to the boardwalk to enjoy the funnel cake and coasters that childhood dreams are made of.
Catch Some Eye Candy
Half Moon Bay is a surfer's paradise, making it the perfect place to check out all the athletic ladies and gents riding the waves. The southern part of the beach is the best place to lay out, stroll the sand or rest your eyes from the beach bods. Stay for sunset (who knows—perhaps you'll find a hottie to share it with you).
---