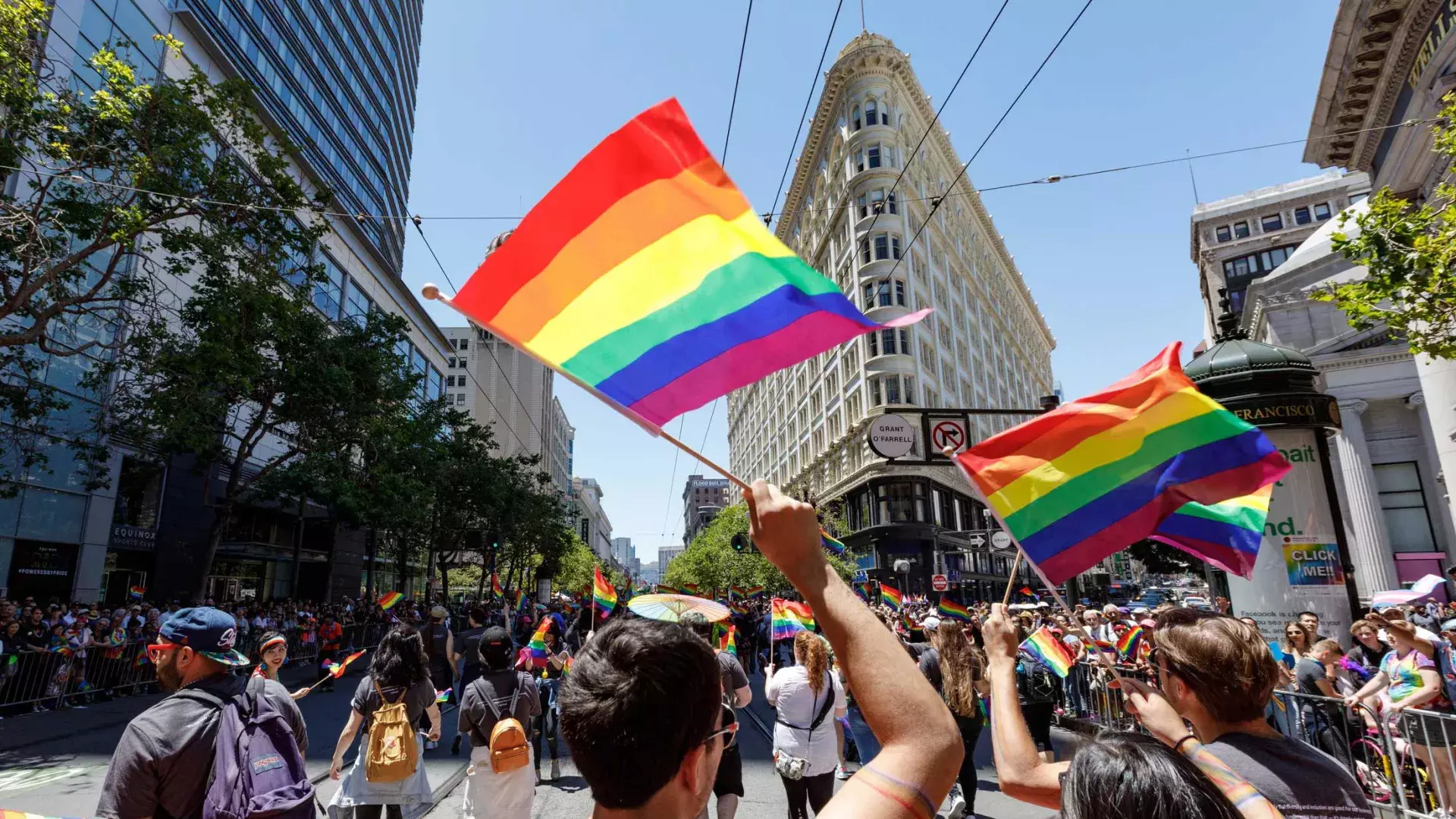 A Brief History of the Rainbow Flag
The Rainbow Flag was designed in San Francisco and made its debut here. Here's how its history unfolded to become the icon it is today.
"A true flag cannot be designed — it has to be torn from the soul of the people." — Unknown
In 1970, a self-described "geeky kid from Kansas" named Gilbert Baker came to San Francisco as an Army draftee. San Francisco has often been compared to Oz, but Baker didn't want to click his heels and go back to Kansas. After an honorable discharge, he stayed in San Francisco, free to pursue his dreams of being an artist. He learned to sew, making all the fabulous 70s clothes that he wanted but couldn't buy.
In 1974, Baker's life changed forever when he met Harvey Milk, who showed him "how action could create change." Three years after they met, Milk was elected to the San Francisco Board of Supervisors – making him the first openly gay person to hold a high public office in a major American city. Milk, once known fondly as the Mayor of Castro St., had campaigned on a positive message of hope for young gay people, saying, "The only thing they have to look forward to is hope. And you have to give them hope." After winning the election, Milk challenged Gilbert Baker to come up with a symbol of pride for the gay community – a positive alternative to the pink triangle. The pink triangle, once imposed by Nazis to identify and persecute homosexuals, had been reclaimed in the 70s as a bold symbol of remembrance and action against persecution. It is still widely used, often alongside or superimposed upon the Rainbow Flag.
Inspired, Baker began working on a flag. He dyed the fabrics himself and, with the help of volunteers, stitched together eight strips of brilliant color into a huge banner that spoke volumes: hot pink stood for sexuality, red for life, orange for healing, yellow for the sun, green for nature, turquoise blue for art, indigo for harmony and violet for spirit. He remembers vividly the moment when his new flag was first raised:
"It all goes back to the first moment of the first flag back in 1978 for me. Raising it up and seeing it there blowing in the wind for everyone to see. It completely astounded me that people just got it, in an instant like a bolt of lightening – that this was their flag. It belonged to all of us. It was the most thrilling moment of my life. Because I knew right then that this was the most important thing I would ever do – that my whole life was going to be about the Rainbow Flag."
A few of his handmade Rainbow Flags were flown in the 1978 "Gay Freedom Day" Parade in San Francisco (now called San Francisco Gay Freedom Day Parade). Soon, Baker approached the Paramount Flag Company to mass produce the flags. Alas, fuchsia flag fabric was not readily available, but Paramount began selling a seven-striped version (red, orange, yellow, green, blue, indigo and violet). According to one source, those flags were a surplus stock that had originally been made for the International Order of Rainbow for Girls, a Masonic organization for young women, but the Rainbow Flag was already recognized throughout San Francisco as a symbol of gay pride.
On the morning of Nov. 27, 1978, San Francisco received shocking news: Mayor George Moscone and Supervisor Harvey Milk had been assassinated at City Hall. Grief and rage galvanized San Franciscans – especially gay activists.
The Gay Freedom Day Committee (now called San Francisco LGBT Pride Celebration Committee) quickly decided that the Rainbow Flag should be flown from the light poles along both sides of Market Street for the 1979 Gay Freedom Day Parade. They split the colors onto two flags, flying each of the three-striped flags on alternate sides of the street. They eliminated the indigo stripe to make an even six colors, and flag production began.
That six-stripe Rainbow Flag was soon proudly flown outside many San Francisco homes and businesses. Indeed, wherever a symbol of pride and hope was needed, the rainbow appeared: on keychains, coffee mugs, T-shirts, bumper stickers – you name it.
In 1988, John Stout of West Hollywood, CA, sued his landlords for the right to display a Rainbow Flag on the balcony of his apartment. He won, as have many others since who have defended their right to display the Rainbow Flag. Recently, Gilbert Baker said,
"The flag is an action – it's more than just the cloth and the stripes. When a person puts the Rainbow Flag on his car or his house, they're not just flying a flag. They're taking action."
Baker went on to design flags for other events, including state visits to San Francisco by the President of Italy; the President of France; the Premier of China; the President of the Philippines; the President of Venezuela, and the King of Spain. He designed flags for the 1984 Democratic National Convention, the 1985 Super Bowl, San Francisco Symphony Black and White Balls, and stage and street decorations for the San Francisco Gay Freedom Day Parades from 1979 through 1993. In 1994 Baker created the history-making, mile-long Rainbow Flag for Stonewall 25 in New York to mark the 25th anniversary of the gay civil rights movement. The Guinness Book of World Records recognized the mile-long Stonewall 25 Rainbow Flag as the world's largest flag.
Recalling one of the defining moments in his career, Baker said, "The moment I knew that the flag was beyond my own personal experience – that it wasn't just something I was making but was something that was happening – was the 1993 March on Washington. From my home in San Francisco I watched the March on C-SPAN and saw hundreds of thousands of people carrying and waving Rainbow Flags on a scale I'd never imagined."
Happy news: Hot pink is no longer a non-standard color in flag fabric production. Baker was recently able to create the world's longest Rainbow Flag – restored to its original eight colors – to celebrate the flag's silver anniversary. The Rainbow25 Sea-to-Sea Flag – 1.25 miles long – was unfurled in Key West, FL on June 15, 2003. Parts of the Flag will be shared with more than 100 cities around the world, and eight-stripe flags are now widely available.
---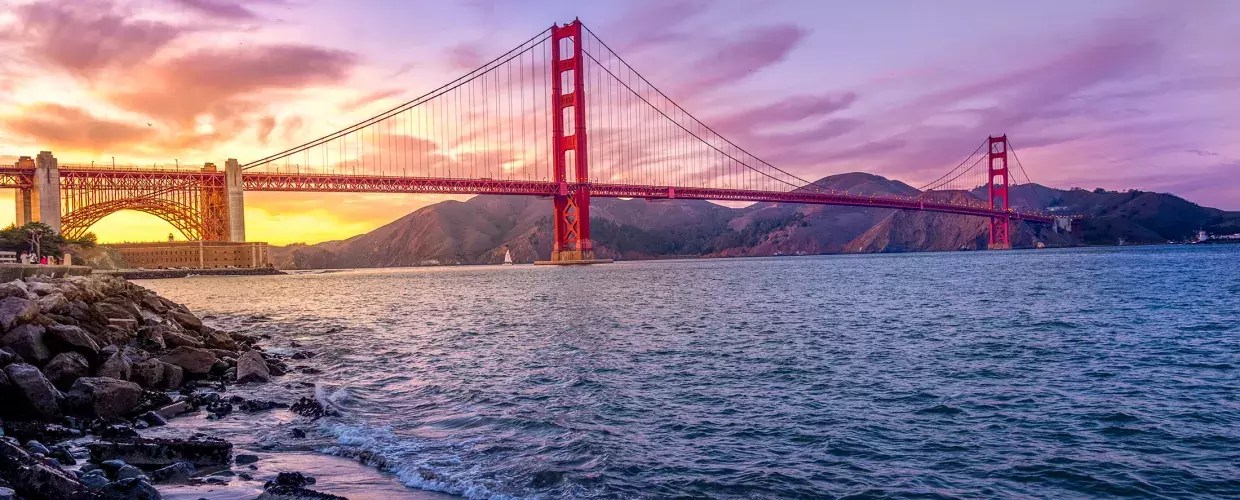 Stay Connected with SF
Sign Up for Our Newsletter
Be the first to know about upcoming events and festivals, new restaurants, special deals, and everything else happening in the City by the Bay.