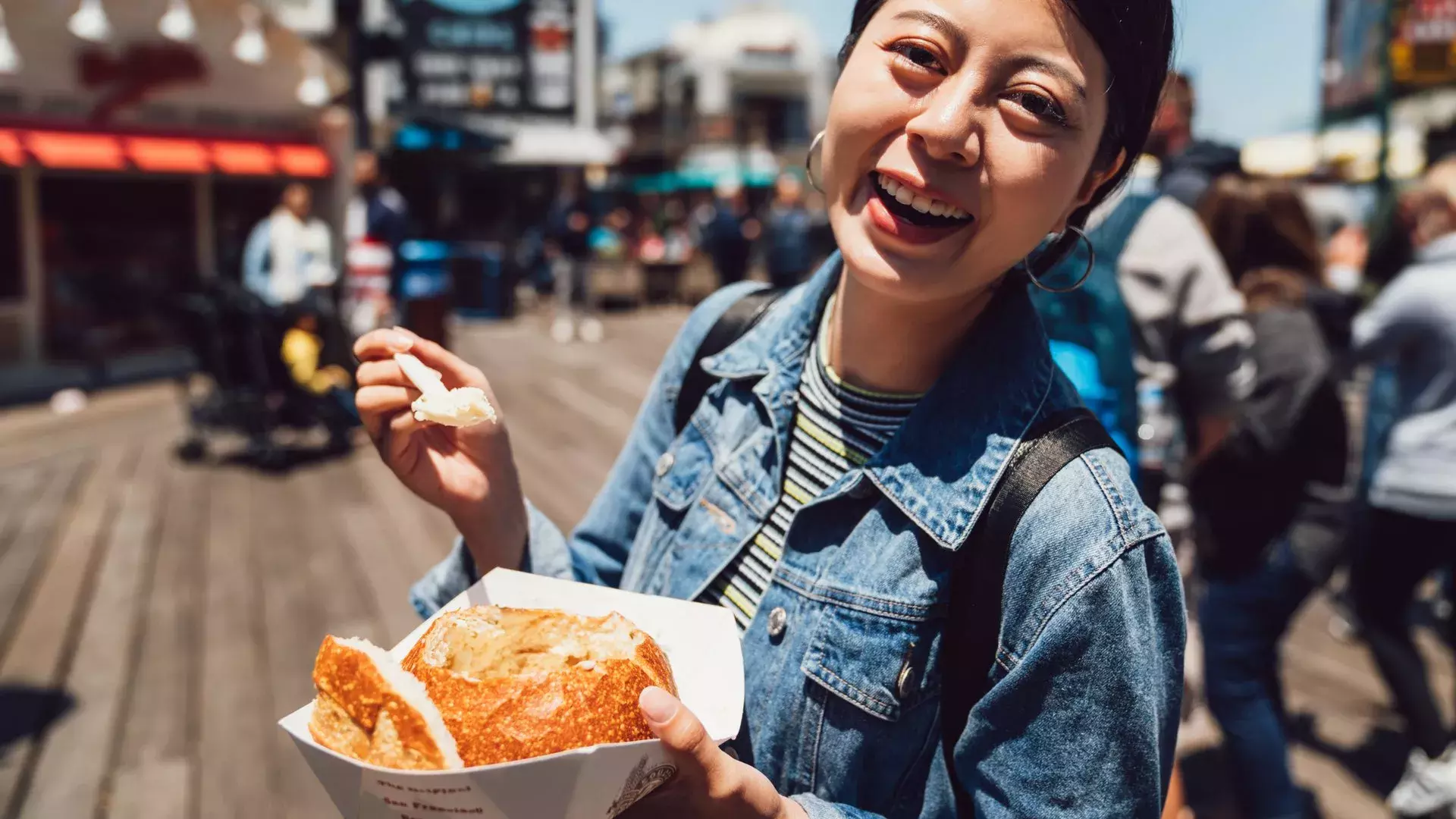 Where to Find the

Best Clam Chowder in San Francisco

Whether you need something to warm you up as the fog rolls in or you want a hearty meal before exploring San Francisco, you can't go wrong with clam chowder.
San Francisco is famous for many iconic dishes, and clam chowder is among our favorites. Whether you need something to warm you up as the fog rolls in or you want a hearty meal before exploring the city, you can't go wrong with clam chowder. Especially clam chowder in a bread bowl. Here are a few places to enjoy it in a number of different San Francisco neighborhoods. Keep this handy as you plan your next visit.
Fisherman's Wharf
This popular, bustling neighborhood is always a must for visitors. Naturally, some of the best places to find clam chowder in San Francisco are closest to where the fresh catch arrives each day. 
Boudin Bakery & Cafe
160 Jefferson St.
If you want your chowder served in one of San Francisco's signature sourdough bread bowls, visit the famous Boudin Bakery and Cafe. You can't go wrong with the city's original purveyors of sourdough! Thick like the New England variety, Boudin's chowder is sure to stick to your ribs.
Chowders
PIER 39
Even Bostonians have been caught online raving about the clam chowder here. Chowders is known for its excellent value, as well—a generous portion at a reasonable price! It's such a good deal, you'll be trying to find extra room in your belly.
Fog Harbor Fish House
PIER 39
The hearty, flavorful clam chowder at Fog Harbor Fish House draws raves from visitors and awards from experts. You can even try to duplicate the dish with their recipe, which they freely share. Still, having a bowl of chowder at home isn't quite the same as enjoying it with Fog Harbor's stunning bay views.
Scoma's
1965 Al Scoma Way
Tucked away on its own private pier, Scoma's serves its clam chowder piping hot. A generous helping of sourdough bread on the side will help make sure you don't miss a drop. On a menu full of delicious choices, Scoma's clam chowder remains a favorite with returning visitors.
North Beach
Not far from Fisherman's Wharf, you'll find the family-owned restaurants, bakeries, and coffee shops of North Beach, San Francisco's Little Italy.
Sotto Mare
552 Green St.
It's said that the best clam chowder in the neighborhood can be found at Sotto Mare. How could it not be? The restaurant's name literally means "under the sea" in Italian! Thick and hearty, their chowder is worth the wait (and there's almost always a wait).
Nob Hill
The neighborhood where cable cars climb halfway to the stars has luxury hotels, stunning views, and at least one must-stop for chowder lovers.
Swan Oyster Depot
1517 Polk St.
On the west side of this neighborhood, you'll find the famous Swan Oyster Depot. Quick service, low prices, and outstanding quality are part of their recipe for delicious chowder, which keeps diners dutifully waiting in line.
Dogpatch
San Francisco's fastest growing neighborhood is where you should go if you want to find what's next in art, food, and more. 
The Ramp
855 Terry A. Francois Blvd.
Not far from the Golden State Warriors' Chase Center is The Ramp, a local favorite where the clam chowder is just as well reviewed as their waterfront views and live musical acts. If you like your chowder thick and hearty, The Ramp is the place for you.
The Mission
The Mission is home to almost every cuisine imaginable, so why wouldn't great clam chowder be here, too? Stop for some chowder between your visits to the local murals and Dolores Park. 
Mission Street Oyster Bar
2282 Mission St.
Mission Street Oyster Bar doesn't skimp on the flavor in its chowder—or on their happy hour deals, for that matter. Their chowder is served with garlic bread, which sets it apart from other sourdough loyalists. Be sure to add it to your list as you eat your way through the neighborhood.
The Castro
Bet you didn't think you'd find great seafood here in the geographic center of the city, did you? San Francisco's gayborhood is full of fun shops and great bars, but mostly it's full of hills. Fill your tank before exploring the ups and downs—literally—of the Castro at these chowder hot spots.
Anchor Oyster Bar
579 Castro St.
Anchor Oyster Bar may be one of the tiniest restaurants on our list, but don't let that dissuade you. Their creamy clam chowder is big on flavor, making it a definite must-have in this neighborhood.
Woodhouse Fish Co.
2073 Market St.
You've heard of Manhattan clam chowder and New England clam chowder—but have you heard of Hartford clam chowder? You can find it at Woodhouse Fish Co., located on the eastern edge of the Castro. 
Western Addition
North of the Castro and not far from Golden Gate Park, San Francisco's Western Addition claims Divisadero Street as its main thoroughfare. Lined with trendy shops, unique bars, and a wide variety of restaurants, it's a perfect street for a stroll.
Bar Crudo
655 Divisadero St.
Bar Crudo's chowder has so many ingredients to it, it's practically cioppino! If an everything-but-the-kitchen sink chowder is what you desire, Bar Crudo is where to find it.
---