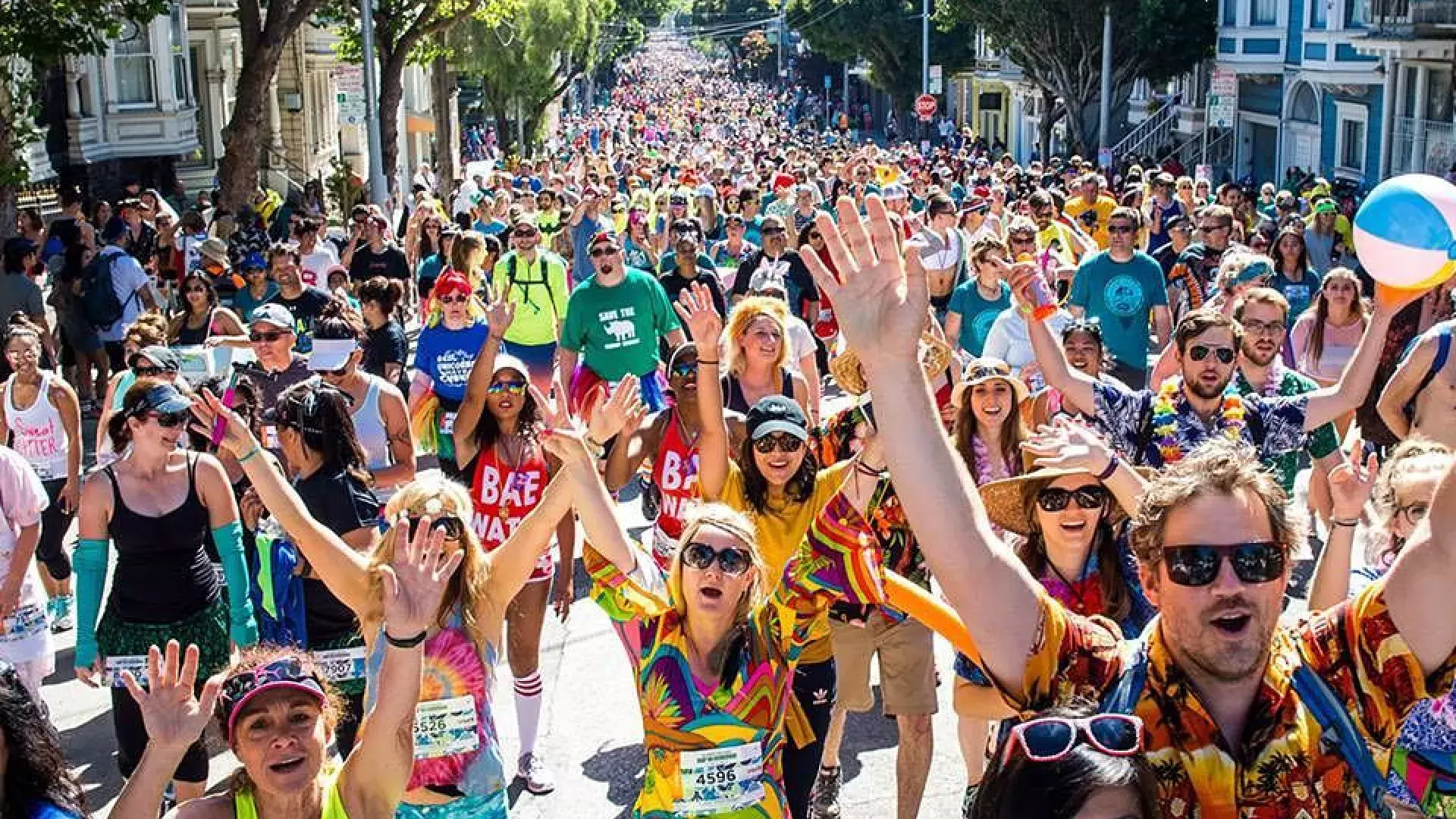 Everything You Need to Know About Bay to Breakers
Bay to Breakers' historic race is here to stay! The 2023 Bay to Breakers will take place on Sunday, May 21, 2023.
Bay to Breakers is an only-in-San Francisco freewheeling footrace for those who want to have fun, be a bit wacky, and run (or walk) across town. Known for its festive, party atmosphere, it is one of the world's oldest footraces. Starting at The Embarcadero (the "bay" side of the city), runners traverse the hills of San Francisco to the western side of the city, ending at the "breakers" of Ocean Beach. Held on the third Sunday in May, Bay to Breakers combines serious competitors with costumed participants, plus thousands of spectators lining the route. (Sometimes, watching is the best part!)
The History of

Bay to Breakers

Of all of San Francisco's unique traditions, none captivates the entire city the way Bay to Breakers does. It's an annual testament to the creativity, community, and resilience that make our city such a popular destination. A time-honored San Francisco tradition, Bay to Breakers, is a tradition that people from far and wide come to the city to participate in. 

It also has a rich history. Here are some facts about the Bay to Breakers you can share along the course this year, whether you're racing up Heartbreak Hill or cheering at the finish line on the Great Highway.
The race began in 1912. It was meant to raise the spirits of a city still recovering from the aftermath of the 1906 earthquake and build excitement for the 1915 Panama-Pacific International Exposition. Bay to Breakers continued well beyond those original goals, and is now recognized as the longest consecutively run foot race in the world.
It also held the world record for largest footrace for 24 years. The 1986 Bay to Breakers had 110,000 participants. That's more than twice the capacity of Oracle Park!
It's a race for everyone. You don't have to be an Olympic athlete to run in Bay to Breakers (although many have!). The race, like San Francisco itself, has always been open to everyone. Participants of all ages, abilities, and nationalities join in every year.
It's a showcase of creativity. For Bay to Breakers, it's not just about when you cross the finish line. It's also about what you're wearing when you do. Every year, participants try to outdo one another by crafting truly outrageous costumes.
Watch out for centipedes. We don't mean the kind you might find in your backyard. In Bay to Breakers, a centipede is a group of runners competing as a unit. The idea first caught on in the late 1970s, and Bay to Breakers is now the official site of the World Centipede Running Championships.
The Mardi Gras of the West. Tens of thousands of athletes compete and fun-loving folks flood the streets clad in everything from outrageous costumes to birthday suits — earning Bay to Breakers a reputation as the Mardi Gras of the West.
How to Prepare for Bay to Breakers
Whether you're running up Heartbreak Hill, cheering from the sidelines, or watching with your neighbors, here are a few tips for runners and revelers to help you prepare and have fun.
Don't dress warmly. It may be a little chilly in the morning, but, trust us, taking to the streets with thousands of people as temperatures start to rise mid-morning means you'll be stuck carrying your jacket all day long.
Be prepared for nudity. You may even be that guy or gal, but be prepared to see people in their birthday suits.
Stay hydrated. Water is your friend on a day like this, especially if you plan on drinking.
Pace yourself. It can be a long morning. Take your time to enjoy the full event.
Wear a costume. San Francisco loves to dress up. Join the fun and come prepared.
Transportation. Cabs will be difficult to find and public transit will be packed after the race. Plan ahead.
Make pit-stops. There are a slew of open house parties, bands, food vendors, and other random happenings along the way. Don't be shy. Stop and enjoy yourself.
Be respectful. It may be difficult to find a bathroom. You may bump into a police officer on a horse. You may really want to read the tattoo on that naked guy. Please, remain courteous and respectful throughout the event.
Have a blast. Go wild. Have fun. Enjoy yourself. 
Sign up and Receive Your Bib Before the Race
To participate in the race, you'll have to register beforehand. Once you've registered, you'll receive your race bib in the mail about one week prior to the event. There will be an expo for the 2023 race so participants can pick up their race packs in person before the event, if they choose. 
Create or Buy a Creative Costume
What makes Bay to Breakers a uniquely San Francisco experience? Thousands of runners join with families, weekend runners, and walkers in costume. You'll see traditional costumes from your favorite comic book hero to off-the-wall costumes, like salmon running "upstream."
Carb Up the Night Before
The race is a lot of fun to run, but so is preparing for it the week before. Many people think it's best to carb up the night before. Nutritionists actually recommend it's better to start the carb up a week out. In San Francisco, your dining options are endless.
How to Get to the Race
BART will open approximately two hours early (6 a.m. instead of 8 a.m. on a normal Sunday). Even with the early opening, give yourself a 30-minute cushion. From San Francisco: Take Muni or BART to the Embarcadero Station. From the East Bay/Berkeley: Take BART to Embarcadero Station.
Get to Know the Route
Bay to Breakers starts at the bay and ends at the breakers. In between, there are plenty of hills and colorful sights to see as you run the course. Make sure you're prepared for the infamous hills like the Hayes Street hill and the run through Golden Gate Park. 
Where to Cheer On Runners During Bay to Breakers
Bay to Breakers is a race the entire city of San Francisco comes out for, even if people aren't running. Here are the best places to watch Bay to Breakers.
Hayes Street Hill (Hayes Street, from Gough to Steiner Street)
The infamous Hayes Street Hill is perilous to runners but a fantastic place to cheer them on. The hill starts at mile two and is approximately two-thirds of a mile. Along this steep climb, you'll hear plenty of music from house bands and DJs spinning records, which will allow you to show off your sweet dance moves.
The Panhandle
Right before the entrance of Golden Gate Park sits a narrow green strip of land with bike paths and picnic areas called the Panhandle because of its shape. As runners make their way through, the Panhandle is great area to watch from the sidelines with a blanket and bites at hand.
Ocean Beach (The Finish Line)
As runners cross the finish line with a stunning view of the Pacific Ocean, they will, no doubt, hear the loudest cheers of all. Stick around once the last corral group crosses the finish line for the live bands and the celebration as the Finish Line Festival kicks off.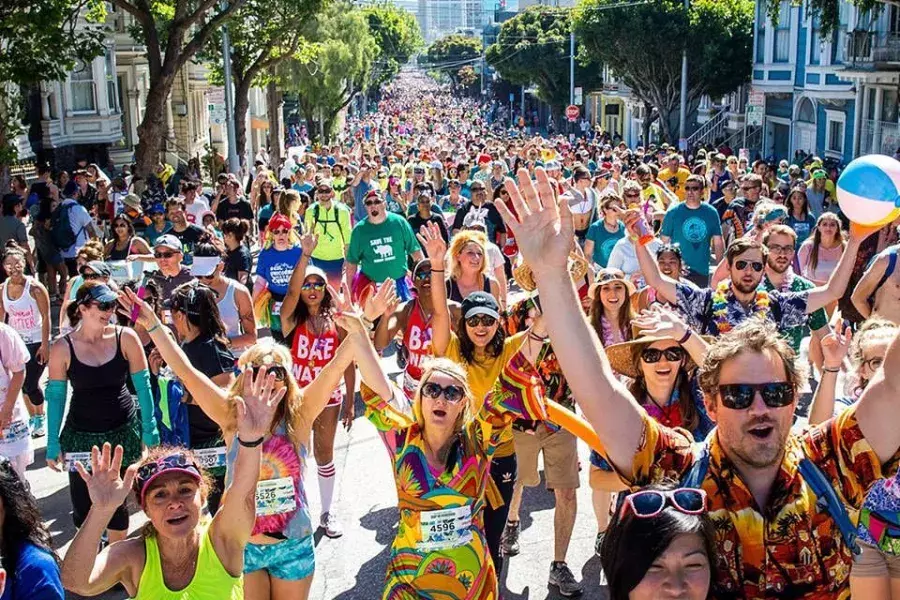 Run Bay to Breakers in 2023
The 2023 Bay to Breakers will be held in San Francisco on Sunday, May 21. Registration is now open! Come join this incredible San Francisco tradition.
Register Here
---