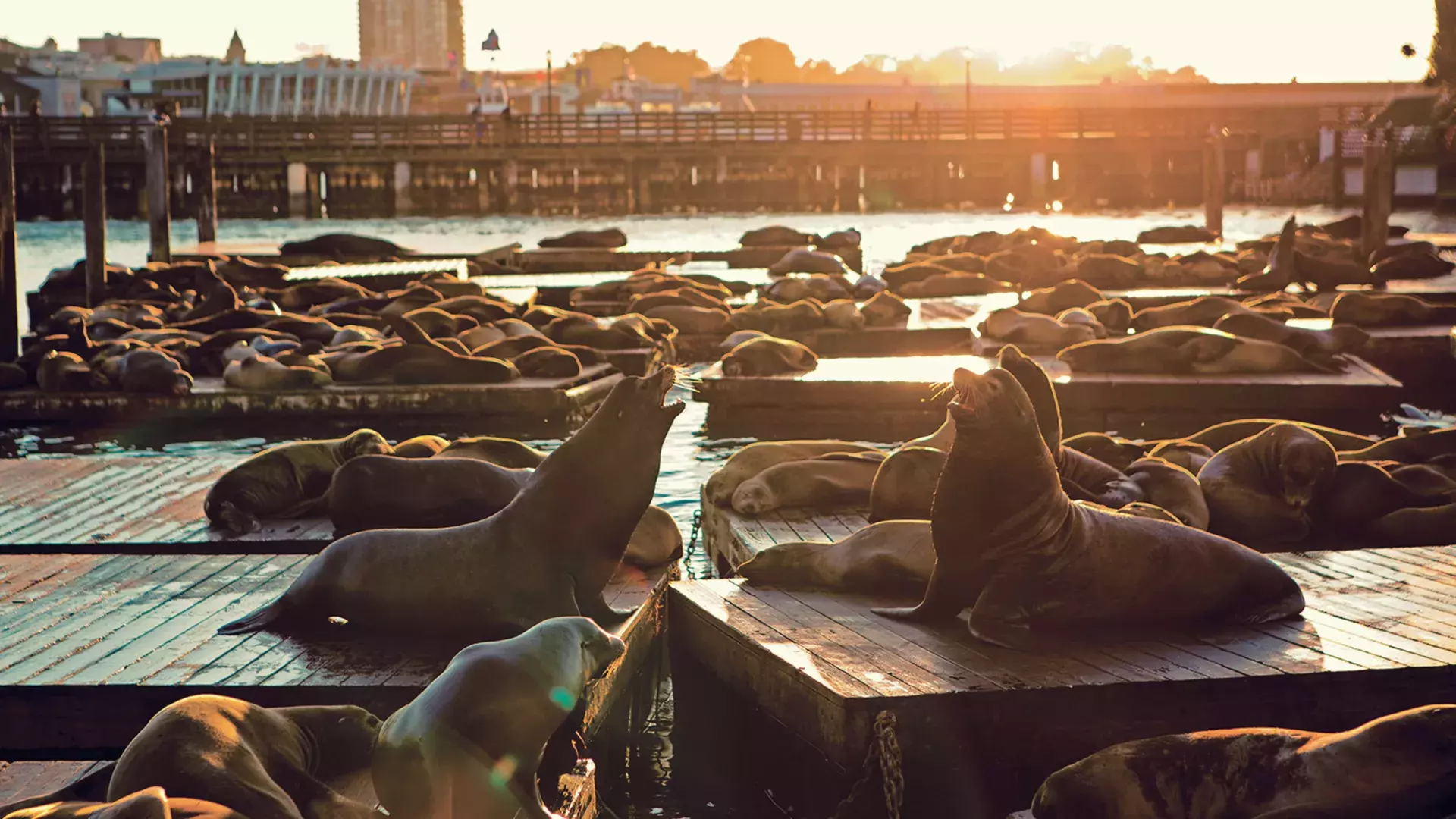 Take an Urban Safari in San Francisco
San Francisco may be a city synonymous with technical innovation and architectural wonders, but it's also a city that stays close to nature.
When you visit San Francisco, it's very easy to spend some time with the local wildlife. Here are our tips for how to take an urban safari in San Francisco and meet some of its most famous animal residents.
The Sea Lions at PIER 39
In October 1989, the Loma Prieta earthquake disrupted more than just San Francisco's human residents. It also shook up the California sea lions living in San Francisco Bay. Suddenly, they started "hauling out" on PIER 39.
At first, just a few showed interest in this new home. Now you can see hundreds of these massive creatures from late July to mid-May. Some of the sea lions stick around through June and early July, but most head south to breed on the Channel Islands.
You can't get close to the sea lions, but if you want to know more about them, head over to the Sea Lion Center. It is operated by the Aquarium of the Bay and features a variety of educational and interactive activities, including a real sea lion skeleton.
The Parrots of Telegraph Hill
Cherry-Headed Conures aren't native to California. Bird watchers who want to see these parrots in their natural habitats must generally travel to South America. However, if you look into the trees or watch the skies of San Francisco, you are sure to spot some of the wild conures that make their home in the city.
There are a variety of legends that tell the tale of the wild parrots' origins. In one version, a woman released the birds from an exotic pet store before burning it to the ground. It's more likely that the flock's founding couple escaped or were released by pet owners who couldn't keep up with such noisy and demanding companions. The two founding members of the flock produced dozens of chicks, and the group was joined by other escaped and released pets.
Originally, the birds were only found on or near Telegraph Hill. As the population expanded to more than 300, it split into smaller flocks that can be seen from the Ferry Building on the Embarcadero all the way to Brisbane, a city south of San Francisco.
To see them for yourself, start at the Embarcadero and walk down Greenwich Street to Pioneer Park. The parrots are often spotted along the pedestrian paths, and you can take in Coit Tower while you are there. You can also try Sue Bierman Park, which is in the opposite direction near the Ferry Building.
The parrots are in the city year-round, but they may be less visible during the summer breeding season. If you visit in September, you might spot some chicks coming out of the nest.
It's best not to feed the wild parrots. First, the seeds and crumbs most people have on hand aren't especially nutritious. These birds thrive on fruit, berries, and vegetables. Second, there are concerns that allowing the wild flocks to become accustomed to hand feeding from humans could put them in real danger.
For more birdwatching opportunities, visit The Presidio, where numerous species can be found.
The Bison in Golden Gate Park
The American Bison was king of the prairie. Anywhere from 30 to 60 million of them once roamed the Great Plains. As Americans pushed west in the 1800s, they hunted bison to near extinction. By 1890, only about 1,000 American Bison remained. If not for valiant conservation efforts, including a captive breeding program in San Francisco, the species would not have survived.
San Francisco's Golden Gate Park boasts a small herd of its own, a tradition that started in 1892. Staff from the San Francisco Zoo & Gardens keep an eye on the bison, who graze in the Buffalo Paddock west of Spreckels Lake. You will find them just off John F. Kennedy Drive in the northwest corner of the park.
Keep in mind that though bison appear to be slow and calm, approaching them is not safe. Despite their massive size, they can reach speeds of 40 miles per hour!
Whales, Porpoises, and Dolphins
Gray whale migration is nothing short of extraordinary. Every year, these massive marine mammals swim 10,000 miles round trip from Mexico to Alaska. Gray whales swim relatively close to shore, so it is possible to see them go by without leaving dry land, especially from December to May. Some have been seen entering San Francisco Bay.
A bit farther out to sea, a variety of other whales pass through Bay Area waters during their own migrations. Blue whales may be seen from July to October, humpback whales from May to November, and you may have an opportunity to see Pacific white-sided dolphins from June to November. If you are especially fortunate, you may get to see a group of orcas.
Even if you miss prime whale watching months, Dall's porpoises, Risso's dolphins, and northern right-whale dolphins live in the waters near San Francisco year-round.
If you would like to get out on the water to see these ocean giants up close, there are excellent whale watching tour operators in the Bay Area. Try San Francisco Whale Tours, Oceanic Society Whale Watching, or the family-owned and operated Angel Island – Tiburon Ferry.
Coyotes
In many of San Francisco's largest parks, as well as in the Marin Headlands across the Golden Gate Bridge, you may spot coyotes. You'd be forgiven for mistaking these mid-sized, dog-like animals for someone's off-leash pet. While coyotes might seem inquisitive and may remind you of your favorite mutt, visitors should not engage with them. These are wild animals, and attempting to pet or feed them is a big mistake. If a coyote gets too close to you during a hike, make loud noises and raise your arms. This will make you look larger to the coyote and should scare it away.
Where Else to See the Animals
You can spot incredible wildlife in some of our neighboring destinations across the Bay Area. Hundreds of different species of mammals, birds, reptiles, and fish can be found in Yosemite National Park. Monterey has become the preferred pit stop for migratory whales and dolphins. In recent years, residents have seen a record abundance of marine mammals who stop to feed in the sardine-rich waters.
If your San Francisco safari doesn't turn up any wild critters, you can always see those living comfortably at the San Francisco Zoo & Gardens or the Aquarium of the Bay. Both attractions are dedicated to conservation and education, and feature memorable experiences like animal feedings.
---