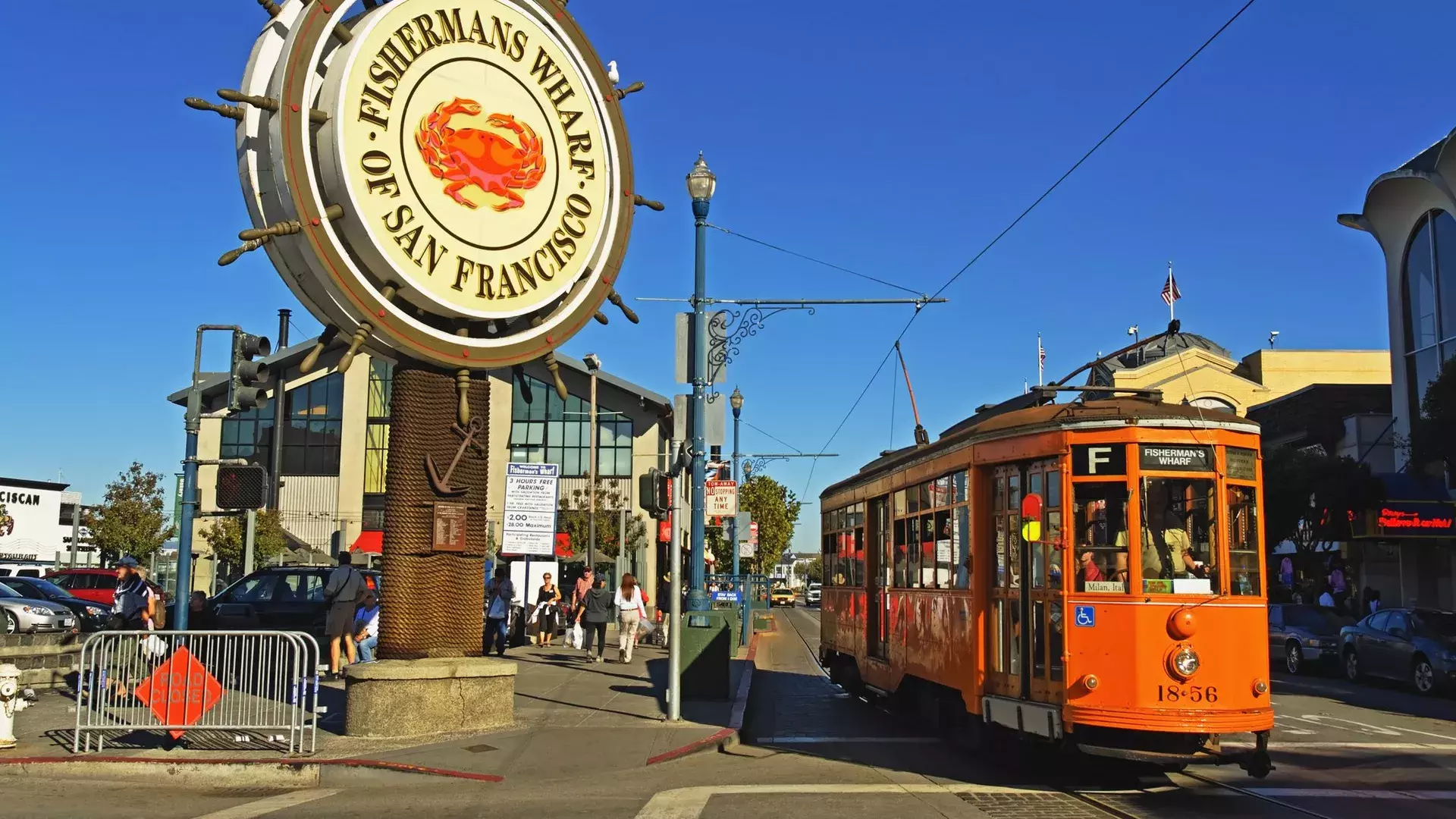 The Guide to

San Francisco's Historic F Line Streetcar

Hop aboard San Francisco's F Line streetcar and you'll be taken to some of the city's best restaurants, hotels, and attractions.
Here in San Francisco, our gate is open to visitors. As travelers are returning, so too are a number of iconic San Francisco experiences. One of them that you should certainly add to your must-do list is a ride on the historic F Line streetcar. Here's everything you need to know about this San Francisco legend: how to ride it, what to see and do along its route, where to stay so you're near it, and why you should never confuse it for a cable car.
What is the F Line?
The F Line streetcar is part of San Francisco's public transit system (known locally as Muni). The F Line runs from the Castro along Market Street to the Embarcadero, passing through Civic Center and the Financial District, before turning north and following the waterfront to Fisherman's Wharf. The F Line is also convenient for exploring Union Square and SoMa.
A collection of historic streetcars from all over the country have been restored, refurbished, and put back into service on the F Line. It's like taking a ride in a time machine!
So what's the difference between a streetcar and a cable car?
We're so glad you asked. Streetcars like the F Line run above ground and get their power from overhead electrical wires. While they come in many different color patterns, all of San Francisco's streetcars have a similar shape and size. They're about as big as a city bus and they look like they rode in right out of an old movie.
Cable cars, on the other hand, are smaller and boxier. They're also a bit more unique and recognizable (but don't tell the streetcars we said that.) Like streetcars, cable cars run above ground; but unlike streetcars, they are propelled by steel cables hidden beneath the pavement. When you ride a cable car (and you certainly should), that whirring sound you hear is the sound of the cable, ceaselessly spinning along its route to carry the cable car up the steep inclines of Nob Hill and Russian Hill.
How do I ride the F Line?
The F Line runs at street level, making it easy to spot. To board, look for a Muni stop with a sign for the F Line. Along Market Street, these are protected islands in the street that you can reach via crosswalk. Along the Embarcadero, there are protected stations with passenger waiting areas. 
Simply board and pay using the MuniMobile app, a Clipper Card, or cash. A single adult ticket is $3 if paid in cash, $2.50 if paid via MuniMobile or Clipper Card. Youth (ages 5-18), seniors (ages 65+), and travelers with disabilities ride for less ($1.50 if cash, $1.25 if MuniMobile or Clipper). To learn about the MuniMobile app, click here. To learn how to purchase a Clipper Card, click here.
To request a stop, pull on the cord that runs the length of the streetcar to alert the driver. Carefully exit and be sure to look both ways before leaving the stop to continue your journey.
The F Line resumes operating on May 15, running from approximately 7 a.m. to 10 p.m. each day.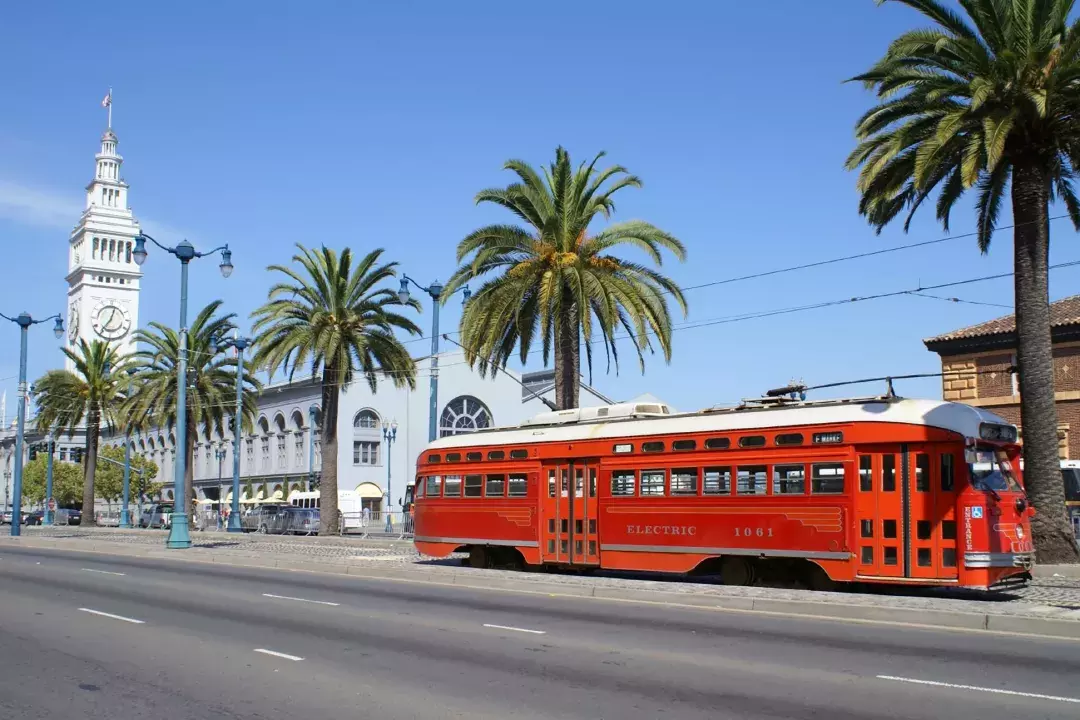 What can I see along the F Line?
The F Line travels through some of the San Francisco neighborhoods most popular with visitors. Here's what you can see in each one.
The Asian Art Museum (200 Larkin St.) - Home to artworks artifacts stretching back through thousands of years of history, the Asian Art Museum celebrates the many different cultures of East and South Asia. Its collection is one of the largest of its kind in the nation. A recent expansion has given the Asian Art Museum even more space to showcase its priceless items.
The San Francisco Opera and Ballet (301 Van Ness Ave.) - Sharing the War Memorial Opera House, the San Francisco Opera and San Francisco Ballet perform beloved classics and daring new works each season.
The San Francisco Symphony (201 Van Ness Ave.) - Davies Symphony Hall is home to the Grammy Award-wining San Francisco Symphony. Architecturally and acoustically superb, there is no bad seat in this house for hearing some of the world's most talented musicians.
Union Square 
If you disembark from the F Line at Powell Street, you'll be just a few blocks away from the shopping spree of your dreams. Your first stop can be the Westfield San Francisco Centre, home to hundreds of stores including Nordstrom and Bloomingdale's. Head north up Powell Street and you'll find yourself in the heart of Union Square, with luxury retailers like Dior, Tiffany, and Gucci all within a few tight blocks.
Powell Street is also where you can board a cable car. Enjoy the ride as you climb up and over the hills and sail down toward the bay.
Oracle Park (24 Willie Mays Plaza) - Home to the San Francisco Giants, Oracle Park is the most beautiful ballpark in the country. About a 15-minute walk from where the F Line stops at Third Street, a trip to Oracle Park is worth the effort. Great views, delicious food, and clean and safe facilities all combine to create a memorable game day experience.
San Francisco Museum of Modern Art (151 Third St.) - This stunning museum is itself a work of art. Renovated and expanded in 2016, SFMOMA contains modern and contemporary works in painting, sculpture, light art, photography, and more. Exit the F Line at Third Street and walk three blocks south.
Embarcadero/Financial District
The Exploratorium (Pier 15) - This museum is the world's foremost interactive science museum. More than 650 exhibits will ignite your curiosity, challenge your senses, and transform the way you perceive the world around you. It's fun, it's educational, and it's definitely family-friendly. The Exploratorium also hosts outdoor and after-hours programs for grown-ups. (Reopening Summer 2021.)
The Ferry Building (Market St. & Embarcadero) - At this iconic building, you can hitch a ride to Tiburon and Sausalito. Or, you can stay on San Francisco soil and enjoy perusing the food stalls and vendors serving up the finest cheeses, meats, wines, and even ice creams they have to offer. The Ferry Building also hosts an incredibly popular Farmers Market on Tuesdays, Thursdays, and Saturdays. Some of San Francisco's greatest chefs source their ingredients here to create their award-winning menus!
Fisherman's Wharf
Ghirardelli Square (North Point St. & Larkin St.)- If you ride the F Line to its final stop, you can hop off and keep walking west through the neighborhood to reach Ghirardelli Square. Full of quirky shops, restaurants and breweries, and of course, its namesake chocolate shop, Ghirardelli Square has it all. 
PIER 39 - Home to great food, family-friendly attractions, and San Francisco's most famous animal residents, the California sea lions, PIER 39 is a must-see along your F-Line adventure.
Where can I eat and drink along the F Line?
Each of the neighborhoods that the F Line passes through offer their own unique dining and drinking experiences. Here are just a few of them.
Castro
Beit Rima (138 Church St.) - Hailed as one of San Francisco's best new restaurants when it debuted in 2019, Beit Rima is still serving up its incredible Middle Eastern cuisine at its Church Street location. Proprietor Samir Mogannam turned the family business on its head; the site used to be home to a burger joint his father ran! Now, you can order falafel, baba ganoush, batata harra, and other specialties that celebrate the family's heritage.
Blackbird (2124 Market St.) - A quiet, cozy bar a few steps beyond the bright and bumping bars that make up most of the Castro, Blackbird has terrific cocktails—served hot or cold!—and a wine list that touches three continents. Impressive for a place so politely unassuming that you might walk right past it on your way through the neighborhood.
El Castillito (136 Church St.) - If you're looking to fill up at the start of your journey, then El Castillito is where to go. Their hefty burritos will stick to your ribs all day. Order any of their dishes "super" and you'll get sour cream, cheese, and guacamole added to your dish. Traditional favorites like quesadillas, tacos, fajitas, and enchiladas are also on the menu.
Charmaine's (45 McAllister St.) - This rooftop bar at the San Francisco Proper Hotel offers creative cocktails, an extensive wine list, and some of the most delectable small plates and bar bites you can find. On a hot afternoon or a crisp, clear evening, the views at Charmaine's can't be beat. 
Rich Table (199 Gough St.) - Exceptional California cuisine, served fresh from the most local sources, is the order of the day at Rich Table. Take a chance on the sardine chips; they have the perfect balance of fishy flavor. Their porcini donuts are addictive and their aged beef wonton is equally enviable. For true decadence, though, order their ribeye steak, which is served with Dungeness crab bisque poured over the top of it!
Zuni Cafe (1658 Market St.) - A San Francisco institution, Zuni Cafe is best known for its roast chicken. Make sure you visit with plenty of time; the dish takes almost an hour to prepare. We promise it's worth the wait. Other menu highlights include roast rabbit legs and Merguez sausage. Zuni Cafe is also one of the most stylish restaurants in San Francisco, with its tall windows, high ceilings, and smooth copper bar.
Union Square
Campton Place (340 Stockton St.) - The Taj Campton Place Hotel is home to this award-winning restaurant that serves Cal-Indian cuisine. Their four-course dinner menu features fresh seafood, vegetables, and meats. They also offer a Spice Route menu that highlights the creations of Chef Srijith Gopinathan.
Sears Fine Food (439 Powell St.) - It may not have a Michelin star, but Sears does have its legendary Scandinavian pancakes that are absolutely worth the wait—and there will be a wait. Not to worry; breakfast is served every day until 3 p.m., meaning you can sample their signature dish at almost any point of your F Line journey.
Tacorea (809 Bush St.) - Mexican-Korean fusion is what you'll find at Tacorea. Whether you order kimchi burritos or a spicy pork bowl, you won't be disappointed by the flavor or by the size of your portions. 
SoMa
Kona's Street Market (32 Third St.) - One of the newest establishments on this list, Kona's Street Market was created by the team behind Nob Hill's popular Pacific Cocktail Haven. Their cocktails are grouped on their menu by geographic influence. The drinks also bear creative names that reference some choice popular culture touchstones. A "Funky Cold Medina" or "Milk Was A Bad Choice", anyone?
Novela (662 Mission St.) - Feeling scholarly? The well-read crowd gathers at Novela in SoMA—or at least, that's what you'd expect, given its library-themed decor and menu. Cocktails are named for famous characters in literature, including Atticus Finch and Jo March. Novela is also beloved for its punches. These fruity, refreshing concoctions are like nothing else you'll find on tap.
Yank Sing (49 Stevenson St.) - There are plenty of places for dim sum in San Francisco, but none quite hold a candle to Yank Sing. Tucked away on Stevenson Street, the SoMa location is another good spot to take a group, if only because it increases your chances of trying everything on the menu! Traditional pork, shrimp, and chicken dumplings are accompanied by a welcome variety of vegetarian options. You can also treat yourself to other dishes, like egg noodle soup, fried tofu, and crab claws. Finish your meal with an egg tart to complete the experience. 
Embarcadero/Financial District
Cafe Terminus (16 California St.) - At the foot of California Street, not far from where one of the cable car lines ends, is Cafe Terminus. Their drink menu features cocktails with bases of gin, vodka, bourbon, absinthe and mezcal, as well as beers both foreign and super-local.
Gott's Roadside - For traditional American favorites, visit Gott's Roadside in the Ferry Building. Juicy burgers, scrumptious fried chicken sandwiches, and heaps of fries are sure to please even the pickiest eaters in your crew. Gott's is also known for adding Impossible Burgers to its menu. These vegetarian burgers, made entirely from plants, are so deceptively good, we challenge you to tell the difference.
Tadich Grill (240 California St.) - The oldest continually operating restaurant in California, the team at Tadich Grill figured out what worked a long time ago and has never felt the need to rock the boat. The restaurant, its menu, and its staff have been a constant in downtown San Francisco for decades. Snag a seat at their enormous bar for wine and oysters and take in the controlled chaos around you, or opt for semi-private dining in one of their cozy booths. 
Wayfare Tavern (558 Sacramento St.) - There's no bad time to stop at Wayfare Tavern for a meal, but we're partial to their weekend brunch. Between the brioche French toast, chicken and waffles, and bacon-wrapped scallops, you simply can't go wrong. The brunch cocktails are similarly indulgent; just try the bacon bloody mary. This Michelin-starred restaurant created by famed chef Tyler Florence is also a popular hang-out for happy hour. Their extensive beer, wine, and cocktails lists mean you never have to have the same drink twice.
Fisherman's Wharf
Palette Tea House (900 North Point St.) - Ghiradelli Square may be best known for its chocolate shop, but don't overlook this excellent dim sum restaurant. Authentic dishes prepared with modern ingredients populate the menu. The Palette team is especially proud of their xiao long bao sampler, their lobster dumplings, and their braised pork belly. They also have an incredible cocktail selection, curated by award-winning mixologist Carlos Yturria.
Scoma's (1965 Al Scoma Way) - Perched on the end of its own private wharf, Scoma's is a family-owned San Francisco institution. Serving up the freshest seafood, hauled in by its own crew on their own boat, Scoma's does all your favorites right: perfectly battered and fried calamari, deliciously thick clam chowder, and a towering crab louis salad, to name a few. Whether you dine outdoors or indoors, there isn't a bad seat for enjoying the panoramic views of the bay, the Golden Gate Bridge, and the hills and towns of Marin County beyond.
Which hotels are near the F Line?
The F Line is convenient to many San Francisco hotels. 
If you're staying near Civic Center, consider the San Francisco Proper Hotel or the BEI Hotel San Francisco. 
If you're staying near Union Square, you'll have plenty of options. The Grand Hyatt and Taj Campton Place hotels are just off the square on the Stockton Street side. On the Powell Street side, the Westin St. Francis Hotel holds pride of place. There's also the Marines Memorial Club & Hotel, and many more.
If you're staying in SoMa, indulge yourself in stylish accommodations at The Four Seasons, the St. Regis, the W Hotel, and the Intercontinental Mark Hopkins.
If you're staying in the Financial District, consider the Hyatt Regency, Hotel Vitale, Le Meridien, The Harbor Court Hotel, The Palace Hotel or Hilton San Francisco Financial District.
If you're staying in Fisherman's Wharf, choose from the Argonaut Hotel, the Hyatt Centric Fisherman's Wharf San Francisco, the Hotel Zephyr, and others. All offer convenience to the neighborhoods most popular attractions.
---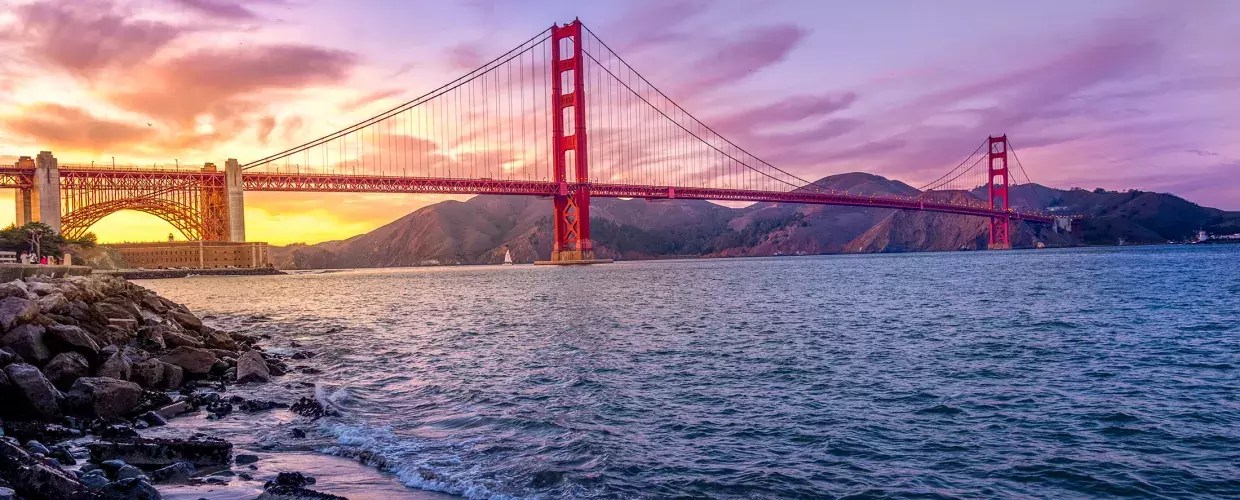 Stay Connected with SF
Sign Up for Our Newsletter
Be the first to know about upcoming events and festivals, new restaurants, special deals, and everything else happening in the City by the Bay.