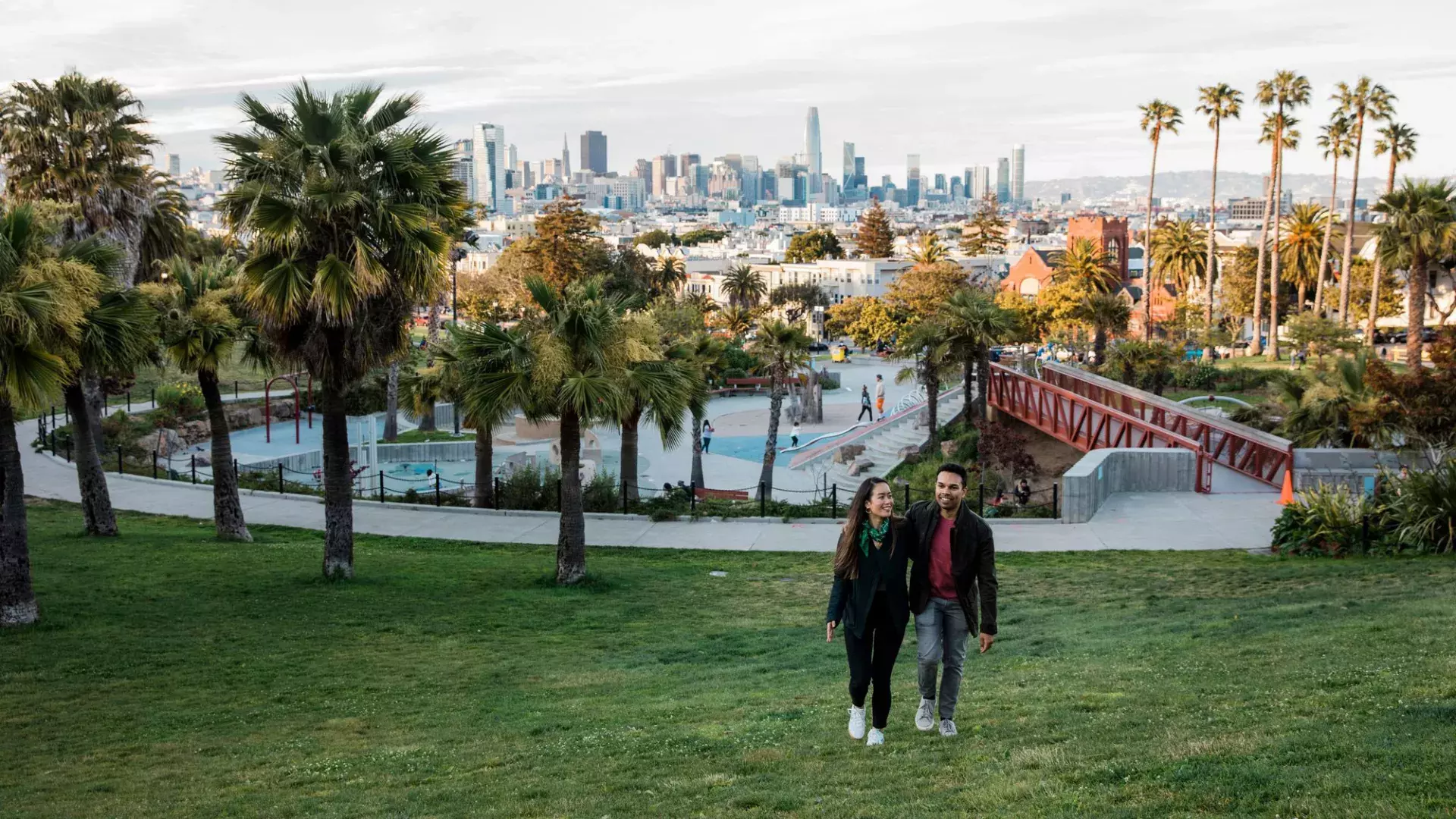 How to Have a

Three-Day Outdoor Adventure in San Francisco

With the help of local adventurer Paulina Dao and Hilton, we've created the perfect San Francisco itinerary for outdoors lovers.
San Francisco is surrounded by some of the most unspoiled natural beauty in the nation. From the City by the Bay to neighboring Oakland to the dramatic cliffs in Marin, you'll find a Hilton conveniently located to help you discover all of these destinations.
You should make time to explore all that the Bay Area has to offer; but did you know that you can get your nature fix without ever leaving San Francisco city limits? That's right. With an abundance of unique city parks, outdoor recreation areas, and accessible hikes, San Francisco earns its reputation for being green in more ways than one.
There's never been a better time to appreciate the outdoors, and there's no major city better suited for an outdoor adventure than San Francisco. But don't take our word for it; take it from photographer, adventurer and founder of Bay Area Outdoor Women, Paulina Dao. A San Francisco native now living in the Sacramento area, Paulina came to visit for a few days to rediscover the magic of her hometown. She shared with us her itinerary for an unforgettable experience exploring the natural beauty of San Francisco while making time to revisit some of her favorite local businesses.
I love waking up in the back of my car, unshowered, but I also love sleeping in an enormous bed with crisp, clean sheets.
Day 1:

Arrival

If you're coming to San Francisco to stretch your legs, there are plenty of areas to stay that are a short walk from iconic attractions; but if you want to get up close and personal, there's one neighborhood to stay in that rises to the top: Union Square. A short walk from downtown icons like The Ferry Building and the cable cars, not to mention the luxury retail and fine dining all throughout the neighborhood, Union Square is at the heart of the action. 

Read More About Union Square:
A little pampering the night before an urban hike never hurt anybody. At the Hilton San Francisco Union Square, Paulina's home base for her trip, you can rest up in their nicely appointed guest rooms or beside their outdoor pool—a true rarity among San Francisco hotels. As centrally located as it is, the Hilton Union Square is a great place to get your bearings as you prep for a weekend of outdoor adventure in San Francisco.  Many rooms feature balconies, allowing you to get fresh air without ever leaving your room. 
If you really want to get a lay of the land, be sure to head to the 46th floor for a drink at Cityscape, the hotel's stylish bar that offers spectacular city views of the Golden Gate Bridge, City Hall, the Bay Bridge, and more. You can practically map out the next day's entire hike from up here! Creative cocktails named for San Francisco neighborhoods, wines from nearby Napa and Sonoma, and local favorite craft beers are all available. Cityscape's ambiance changes by the hour, as the sun sets and the city begins to light up below.
Day 2:

Fuel Up and Head out

With a full schedule, grab breakfast on the go at the hotel and then get ready to start exploring. Paulina wanted her first stop to be something truly special to San Francisco, so she walked to nearby Japantown to sample the incredible confections at Benkyodo. Benkyodo is one of the city's oldest and most popular businesses. You can expect a line whenever you arrive, but blueberry and strawberry mochi are worth the wait. The shop is cash-only, so it's best to visit an ATM beforehand.
Over a century old, this shop makes the best mochi in the city, as evidenced by the line around the block. It's worth the wait.
From there, it's a short walk through charming neighborhoods to one of San Francisco's largest outdoor spaces, Golden Gate Park, which is home to multiple museums, a towering Ferris wheel, and the San Francisco Botanical Garden. Covering 55 acres of land, the Botanical Garden contains more than 8,000 different kinds of plants from around the world. If you're coming in September or October (our warmest months of the year), you can expect to see haemanthus coccineus or the fuchsia denticulata. San Francisco's unique climate allows them all to thrive, giving visitors the opportunity to seemingly travel the world without ever leaving the park. 
Golden Gate Park is a perfect spot for a picnic. Paulina picked up some sandwiches at Deli Board for her and some friends. These hefty, tasty creations are well worth every penny. With a rotating menu, you might have all new choices on your return visit!
If a less arduous path is what you're looking for, you can continue west through Golden Gate Park all the way to Ocean Beach. Walk along the Pacific Ocean on the wide beach or the Great Highway (pedestrians only on the weekend), all the way up to the ruins of the Sutro Baths and their stunning look-out points out over the Pacific Ocean. It's a playground for the explorer that showcases both the power of the ocean and the unusual history of San Francisco. 
If a more vertical climb is what you're looking for, leave the park behind and head east over Tank Hill or Twin Peaks. You'll get tremendous 360-degree views of the city from either point before descending into the Castro and Noe Valley neighborhoods.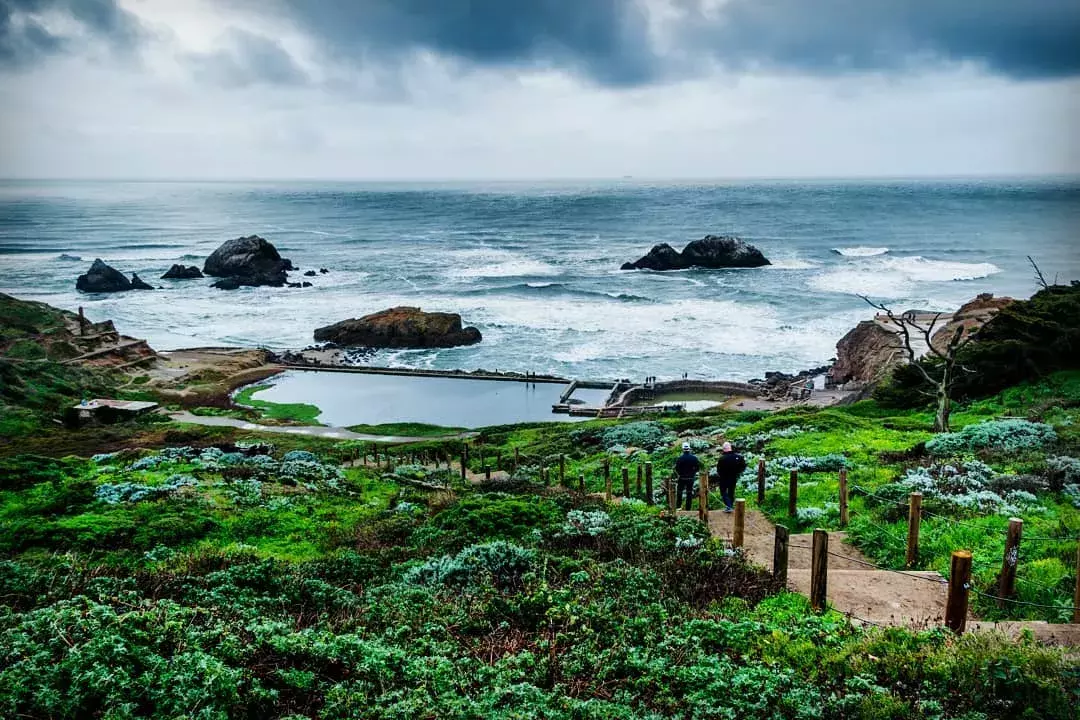 Keep walking east and work up that appetite, because before you know it, you'll be in the Mission District. This neighborhood is technically San Francisco's oldest, but you'd never know that from the vibrant, diverse restaurant and bar scene you'll encounter on any given evening. Eye-popping murals and public art abound as you work your way toward any of the neighborhood's exceptional restaurants. Vegan fare at Gracias Madre is known to convert even the staunchest carnivore. Argentinian steakhouse Lolinda is surpassed only by its rooftop counterpart, El Techo. Classic Mission-style burritos can be found at many neighborhood favorite taquerias. Farmhouse Thai is a bit farther off the beaten path, but absolutely worth the extra steps for their Pad Thai.
It's the best Thai food in San Francisco and some of the best Thai food I've ever had.
En route back to Union Square, reward yourself with a drink at one of the neighborhood's many eclectic bars. The Mission's contagious energy doesn't dissipate once the sun goes down, so you'll want to visit more than one. The cocktails at Trick Dog, which you can choose from its custom illustrated menu, are award-winning.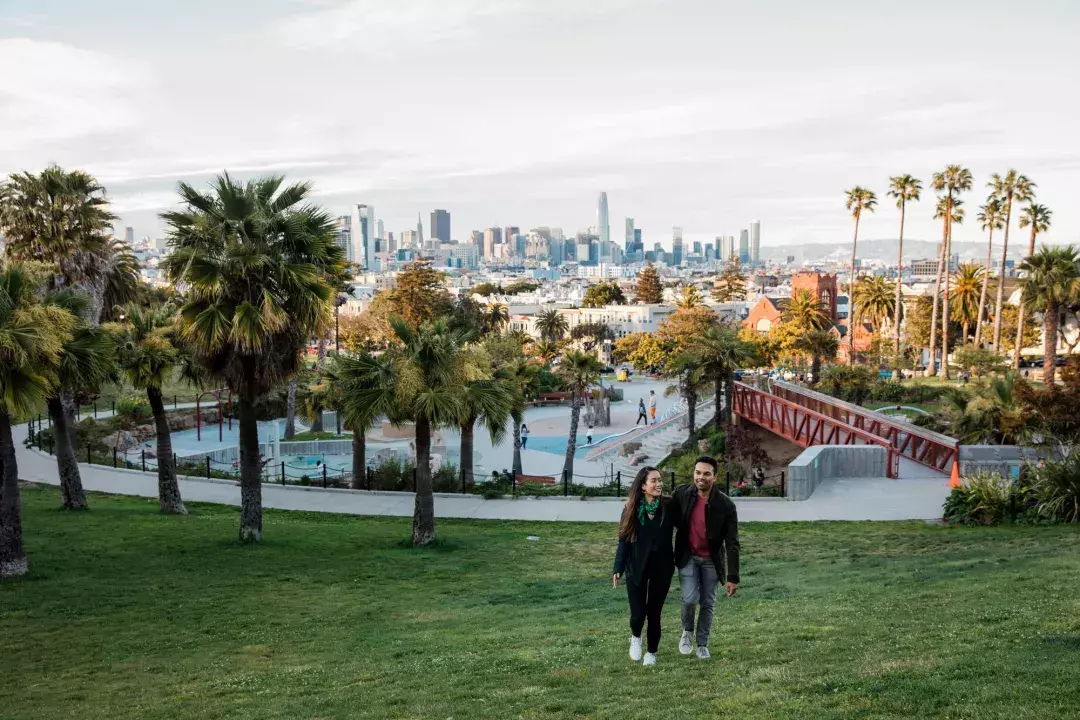 Day 3:

Iconic Experiences

Even a Bay Area local like Paulina can't resist the chance to visit some of San Francisco's legendary sights, and neither should you. That's why on Day 3, she stepped out of her hotel and hopped aboard a historic cable car at Union Square and rode to the top of Nob Hill. From there, it's a short walk to neighboring Russian Hill, where you can pick up authentic Vietnamese coffee at The Soapbox Cafe, which is immigrant- and family-owned, before exploring the small but not to be underestimated Ina Coolbrith Park for incredible views of the Financial District.
From there, enjoy the downhill walk to Fisherman's Wharf, where fresh seafood, our cutest locals (the sea lions), and popular attractions like PIER 39, the Aquarium of the Bay, and ferries to Alcatraz, the world-famous prison and national park, await. You can also head west along the waterfront and arrive at Ghirardelli Square, where the famous chocolate is still being served.
Walking further west will take you past Fort Mason and into San Francisco's scenic Marina neighborhood. From locations like Marina Green and Crissy Field, you can see clear across the bay to Sausalito and get breathtaking views of the Golden Gate Bridge—or maybe a selfie with Karl the Fog.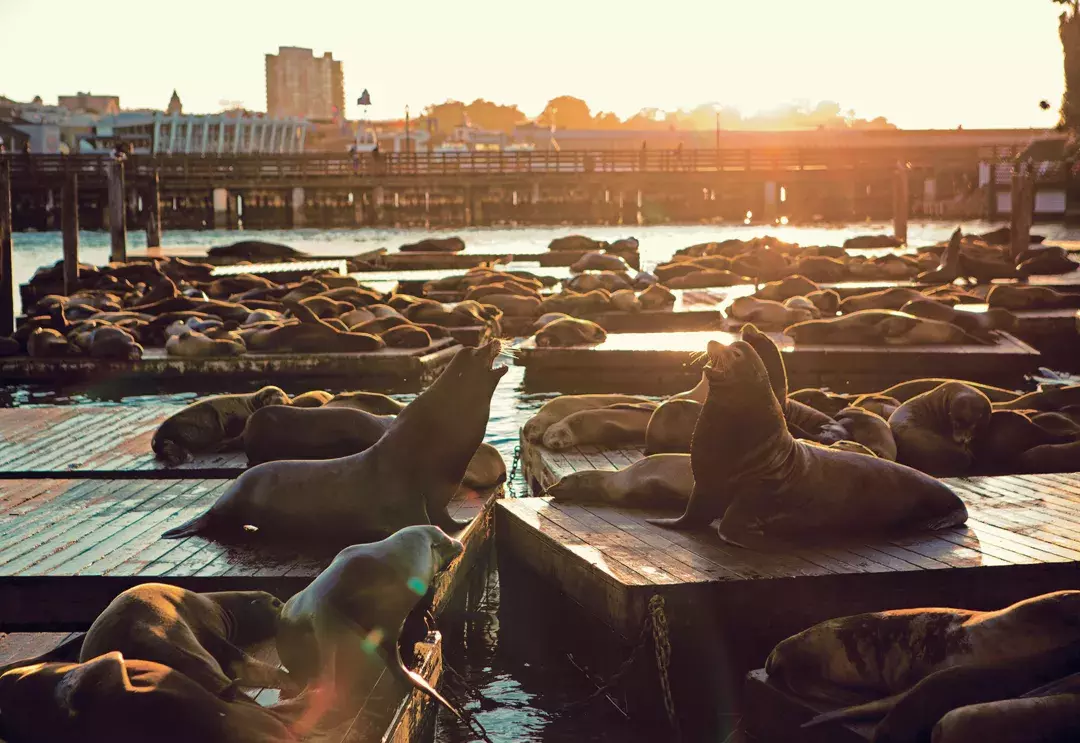 Want to see the Golden Gate Bridge up close? No problem. Follow the trails off Crissy Field and into the Presidio. Soon, you'll find yourself ready to cross one of the most iconic structures in the world. You can walk all the way over to the Marin side and back. Just watch out for other visitors on bicycles and take an extra layer with you. It can get quite windy up there!
If you're still looking for a challenge after all this adventuring, do what Paulina did and visit Benchmark Climbing on Van Ness Avenue. This brand-new bouldering gym welcomes new climbers and experienced ones alike. With an indoor climb under your belt and about 20,000 steps each day, make your way back to the hotel for some much needed rest and relaxation. There's nothing better than getting to lay down in a comfortable hotel bed to reflect on an incredible weekend in the city!
Ready to start your own Bay Area outdoor adventure? Check out more options in the city, like Parc 55 or Hilton San Francisco Financial District. With more than 40 hotels in the region, Hilton can offer you the perfect location to start exploring. Whether you want to climb Mt. Diablo in the East Bay or Mt. Tamalpais in Marin or see where the many trails of the tremendous Golden Gate National Recreation Area will take you, choose Hilton for your next journey to Northern California's great outdoors.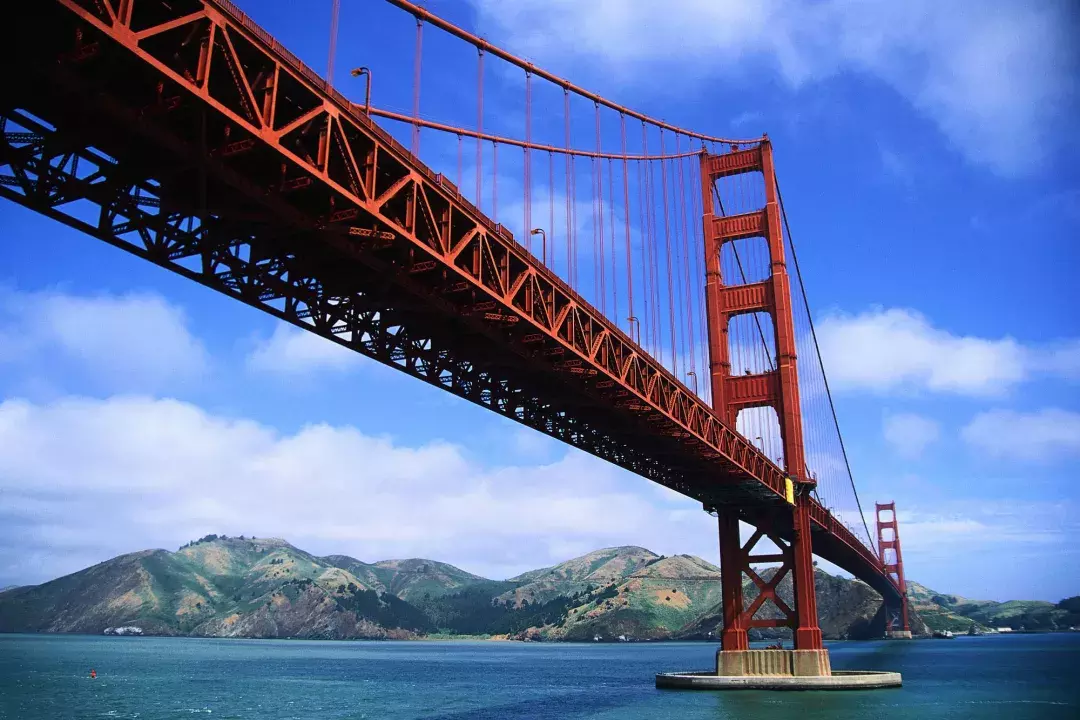 ---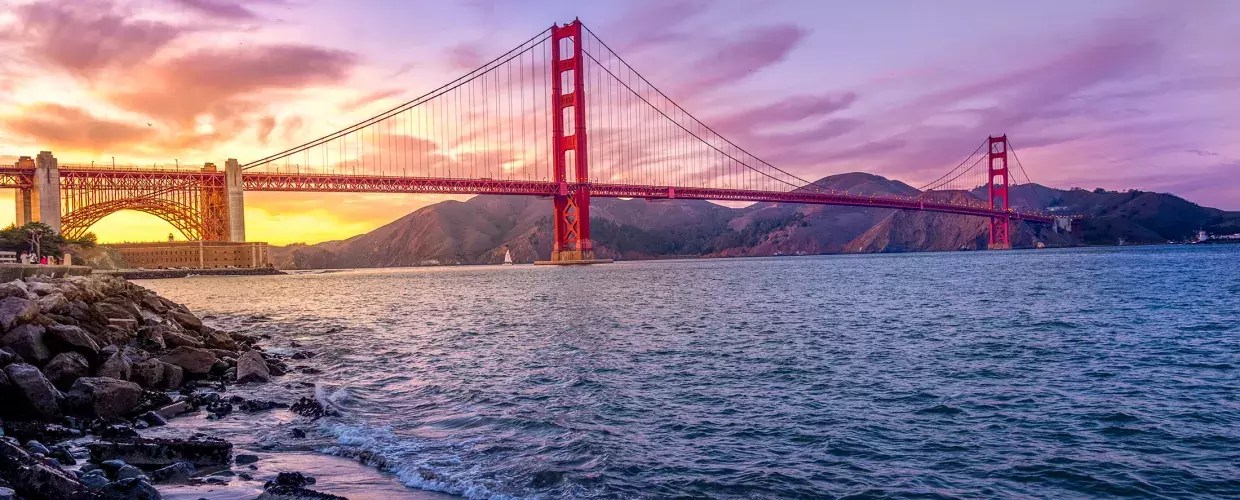 Stay Connected with SF
Sign Up for Our Newsletter
Be the first to know about upcoming events and festivals, new restaurants, special deals, and everything else happening in the City by the Bay.