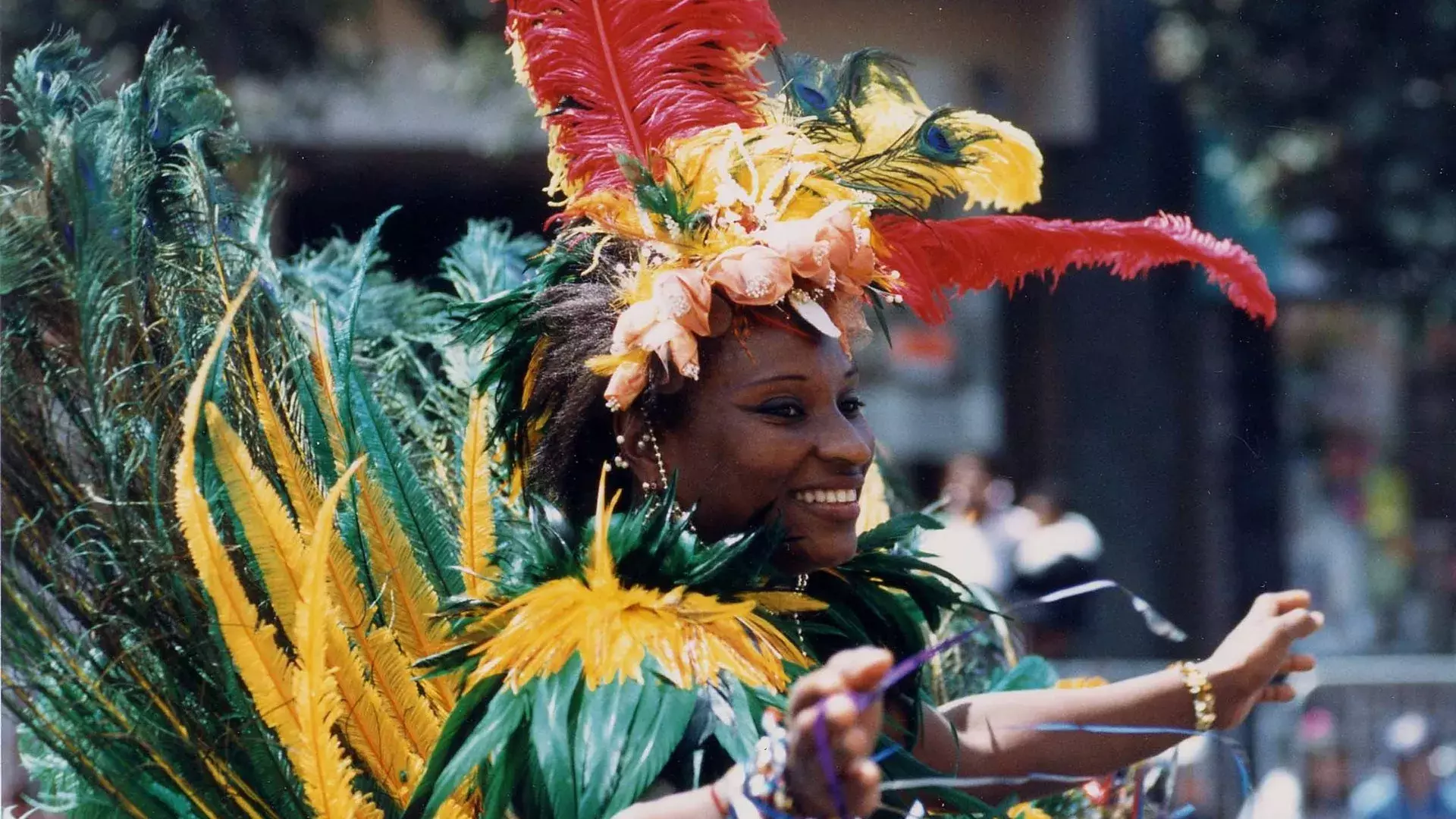 Cultural Festivals & Events in San Francisco You Must Experience
Brighten up your visit to San Francisco by attending these eclectic festivals and celebrations, some of which date back more than 100 years.
Throughout San Francisco's history, we've welcomed visitors across various countries, cultures, religions and identities. Some never left, and their traditions have forever enriched the cultural fabric of our city, particularly in neighborhoods such as Chinatown, the Castro, Bayview, and many more.
Today, we celebrate these communities with an eclectic lineup of festivals and celebrations, some of which date back more than 100 years. These expressions of pride, diversity and individuality are the perfect way to experience San Francisco. Add these one-of-a-kind cultural events to your next trip itinerary. 
Chinese New Year (February)
The lunar calendar year begins with a bang during the annual Chinese New Year celebration, one of the largest Chinese cultural events outside of Asia. In Chinatown and around the city, firecrackers, beating drums and crashing cymbals can be heard driving away evil spirits (as legend has it). The month-long festivities begin in early February and conclude with the Chinese New Year Parade, complete with Chinese acrobats, lion dancers, stilt walkers and a 268-foot Golden Dragon.
Beyond the parade, other Chinese New Year events include a Flower Market Fair, a Chinese Community Street Fair (held on parade weekend) and the Miss Chinatown USA Pageant. Be sure to pick up one of the many oranges or tangerines you'll see piled up in Chinatown produce bins. These fruits symbolize abundance and good luck in Chinese culture.
The Chinese New Year parade is one of San Francisco's oldest cultural events, dating back to the 1860s, not long after Chinese immigrants began arriving during the California Gold Rush. San Francisco's Chinatown remains one of the country's oldest and largest Chinese communities. These 24 hustling, bustling city blocks are packed with cultural riches, from temples to tea houses. A great starting place for your exploration is one of the many delicious restaurants in Chinatown.
Carnaval (May)
Carnaval isn't just a festival; it's a season. Kicking off in February and culminating in a massive parade and party on the last weekend in May, Carnaval draws crowds of more than 400,000 to celebrate San Francisco's vibrant Latin-American and Caribbean communities, making it the largest annual multicultural event in California.
San Francisco's Latino roots are as old as the city itself. The Mission District, now the center of Latino life in San Francisco, was first settled by Spanish missionaries in 1776. Chileans, Peruvians, Cubans and other Latin-American and Caribbean arrivals later added to the cultural mix. Today, that ethnic diversity can be experienced throughout the Mission, from the vivid Mission Murals to the eclectic culinary scene to Mission Dolores, San Francisco's oldest building.
Carnaval isn't just a festival; it's a season.
Numerous events happen throughout the Carnaval season, but the Grand Parade puts all of these cultures on dazzling display at once. With hundreds of costumed performers dancing in the street to high-energy samba and salsa music, feathered headdresses swirling in every color of the rainbow, tricked-out low-riders on parade and fiery, flavorful foods cooking up on every corner, it's a true feast for the senses.
San Francisco Pride (June)
San Francisco has a long-standing reputation as the LGBTQ capital of the world, and at no time does that legacy shine brighter than during SF Pride, the largest celebration of its kind in the country. Equal parts party and political movement, Pride celebrates the remarkable spirit of the LGBTQ community and the trailblazers who've fought (and continue to fight) for equal rights, in San Francisco and beyond.
It all began in 1970 with a 30-person march down Polk Street, followed by a "gay-in" at Golden Gate Park. Pride went by many names early on, including Gay Freedom Day and Christopher Street West (an homage to the location of New York's Stonewall Inn, a pivotal site in gay liberation history). But just as the center of gay life in San Francisco shifted to the Castro neighborhood, Pride caught on big and never looked back.
Today, millions gather in the Castro and Civic Center on the last weekend in June to join their voices in solidarity and paint the town red, purple and every other color of the Rainbow flag (created by San Francisco artist Gilbert Baker in 1978, by the way). Music stages with headliners like Lady Gaga, dance parties, drag shows and, of course, the colossal parade are just some of the weekend's highlights. Every facet of the LGBTQ community is represented, with offshoot events like the Dyke March and Trans March also held during Pride weekend.
Festivals For Every Season
Winter
SF Sketchfest (January)
Is there such a thing as laughing too much? You'll find out at SF Sketchfest, a nearly month-long showcase of comedy from the Bay Area and beyond. Rising out of San Francisco's influential comedy history and vibrant contemporary comedy scene, SF Sketchfest has become one of the premier comedy festivals in the country. Previous years' lineups read like a who's who of humor: legends like Billy Crystal, underground favorites like Amy Sedaris and Patton Oswalt, and the casts of shows like Saturday Night Live and Arrested Development. Events include stand-up sets, improv shows, tributes, panel discussions, special screenings and more. 
Spring
St. Patrick's Day Parade and Festival (March)
The West Coast's largest Irish event celebrating Irish history and culture, the annual San Francisco St. Patrick's Day Parade and Festival, attracts some 100,000 revelers every year and is one of the city's most popular events. The colorful festivities surrounding the parade will showcase Irish culture through live performances and entertainment, arts and crafts exhibitors, food and beverage concessions, children's rides and inflatables, and non-profits booths representing the Irish community.
San Francisco International Film Festival (SFFILM) (April)
San Francisco's picturesque streets have been the backdrop for numerous films, from Bullitt to Alfred Hitchcock's Vertigo. There are plenty of ways to feed your inner movie buff in San Francisco, but attending the San Francisco International Film Festival (SFFILM) tops the list. The longest-running film festival in the Americas, SFFILM screens acclaimed movies from around the globe, including world premieres, arthouse discoveries, documentaries, classic films and more. SFFILM is just one of many festivals geared toward cinephiles.
Northern California Cherry Blossom Festival (April)
San Francisco's Japantown neighborhood is the oldest of the three remaining Japantowns in the U.S. There's no better time to visit than in April, when the candy-pink cherry blossoms – and the neighborhood's rich culture – are in full bloom. Held over two weekends, the Northern California Cherry Blossom Festival features a parade, traditional Japanese music and dance performances, bazaars and more. While you're here, spend some time exploring the top attractions in Japantown, from fragrant food markets to the iconic Peace Pagoda.
How Weird Street Faire (May)
Oddballs unite and freak flags fly at How Weird, a celebration of art and creativity put on by the World Peace Through Technology Organization. It's been described as the urban cousin of Burning Man, but this freewheeling faire defies definition. You'll find everything from an open-air Art Alley to multiple music stages to local food vendors, all centered around a new theme each year (past themes include "Disco Ball Inferno" and "Peace: The Final Frontier"). Wear your best costume – the weirder, the better.
Summer
Union Street Festival (June)
Between Pacific Heights and the Marina lies Cow Hollow, a neighborhood that was once used to feed cattle and now feeds plenty of visitors and locals alike. There's no bad time to take a stroll down Union Street (it is one of your best bets for dining and bar-hopping), but early June might be the best. You'll get to experience all the food, music, and family-friendly activities that the neighborhood has to offer.
Haight-Ashbury Street Fair (June)
The Summer of Love never quite ended in San Francisco's Haight-Ashbury neighborhood, and the spirit of that summer lives on at this community-oriented street fair. Browse through 200 local vendors selling art, clothing, crafts and foods, plus live music and non-profits promoting their causes. Take some time to explore the Haight's Victorian architecture and eclectic independent shops, many of which will make you feel like you've stepped right back into 1967.
North Beach Festival (June)
Considered one of the country's original outdoor festivals, the North Beach Festival celebrates the historic North Beach, the historically Italian neighborhood and the the home of the famed beat generation. The festival site includes numerous quaint streets in the heart of the district including Grant Avenue, Green Street, Vallejo Street and Columbus Avenue.
Fillmore Jazz Festival (July)
Visit the neighborhood considered "the Harlem of the West" for an annual celebration of its storied jazz history. The Fillmore's many music venues hosted the legends of the time, including Duke Ellington and Billie Holliday. You can still hear performers in some of those spaces today, as well as up and down Fillmore St. during the Fillmore Jazz festival.
Outside Lands (August)
The San Francisco Sound, born in Haight-Ashbury and Golden Gate Park, forever changed the sonic landscape. That legacy lives on with Outside Lands, one of the most diverse music festivals in the country. Hopping from stage to stage, you may catch a mellow Bon Iver set, an LCD Soundsystem dance party or a hard-rocking Metallica performance – all in one day! Don't miss the many festival-within-a-festival experiences, from comedy stages to gourmet tasting menus by James Beard Award-winning chefs. 
Fall
Folsom Street Fair (September)
Open minds are a must for the Folsom Street Fair, the world's largest event celebrating leather and BDSM cultures. Historically a centerpiece of San Francisco's LGBTQ community, Folsom Street is where gay biker bars flourished in the 1960s and '70s. You'll see attendees dressed in their shiniest leather and latex fetish wear or in nothing—clothing is optional at this festival.
Fleet Week (October)
You'll know it's Fleet Week by Blue Angels buzzing overhead. Over a million people gather to watch aviators from the United States Navy's flight demonstration squad perform flips, rolls and other stunts across Bay Area skies. There's also a parade of ships and community events paying tribute to veterans and active members of the U.S. Armed Forces. Read our recommendations for where to watch the Blue Angels around San Francisco.
Hardly Strictly Bluegrass (October)
This free festival (that's right: no tickets needed!) in Golden Gate Park has drawn the nimblest fingers in bluegrass since 2001. But as the name suggests, it's not just about bluegrass. Conor Oberst, Gillian Welch and Emmylou Harris have all been known to play HSB, which is beloved for its advertising-free, non-commercial atmosphere.
Castro Street Fair (October)
Founded by the late Harvey Milk as a protest against the discriminatory practices of local merchants, Castro Street Fair is one of the most important (and colorful) LGBTQ events in San Francisco. Rainbow flags fly and thousands of revelers take to the Castro to dance, feast on street foods, shop local wares and rally around their community. Before you join the party, here's everything you need to know about the Castro Street Fair.
Italian Heritage Parade (October)
Often recognized as the City's oldest civic event and the oldest continuing Italian-American parade and community organization in the United States, the celebration continues to be an icon on the San Francisco annual festival calendar. Originally named La Societa Italiana Mutua Beneficenza, the Italian Heritage Parade the festivities grew to include a formal Grand Ball, a representation of King Ferdinand and Queen Isabella (and, later, just the Queen), and a city-wide celebration of heritage and culture. You can expect to see handcrafted floats celebrating San Francisco Bay Area business, community groups and Italian organizations, and noted area Italian-Americans, with local high school Italian clubs and marching bands.
Litquake (October)
We San Franciscans are proud of our literary roots. Everyone from Mark Twain to Jack Kerouac to Maya Angelou has found inspiration here, and City Lights Bookstore helped proliferate the counterculture ideas of the 1950s and '60s. Litquake keeps that literary flame lit, with ten days of poetry, panel discussions and author appearances across 160 venues.
Illuminate SF Festival of Light (November – January)
Always a city of color and light, San Francisco cranks up the kilowatts during Illuminate SF Festival of Light. This city-wide event features more than 60 installations in 17 neighborhoods, turning parks, bridges and buildings into bright, shining masterpieces.
---